Data Science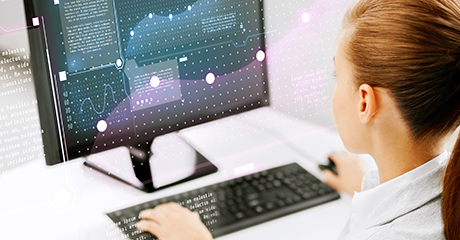 ---
Ideal for
Professionals with a strong interest in data science seeking to make a career transition and professionals who currently work with large data sets, data management and design, and/or data structures seeking more formalized training in data science.
Program Format
This cohort program meets on Friday evenings and Saturdays at our downtown Washington, D.C. campus. In addition to classroom work, students also work in teams to complete a real-world data science project.
Program Length
Eight courses completed in sequence over five months.
Program Cost
Total program tuition including all eight courses is $6,760.00. Most course materials are included.

Learn more about funding or financing your certificate >>
Start Date

Now accepting applications for Fall 2017. Application deadline is August 1. Classes begin in August.
Program Overview
Students in the Certificate in Data Science program will build the technical and analytical skills required to collect, clean, and model data, as well as the communication skills to tell powerful stories with data that will create an impact on organizational decisions. Students will become familiar with Python, a free and open-source programming language that is not only capable at data analysis and visualization as domain-specific languages, but also significantly more scalable and amenable to production environments. The final capstone project brings all of these skills together in the creation and presentation of a data analytics predictive model, software system, or visualization.
Program Objectives
Upon successful completion of the program, participants will be able to:
Learn the fundamentals of data analytics and the data science pipeline
Develop competency in the Python programming language and a number of data-related Python libraries such as Pandas, Numpy, and Scipy
Store and access data from a variety of sources including traditional relational databases, NoSQL data stores, and other web-based sources
Master basic software engineering practices and understand how they enable reproducible and scalable data analyses
Learn how to scope the resources required for a data science project
Apply statistical methods, regression techniques, and machine learning algorithms to make sense out of data sets both large and small
Know what analyses are possible given a particular data set, including both the state of the art of the field and inherent limitations
Fluently speak to disparate groups within an organization, from management to the IT director, to implement data science solutions
Learn more about capstone project requirements and view past projects >>
Certificate Requirements
To receive the Certificate in Data Science from Georgetown University, participants must successfully complete eight (8) required courses for a total of 10.80 Continuing Education Units (CEUs), which is equivalent to 108.0 contact hours.
| | Course Name | Course Type | CEUs |
| --- | --- | --- | --- |
| 1 | Foundations of Data Analytics and Data Science | Required | 1.20 |
| 2 | Software Engineering for Data | Required | 1.80 |
| 3 | Data Sources & Storage | Required | 1.20 |
| 4 | Data Ingestion & Wrangling | Required | 1.20 |
| 5 | Data Analysis I: Statistics | Required | 1.20 |
| 6 | Data Analysis II: Machine Learning | Required | 1.80 |
| 7 | Visual Analytics | Required | 1.20 |
| 8 | Applied Data Science (capstone project) | Required | 1.20 |
| Total | 8 Required Courses | | 10.80 |
See below for course schedules and application information.
Program Prerequisites
A bachelor's degree or equivalent
Completion of at least two college-level math courses (e.g. statistics, calculus)
Familiarity with Python, a general purpose programming language used for data analysis
A laptop for class meetings and coursework
Students must have general competence with algebra (to build models) and statistics (to analyze data) in addition to a basic understanding of calculus (to understand optimization problems)

.
Computer Programming Prerequisites
Students who have limited or no programming experience are strongly encouraged to gain basic skills in Python prior to enrolling in the program. We recommend enrolling in Python Basics for Data Analysis and SQL Fundamentals prior to applying.
Hardware Requirements
A laptop with at least a dual core 1.8 GHz processor, 2GB of RAM and 20 GB free hard disk space (e.g. a laptop purchased in the past two years).
A modern operating system: Windows 7 or newer, OS X 10.6 or newer, or Ubuntu 12.04 or newer, or the equivalent. OS X and Linux are strongly encouraged.
Python 2.7 installed on your system.
A command prompt available (Powershell on Windows, Terminal on OS X or Linux).
International Students
Georgetown University cannot sponsor student visas for non-credit professional certificate programs, however, international students who enter the U.S. on a valid visa are eligible to enroll in courses. For more information, please see our Frequently Asked Questions. A TOEFL examination for non-native speakers of English is not required but students are expected to read, write and comprehend English at the graduate level to fully participate in and gain from the program.
Application Process
The program is designed for both professionals with a strong interest in data science who seek to make a career transition and professionals who currently work with large data sets, data management and design, and/or data structures seeking more formalized training in data science. Students are required to submit an application in order to enroll and early application is strongly recommended due to limited space availability in the program. Admitted students are required to enroll in all eight courses in the same semester and must complete them in sequence, since each course builds on skills taught in preceding courses.
Applications and supporting materials must be submitted online through the MySCS Portal. Applicants are responsible for uploading all required application materials by the posted deadline for their desired semester of entry. Students will be notified of their admission decision via e-mail within 2-4 weeks after the application deadline.
Partners
Georgetown is a proud partner of District Data Labs, a data science research institute, data product incubator, and open source collaborative founded by two of our data science faculty members. Georgetown also partners with Data Community DC, a professional organization that connects and promotes the work of data professionals in the Washington, D.C. metro area.
Required:
Applied Data Science
Data Analysis I: Statistics
Data Analysis II: Machine Learning
Data Ingestion and Wrangling
Data Sources and Storage
Foundations of Data Analytics and Data Science
Software Engineering for Data
Visual Analytics
---
Course Schedule
Course Name
Semester and Section
Required
Fall 2017
Foundations of Data Analytics and Data Science

Not currently scheduled

Section 01

Sat, 9:00 AM - 4:00 PM
Aug 12, 2017 to Aug 19, 2017
640 Mass Ave.

Status:

Open

Required
Fall 2017
Software Engineering for Data

Not currently scheduled

Section 01

Fri, 6:30 PM - 9:30 PM
Aug 25, 2017 to Sep 08, 2017
640 Mass Ave.

Sat, 9:00 AM - 4:00 PM
Aug 26, 2017 to Sep 09, 2017
640 Mass Ave.

Status:

Open

Required
Fall 2017
Data Sources and Storage

Not currently scheduled

Section 01

Sat, 9:00 AM - 4:00 PM
Sep 16, 2017 to Sep 23, 2017
640 Mass Ave.

Status:

Open

Required
Fall 2017
Data Ingestion and Wrangling

Not currently scheduled

Section 01

Sat, 9:00 AM - 4:00 PM
Sep 30, 2017 to Oct 07, 2017
640 Mass Ave.

Status:

Open

Required
Fall 2017
Data Analysis I: Statistics

Not currently scheduled

Section 01

Sat, 9:00 AM - 4:00 PM
Oct 14, 2017 to Oct 21, 2017
640 Mass Ave.

Status:

Open

Required
Fall 2017
Data Analysis II: Machine Learning

Not currently scheduled

Section 01

Fri, 6:30 PM - 9:30 PM
Oct 27, 2017 to Nov 03, 2017
640 Mass Ave.

Sat, 9:00 AM - 4:00 PM
Oct 28, 2017 to Nov 04, 2017
640 Mass Ave.

Status:

Open

Required
Fall 2017
Visual Analytics

Not currently scheduled

Section 01

Sat, 9:00 AM - 4:00 PM
Nov 18, 2017 to Dec 02, 2017
640 Mass Ave.

Status:

Open

Required
Fall 2017
Applied Data Science

Not currently scheduled

Section 01

Sat, 9:00 AM - 4:00 PM
Dec 09, 2017 to Dec 16, 2017
640 Mass Ave.

Status:

Open