Summer Programs at Georgetown University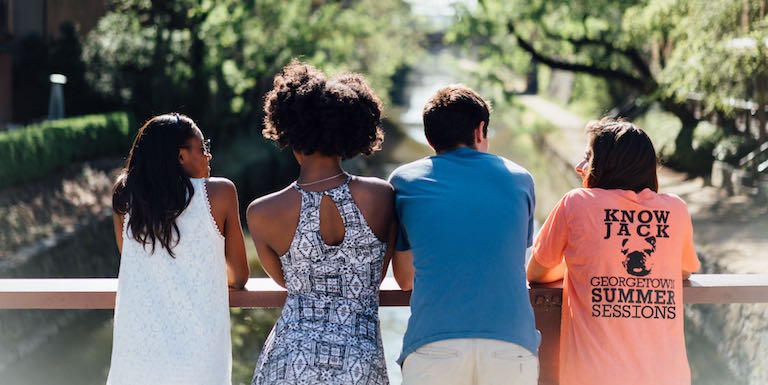 Summer Programs for High School Students
Featuring a range of subjects, formats, and session lengths, Georgetown University's Summer Programs for High School Students offer the opportunity to live on campus, meet classmates from around the world, and earn college credit—all while experiencing the excitement of college life. Learn more.
Academies
Ranging in length from one to three weeks, our Academies take you on an accelerated, hands-on learning experience. You'll have the opportunity to examine a single subject area through collaborative exercises and simulations, group discussions, presentations from industry leaders, and field trips to some of D.C.'s top institutions.
1-Week Academies
2-Week Academies
3-Week Academies
College Prep Program
Develop the tools you need to gain a competitive edge and get a head start on college in this five-week credit program. Learn more.
College Credit Courses
Our college credit courses give you the opportunity to take classes alongside current undergraduate students, learn from prestigious Georgetown faculty, and engage in challenging coursework that will prepare you for success in college and beyond. Choose from our eight-week online courses, our five-week on-campus courses, or opt to do a combination of both. Learn more.
Summer Sessions
Georgetown Summer Sessions offers more than 250 undergraduate and graduate courses on campus and online. Whether you're trying to catch up on coursework, graduate early, or free up time to intern or study abroad, our summer courses offer an accelerated way to earn credit and get ahead. You'll have the opportunity to learn in small, interactive classes and enjoy more time to focus on a single subject area. Learn more.