Welcome to your next chapter
The Georgetown Experience
A Georgetown education goes beyond the classroom, preparing you to navigate the professional world with integrity and confidence.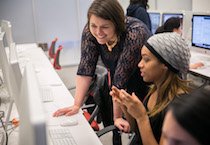 Broaden Your Perspective
You'll engage with a community of students, faculty, and alumni from 75+ countries who contribute a range of insights, backgrounds, and experiences.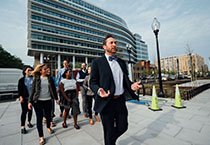 Thrive Beyond the Classroom
Courses blend focused study and real-world experience to empower your personal and professional growth.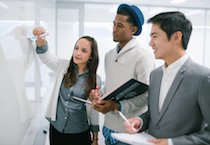 Make a Meaningful Impact
You'll have opportunities to apply what you learn to become a changemaker in your community.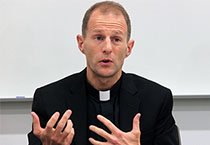 Lead with Purpose
Rooted in Georgetown's Jesuit values, courses prepare you to think, reflect, and act with intention.
Testimonials from current students and alumni.
It's really helped me to feel more confident in my intended career path. I have solidified what I want to be doing, and I wouldn't have this feeling if it were not for Georgetown."

Catriona Coleman

Master's in Information Technology Management

Each professor is absolutely willing to help you outside of class, spend time with you, develop a relationship, and answer any questions you may have about the industry and their careers."

Kelly Perrins

Master's in Sports Industry Management

I not only gained practical tips and insights from experts in all my classes, but also got to work with an intelligent, diverse, and fun group of people. My time at Georgetown was a truly amazing learning experience."

Worakorn Thongkijaohachai

Master's in Integrated Marketing Communications
Programs & Courses
We offer a wide range of programs, certificates, and courses to help you achieve your goals. No matter where you're trying to go, we have a way to get you there.
A State-of-the-Art Campus
Accessible Learning in the Heart of D.C.
Our LEED Gold® certified campus features more than 95,000 square feet of work, lounge, and meeting spaces in the heart of Washington, D.C. With a perfect Transit Score of 100 and a Walk Score of 98, our campus is located in one of the most accessible areas of D.C. The surrounding neighborhood is home to hundreds of companies and organizations, providing ample opportunities for you to build your network and connect with industry experts and organizations within your field of study.