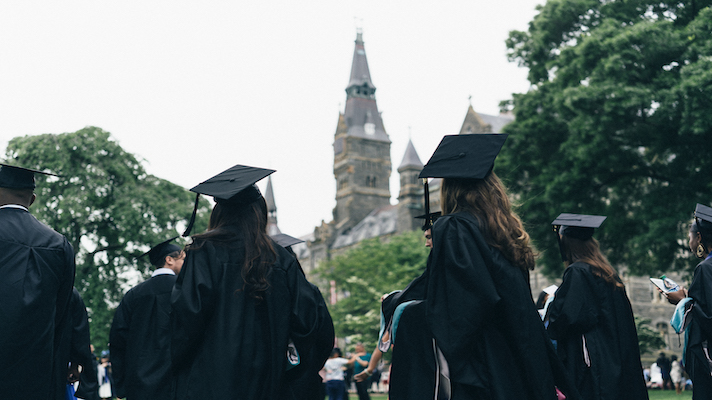 With more than 12 years of communications experience, Frank Tramble knows what it takes to build a strong marketing plan. And, as head of communications at Howard University—and earlier, at Michigan State and Georgetown—he has sometimes needed to teach his staff about the finer points of this complex process.
But no such instruction was needed for Andrea Adereti, who presented a marketing proposal to Tramble in early 2021. Her plan was comprehensive, sophisticated, exhaustively researched, and expertly presented. You might even say she nailed it.
Adereti was not working for Tramble at the time. A recent graduate of the Georgetown University Master's in Integrated Marketing Communications program, she was applying for the job of Social Media Strategist. And, yes, she got it.
"When someone comes from Georgetown's program, you have a good understanding of what their founding principles are, how they present themselves professionally, and how they function in a high-stress environment," says Tramble, vice president and chief communications officer at the historically Black university in Washington, D.C. "It gives you more confidence than just knowing what they have on paper."
How does Tramble know this? He went through the program himself.
Investing in Student Growth
It is natural to want to hire people whose training and experience are similar to your own. And it can be nice to choose someone from your alma mater. For Tramble, however, the appeal goes beyond mere loyalty to an institution (which is usually stronger toward one's undergraduate college than to a professional master's program that must be fit into a busy schedule).
Notably, Georgetown's program does not have the impersonal, "drop-in" feel of some master's programs, students and alumni say. Indeed, the instructors, most of whom are working professionals, are highly invested in their students' personal growth and career advancement.
"I think we've built a really strong community—and that isn't easy in professional education," says Wendy Zajack, faculty director of the Integrated Marketing Communications and Design Management & Communications graduate programs. "Even during COVID, when we weren't in our building for over a year, the community didn't suffer. It's really quite remarkable."
The Integrated Marketing Communications program takes a customer-oriented approach that urges students to explore the needs, desires, and goals of individual consumers. To fully relate to these concepts, students must first develop a deeper understanding of themselves and what motivates them.
"Faculty are dedicated to having conversations with you about what type of communicator you want to be, what resources you want to have, where you want your career to go, who you want to be as a personal brand," says Tramble, who advises current students on their capstone projects.
That kind of commitment also extends to program alumni.
"We've got alumni at Hilton. We've got them at Capital One. We've got them at Deloitte," Zajack says. "So, when a student is figuring out what they want to do, we hook them up with alumni. And I always tell the students, 'This is going to cost you nothing; except, when you're in a good position, I expect you to then give back! '"
Leading a National Conversation
A strong student who majored in business administration as an undergraduate, Adereti started her job at Howard in April 2021 and is in charge of guiding the university's social media presence and that of its president, Wayne A. I. Frederick, M.D., a professor of surgery at Howard Medical School.
It is a big responsibility. Ongoing demands for racial justice and accountability have made this a pivotal time for the nation's historically black colleges and universities. And no institution is more central to this effort than Howard, whose alumni include writer and Nobel Laureate Toni Morrison, U.S. Supreme Court Justice Thurgood Marshall, and Vice President Kamala Harris. Working with a Biden administration that has vowed to address—and not simply talk about—racial discrimination and inequality, Howard expects to play a leading role.
"We are actually at the pinnacle of most of the race and ethnicity and equity conversations that are driving much of the national conversation right now," Tramble says. "It's a privilege to be the head of communications at this time, knowing that the work you do can positively affect an entire culture—my culture."
Learn more