Program in
Master's in Integrated Marketing Communications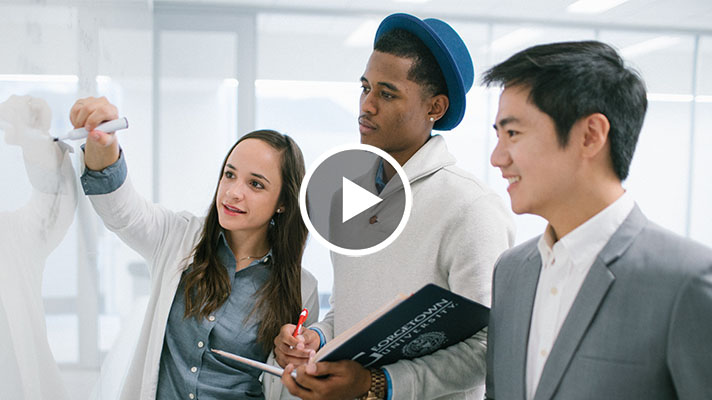 Master's Degree
Master the analytical thinking and creative skills needed to work across traditional and digital media channels in order to design an engaging brand experience.
Request Information
Overview
Georgetown's Master of Professional Studies in Integrated Marketing Communications immerses you at the intersection of strategy and creativity. You'll study the full breadth of communications disciplines—including advertising, direct marketing, social media, and word-of-mouth marketing—and learn how to synthesize them into cohesive brand experiences.
You'll also have opportunities to develop your skills and your portfolio through real-world client engagements, class trips, and networking events with some of the industry's top organizations.
Ideal for working professionals, our program is designed to fit your schedule. We offer flexible options to take classes online, on campus, or through a combination of both—so you don't have to interrupt your career to earn your degree. Better yet, you can directly apply everything you learn to make an immediate impact in the workplace.
Led by a faculty of communications practitioners and industry experts, our courses emphasize the contemporary practices that are in high demand by employers. You'll develop the foundational knowledge, analytical thinking, and creative skills that position you to successfully lead cross-channel communications efforts that capture audiences and drive impact.
Throughout your time in the program, you'll be challenged to reflect on your personal ethics. You'll examine case studies of strong professional ethics within the context of IMC while developing your own personal code of ethics to guide you as you continue to advance both personally and professionally.
This section has testimonials from current students and alumni.
Even before graduation I was able to use the critical approaches and strategies I learned in the Georgetown IMC program to position myself for a new role at my company. I gained the confidence, skills and thinking I need to move in a different direction."

Olivia Henderson Master's in Integrated Marketing Communications

I have managed a digital marketing agency for many years, and the breadth of knowledge I am acquiring through the IMC program has been transformative for both my personal growth as well as for our agency. The information I am learning is highly relevant and immediately applicable."

Clinton Barras Master's in Integrated Marketing Communications

One of the key factors of this program is that students get to discuss what they are learning, write thoughtful interpretations of the key learnings, learn from their peers' experiences, and apply the knowledge to their daily interactions. They make what they learn part of themselves."

Sunela Thomas, Faculty Master's in Integrated Marketing Communications

I not only gained practical tips and insights from experts in all my classes, but also got to work with an intelligent, diverse, and fun group of people. My time at Georgetown was a truly amazing learning experience."

Worakorn Thongkijaohachai Master's in Integrated Marketing Communications
You'll leave the program with the strategic and creative mindset that empowers you to generate insights, craft compelling brand stories, and create authentic—and lasting—connections between consumers and brands.
*Tuition for the Summer 2018, Fall 2018, and Spring 2019 terms will be available in early 2018.
---