Message from the Dean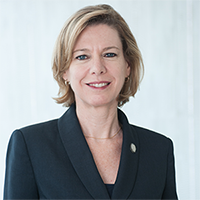 Dear SCS Community & Guests:
I am proud to share Forging Ahead: The 2021-2022 Dean's Report.
A year ago last fall, Georgetown's School of Continuing Studies (SCS) marked a historic milestone: after months of remote operations due to the pandemic, students, faculty, and staff finally returned to the building at 640 Massachusetts Avenue NW.
This report is a testament to our community's resilience and innovative spirit. Despite new and ongoing challenges, we have continued to forge ahead with new ways of teaching, learning, and working. The diverse stories herein capture our community's perseverance, and also our profound commitment to enacting our Georgetown and Jesuit values.
I am grateful to everyone who supports SCS and our mission. This report is a tribute to everything we have accomplished together.
Most sincerely,

Kelly J. Otter, Ph.D.
Dean
School of Continuing Studies
Georgetown University