Message from the Dean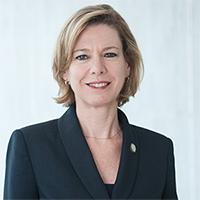 Dear Students, Faculty, Staff, and Guests:
2020 has been a year unlike any other. When the COVID-19 pandemic descended upon us last March, we at Georgetown's School of Continuing Studies (SCS)—like many institutions—were forced to make the unexpected and abrupt transition to a completely remote learning environment. With nearly 10,000 students, more than 8,000 alumni worldwide, and a robust network of faculty, staff, and industry partners, our community as we knew it immediately took a different shape, requiring us to connect and learn in unforeseen ways.
Yet as I reflect on the past year, I cannot help but marvel at how successfully we have adapted to such extraordinary challenges. Despite being physically apart, across SCS we leveraged virtual technologies to create new opportunities to build relationships and communicate with one another; instructors transitioned to using new varieties of methods to engage students in the virtual classroom and through co-curricular events; and alumni stepped forward to offer mentorship and guidance to current students.
I firmly believe that it was in this unfamiliar environment that the true values and heart of our institution shined through. True to Georgetown's Jesuit roots, SCS embodied a "communitas ad dispersionem" or "community in dispersion": a concept that arises from the early Jesuits' history of remaining united with common values and a shared mission, despite many disruptions and separations.
I invite you to read the 2020 Dean's Report, "A Community in Dispersion," to learn more about how SCS continues to adapt and innovate. Although this academic year is already different from years past, I remain encouraged and energized by how we have come together. May we continue to embrace that communal spirit, and adapt to these unique forms of learning and teaching with the utmost compassion and respect for one another.
Most sincerely,

Kelly J. Otter, Ph.D.
Dean
School of Continuing Studies
Georgetown University