Message from the Dean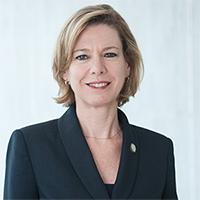 Dear Students, Faculty, Staff, and Guests:
Georgetown students are changemakers—in their workplaces, in their industries, and in their communities. Supported by a global alumni community and a world-class roster of expert faculty, our students experience and contribute to one of the University's most valuable gifts: the Georgetown network.

Georgetown's School of Continuing Studies (SCS) serves more than 10,500 students each year. With a network of more than 8,000 alumni and a growing community of faculty, staff, and industry partners, SCS provides limitless opportunities to form meaningful personal and professional connections.
The SCS network affects each one of us in countless ways. It supports current students in their ambition to create a better world. It forges a bridge between classroom lessons and boardroom experiences. It is an avenue through which graduates create new opportunities for their peers, and a vehicle through which staff engage more deeply with the historic mission of Georgetown University.

I invite you to learn more about our vibrant community by reading our 2019-20 Dean's Report, "A Network For Life." As our societies and economies continue to demand creativity, innovation, and collaboration, I am proud of the lifelong network that we support and maintain at SCS, and through this network, the collective impact we have on our shared world.
Most Sincerely,

Kelly J. Otter, Ph.D.
Dean
School of Continuing Studies