Message from the Dean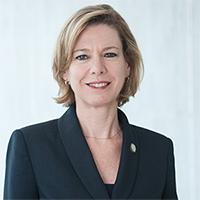 Dear Students, Faculty, Staff, and Guests:
The last two years have been momentous, but perhaps none more so than the watershed events of 2020: they sparked a genuine national reckoning on systemic racism and social justice. A confluence of events exposed the injustices that communities of color continue to face in America: the COVID-19 pandemic that has disproportionately impacted Black, Indigenous, Latinx, and other communities of color; the wave of hate crimes against minority groups, especially Asian-American Pacific Islander communities; and the police killings of George Floyd, Breonna Taylor, Daunte Wright, and far too many other Black Americans.
On a societal level, such events have reignited tough conversations on the ways in which institutions and organizations—especially the justice system—perpetuate systemic racism, and on just measures of redress. On an individual level, they have prompted discussions about white supremacy, anti-racism, and effective allyship and action.
Such conversations have occurred not only nationwide, but also right here at Georgetown's School of Continuing Studies (SCS). Especially in the aftermath of George Floyd's death, members of our community sought not only an outlet to express their shock, anger, and grief, but also ways to take a stand. When the School conducted its first listening circles in Summer 2020—as a way for staff, faculty, students, and alumni to come together virtually—time and again I heard an urgent call to action: What can we do to advance social justice?
SCS Dean's Report
In light of such a difficult year, the theme of the SCS Dean's Report is diversity, equity, and inclusion (DEI) at SCS. With nearly 10,000 students served each year, more than 10,000 alumni worldwide, leading faculty and industry partners, and a team of dedicated staff, our School truly has one of the most diverse communities at Georgetown. This Report offers a snapshot of the ways in which members of our community are advancing DEI values, and invites respectful dialogue regarding the work we still need to do in order to bring about a more inclusive and equitable community.
I realize that conversations around racism, equity, and inclusion are often multi-layered and uncomfortable—yet they are vital for progress. Doing so is not only the right thing to do, but fundamental to who we are as Georgetown. Anchored in a 500-year-old educational tradition inspired by St. Ignatius of Loyola, Georgetown University is a Catholic and Jesuit institution that affirms being a "Community in Diversity" as one of our core values. As members, we are all charged with fostering an inclusive and respectful environment for people representing all backgrounds—a responsibility that our School lives and breathes in all we do.
To that end, the stories featured herein underscore how the hard work of advancing social justice is a shared and daily endeavor for the long-term. Intended as a starting point, this Report offers insight into how DEI values are brought to life within SCS throughout our multifaceted portfolio. A few highlights include:
Continuing Diversity, Equity, and Inclusion Efforts at the School and Beyond
We at SCS still have much work to do. While systemic racism cannot be addressed by one institution alone, as dean it remains my utmost priority to ensure that principles of racial justice and fostering a culture of belonging are embedded in our management and academic cultures. With guidance from the Office of Institutional Diversity, Equity, and Affirmative Action (IDEAA) and key University offices, we at SCS will continue to support Georgetown's efforts as a whole to reevaluate our institutional processes and systems, while also addressing the unique needs of our community.
The stories featured in the SCS Dean's Report represent only some of the profound work and attributes of diversity in our community; there is so much more to be explored and shared. My genuine hope is that these stories will initiate meaningful, respectful dialogue across our community. How might we each support and advance DEI values not only at SCS, but also in our everyday lives? How might we serve as better allies for marginalized communities?
I invite you to read the SCS Dean's Report to learn, reflect, and join the conversation.
Together let us continue the good work of fostering a more just, inclusive community.
Most sincerely,

Kelly J. Otter, Ph.D.
Dean
School of Continuing Studies
Georgetown University