Program in
Master's in Design Management & Communications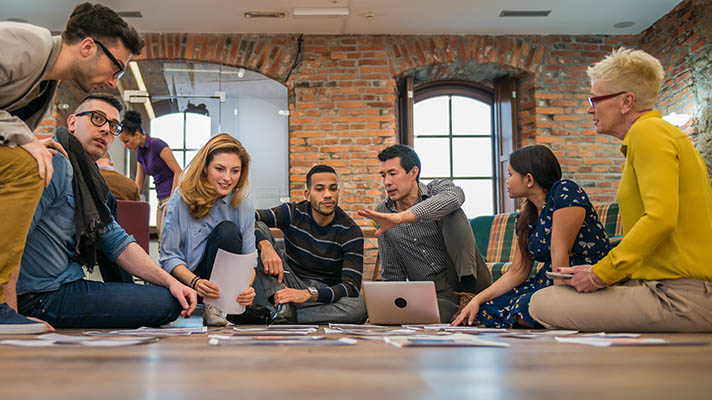 Master's Degree
Leverage the strengths of both the creative and business sides of the design process to maximize impact.
Apply Now
Request Information
Master's in Design Management & Communications
In our increasingly visual world, we need to present ideas in an expressive, engaging context to attract audiences to our products, brands, or causes. Georgetown's Master of Professional Studies in Design Management & Communications exposes you to the power of exceptional design and its ability to reduce complexity, spark innovation, and drive results.
Bringing together the worlds of creative management, design thinking, and business strategy, our program extends beyond the limits of traditional design programs. You'll develop a holistic understanding of creativity and the design process while mastering the managerial insights and leadership strategies needed to deliver business-focused outcomes.
Ideal for professionals within the fields of design, communications, marketing, and related areas, our program is entirely virtual, so you don't have to interrupt your career to earn your degree. You'll learn through a blend of online lectures, group discussions, and applied coursework—all of which you can complete from your home or office.
Number of Credits: 33 credits

Number of Credits

33 credits

Format: Online

Total Tuition: $47,553*

Enrollment: Full-time or part-time

Enrollment

Full-time or part-time

Duration: 2 to 5 years

Semester of Entry: Fall, spring, summer

Semester of Entry

Fall, spring, summer
Our program is grounded in the industry today. Capitalizing on Georgetown's broad partner network, we provide access to valuable resources—including direct exposure to leading experts and organizations—to support your continued professional development. You'll have opportunities to expand your network and build your portfolio through real-world client engagements and hands-on practice in the rapidly evolving communications landscape.
Led by a faculty of industry practitioners, you'll be introduced to the latest tools, practices, and sought-after skills that today's market demands. Our faculty members bring expertise across a wide range of specialties, including creative strategy, design leadership, digital and traditional marketing communications, social media, management, and branding.
Upon completing the program, you'll be positioned to fill a growing need for professionals who can harness the strengths of both the creative and business side of the design process to change industries, build powerful brands, or support causes that can change the world.
You'll leave the program with the management tools and creative thinking techniques needed to seize opportunities, take risks, and design solutions that maximize impact.
*Tuition for the Summer 2021, Fall 2021, and Spring 2022 terms will be available in early 2021.
---