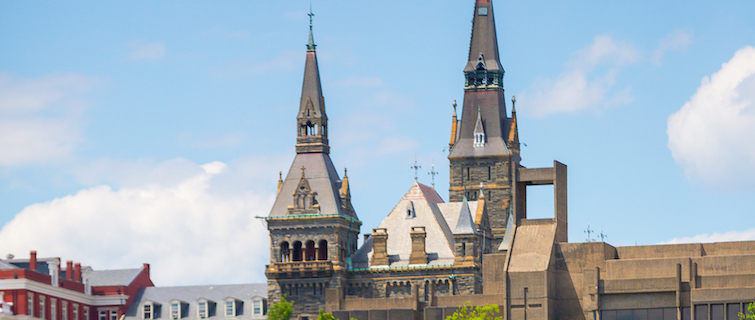 From overcoming challenges to advancing their careers, each student has a story about how they earned their way to graduation. Although it is impossible to share the stories of over 1,600 graduates, we reached out to four outstanding members from the Class of 2022 to learn more about their individual experiences during their time at Georgetown SCS.
Navigating through a pandemic, starting families, and learning new languages–these are just some of the many challenges these students experienced as they entered the next chapter of their lives. Though each one of their stories is very different, a common theme emerged: the desire to learn and succeed.
---
Malak Badeer: Overcoming Loss While Achieving Her Degree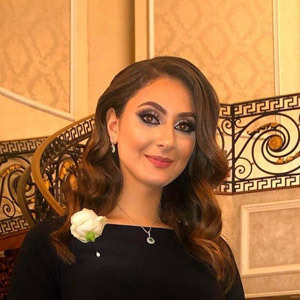 Malak Badeer, a student in the Master's in Human Resources Management program, has always known she wanted to attend Georgetown. She manifested this dream all while surviving a life-threatening car accident, giving birth to her first-born child, and enduring the loss of her husband.
On Badeer's first day of class at SCS, she learned that she was pregnant. Badeer and her husband, Hamza, were thrilled. Knowing it would be a challenge to balance school with pregnancy and a full-time job, she said the surprise was motivational.
"My son was a source of motivation, not a burden to my education," said Badeer.
Four months into her pregnancy, Badeer and her husband were in a severe car accident, leaving her in the hospital for 10 days. She almost lost her pregnancy and suffered an intense hip injury, which was difficult for doctors to operate on.
While healing, she typed one of her final essays in the hospital bed. She felt encouraged by her husband, baby, and future career to keep going. Having something to look forward to helped Badeer turn her dreams into reality.
"It was traumatizing, but I just kept that positive mentality," she said.
After re-learning how to walk after the car accident, a few semesters later Badeer gave birth to her first child, Omar. Some months later, her husband passed away due to a sudden heart-attack. Badeer described her husband as her soulmate, and the loss induced a severe depression amid her master's degree journey.
She said that while mourning, she would remind herself that finishing school is what her husband wanted, too. Badeer pushed toward the finish line, not only for herself, but especially for the loves of her life: Hamza and Omar.
Badeer was not eager to communicate her struggles with her peers and professors and did not want to ask for accommodations. Yet, her instructors were a great support system that consistently reassured her they would be there for her to help her succeed.
"My professors were such genuine, humble, and motivational human beings whom I feel fortunate to have come across during my time here at Georgetown University," she said. From her instructors, she retained valuable knowledge and people skills that she applies in her everyday workplace. From becoming an expert in the four functional competencies in HR to creating a solid internal culture, she has already contributed many ideas and innovative solutions to her workplace.
Fast forward to now, just days before Commencement, and she is ready for what comes next. She said thanks to the skills she learned from professors at SCS, she was able to have many career opportunities prior to graduating. She said she is excited for the next chapter of her life with her son.
"I want everyone to see that even when life gives you a million reasons to give up, you have to replace them with a million reasons why you should keep going," said Badeer.
---
Hector Piedra-Lugo: Helping His Organization Rebound From the Pandemic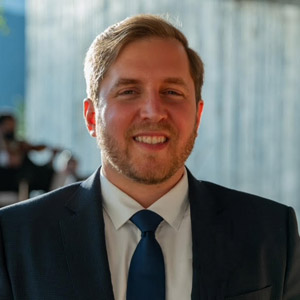 Venezuela's ongoing socio-economic and political crisis has forced more than six million people to flee the country, creating one of the largest displacement crises in the world. A little over a decade ago, Hector Piedra-Lugo, a student in the Master's in Technology Management program, determined he needed to move for his safety and career goals.
Piedra-Lugo knew it would be a challenge moving, learning in a relatively new language, and beginning an academic journey during the start of the pandemic. However, he was inspired by his grandparents to go above and beyond for his goals.
His grandmother was forced to leave Hungary during the beginning of World War II. Sixty-eight years later, she was once again packing for good from Venezuela. Piedra-Lugo said his Georgetown journey is a tribute to his grandparents' unbreakable spirit.
"[I intend] to show them gratitude and to embrace how important it is to have a global mindset and be willing to move out of the comfort zone in different countries," he said.
Piedra-Lugo's interest in the tech field began when his grandfather gave him a computer as a child. He learned quickly that in order to pursue a career that focused on computers, he would need to go to school for a technology degree. During a trip to D.C. in 2011, he visited Georgetown and fell in love with the university. He said it has always been a dream of his to attend Georgetown.
Piedra-Lugo said Georgetown's Competitive Intelligence class was vital for him when the pandemic started. It helped him better understand the importance of collecting facts, analyzing them, and converting them into valuable cross-departmental insights for his organization, the Young Presidents Organization (YPO).
Although it was difficult to adjust to a new country and classes during quarantine, he was able to help his organization survive the pandemic, thanks to the skills he learned at SCS. Now, he feels prepared to strive for an executive position within YPO.
"The organization that I worked for started in the 1950s and there are processes that are still not current," he said. "Being able to apply what I learned into my current role in the organization was perfect."
Although the journey was challenging, he said the academic experiences will be valuable for a lifetime. He said with some discipline and the right mindset, success is imminent.
"It takes time, and it can take many years. But at the end of the day, whatever we can project in our minds, we can get it done," Piedra-Lugo said.
---
Jamar Branch: Building a Business and Becoming a Father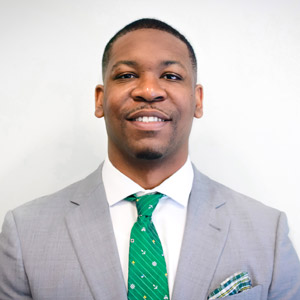 Launched in 2020, the Master's in Supply Chain Management program's inaugural class is set to graduate this May. This first cohort will play a key role in the program's development for years to come. This is one of the many reasons Jamar Branch decided to strive for his master's degree.
Not only was making SCS history a source of inspiration for Branch, but his business goals pushed him to take on the challenge of earning his master's degree.
During his undergrad in April 2020, he launched his business, Branch & Bridges, which aimed to become a staffing company in response to the pandemic to help people get back to work. After realizing the pandemic would last longer than a few months, he went back to the drawing board to focus on government contracting.
During his time at SCS, Branch became a father, and developed his business and worked full-time while attending classes full-time as well. He considered these obligations while restructuring his business model, and was motivated to get involved with supply chain management. In the program, he was able to focus on the administration and marketing of his business.
Now, Branch & Bridges is a supply chain and logistics consulting company that focuses on government contracting.
"Now that I have completed my master's program, I have more time to focus on my business," said Branch.
He said to complete a program like this, you have to realize the large role it plays in one's life and to not sell yourself short when it comes to success.
"Life is all about putting yourself out there, being able to adapt and overcome, then adjust and get better with time," he said.
Branch said that his challenges ultimately empowered him in his career goals. He said he is also thankful for his mother and girlfriend for being supportive, even during his toughest times.
Branch also noted the positive impact his professors had on him. He said their willingness to be hands-on and serve as a source of inspiration made him feel even more motivated to continue his education.
"All my professors played a vital role in making this program possible and made me feel like family," said Branch.
While he continues to expand his business, he said the Supply Chain Management program has prepared him for a senior and executive role in various organizations as well. He hopes to return to SCS to share his experiences and provide opportunities for future students.
---
Lorena Chirinos: Embodying Georgetown Values at Work and School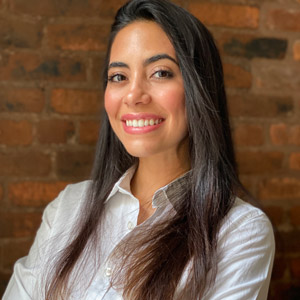 Five years ago, Lorena Chirinos moved from Venezuela in search of a better future for her and her family.
Although she had to sacrifice so much to be where she is today–including not being able to see her family in over three years–she is thankful for her parents being able to provide her with the education and resources that earned her acceptance into Georgetown.
Chirinos, a student in the Master's in Integrated Marketing Communications program, said her parents taught her the importance of hard work, honesty, and responsibility, which helped her succeed throughout her academic career. Earning a master's degree has always been on her priority list.
"I wanted to make them proud and myself proud, that's definitely something that pushed me every day," she said.
Chirinos is also the 2022 Spirit of Georgetown Tropaia award winner at SCS. This prestigious award honors a graduating student or alumni who exemplify the University's values–grounded in its Jesuit heritage–of people in service to others, and commitment to justice and the common good, to name a few.
During her time at SCS, she worked as a Marketing Assistant for the Biomedical Graduate Education at the Georgetown University Medical Center while enrolled as a full-time student. Chirinos said this allowed her to grow as a professional while honing marketing skills in a real-life setting.
In that position, she was able to help other fellow Hoyas in their professional development. This role also allowed her to promote resources for other international students while advocating for diversity and inclusion among the student population.
Chirinos described the Integrated Marketing Communications program as hands-on with constant and consistent feedback from professors and peers. She said data-driven marketing and learning how to navigate specific marketing platforms are valuable skills that have advanced her career to the next level. Not only did she learn from her professors, she added that teamwork plays a key role in achieving success, especially in marketing.
Chirinos is looking forward to continuing her career in New York. She said she feels confident about graduating and applying everything she has learned at SCS to the next chapter of her life.
"It really has opened so many doors," she said. "That's the beauty of grad school, not just learning from classes but you learn most from the people around you."
Learn more