Master's in Information Technology Management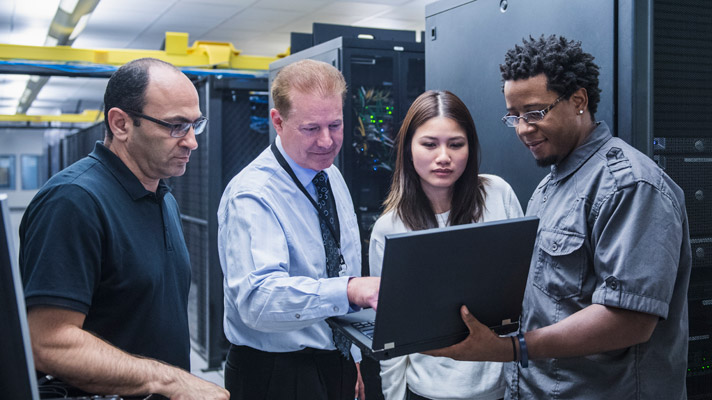 Master's Degree
Fully Accredited Program
Learn from the nation's top CIOs, strategic directors, and IT executives while cultivating the strategic skills, technical knowledge, and practical experience needed to become an effective leader.
Apply Now
Request Information
In today's distributed workplace, Information Technology can make or break an organization. For IT managers, it's not enough to know the technology. To be successful, you have to keep up with digital transformation. You have to know how to maintain existing systems, implement new systems, and when to integrate the two. And you have to lead a team of professionals. It's a lot.
Georgetown's Master of Professional Studies in Information Technology (IT) Management teaches IT professionals how to design, manage, and modernize enterprise information systems. You'll learn the ins and outs of technology, and how to manage up and down, to move an organization forward.
IT doesn't exist in a vacuum, and our curriculum reflects that. You will be exposed to a multidisciplinary curriculum covering accounting, communications, financial analysis, project management, and the modernization of an enterprise. Students can also choose from one of four focus areas: project management, business intelligence, cybersecurity, and digital technology integration.
Number of Credits: 36

Work Outside of Each Class: 6–9 hours per week

Work Outside of Each Class
6–9 hours per week

Total Tuition: $56,628*

Enrollment: Full-time or part-time

Enrollment
Full-time or part-time

Time to Complete: 2–5 years

Time to Complete
2–5 years

Semester of Entry: Fall
Build your network as you learn from and with faculty who are leaders in the field, high-profile guest speakers, fellow classmates, and program alumni. Get real-world experience with case studies in relevant industries and sectors. And because this is Georgetown, you'll learn to ethically align IT strategies, digital assets, and security risks in this highly in-demand field.
Testimonials from current students and alumni.
This master's degree prepares students to monitor and manage an organization's information technology systems including hardware, software, and networks. The IT Management program focuses on making information systems operate more efficiently in accordance with the organization's needs and priorities."

Frederic Lemieux, Faculty Director

We prepare students to be CIOs by teaching the commercial side of business along with the technical needs of engineering and development teams. As a graduate and current faculty member, I have experienced both sides of the spectrum and I believe the IT Management program is one of the best in the nation."

Bayo Oresegun, Alumnus and Faculty

Master's in Information Technology Management
Ideal for working professionals, our program is designed to fit your schedule. We offer flexible options to take classes online, on campus, or through a combination of both—so you don't have to interrupt your career to earn your degree.
You'll leave the program with the technical and managerial skills necessary to anticipate, meet, and lead the technological needs of your organization.
*Tuition rates for each term are published annually, typically in February. Total tuition listed here reflects Fall semester of entry.
---