Online Master's in Information Technology Management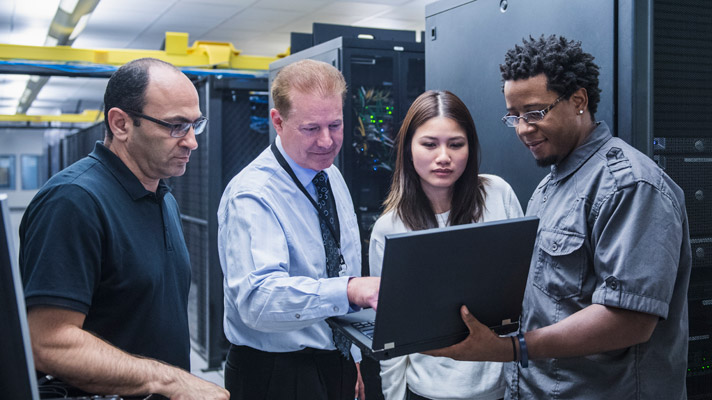 Online
Master's Degree
Fully Accredited Program
Explore essential business concepts and learn to lead in the information technology sector.
Apply Now
Request Information
Creating Effective Business Leaders in Information Technology
Georgetown University's Online Master of Professional Studies in Information Technology (IT) Management degree prepares professionals with the skills to effectively lead in both information technology and business sectors. This transformational online degree develops the next generation of effective managers and senior technologists by coupling business management essentials with today's most in-demand information technology skills.
The program also offers concentrations in project management, business intelligence, cybersecurity, or digital integration, allowing students to earn a graduate certificate in their chosen area of focus simultaneously with the master's degree.
Number of Credits: 36

Work Outside of Each Class: 6–9 hours per week

Work Outside of Each Class
6–9 hours per week

Total Tuition: $56,628*

Enrollment: Full-time or part-time

Enrollment
Full-time or part-time

Time to Complete: 2–5 years

Time to Complete
2–5 years

Semester of Entry: Fall
Who Should Apply
Students in the online IT Management degree program learn from Georgetown faculty, who are among the most renowned thought leaders in the Washington, D.C., area. Students can expect a unique and flexible learning experience focused on advanced information technology management techniques, including strategic planning, budgeting, requirement analysis, communication, and modernization. Those who pursue the online IT Management master's degree are deeply interested in the latest technological developments and business principles related to information technology leadership.
A Balanced IT Management Curriculum
The Georgetown University Master's in IT Management curriculum explores essential business concepts while maintaining a strong focus on information technology leadership. This unique degree educates future executive-level IT management professionals with classes focused on information security trends, enterprise modernization and technology insertion, data governance, technology management ethics, and more.
The IT Management program consists of 36 credit hours, including career-focused elective courses required to complete a graduate certificate in addition to the master's degree. The full program can typically completed online in two years. Program courses include:
Ethics in Information Technology Management
Strategic Planning
Communication for IT Managers
Financial Management for Technology Leaders
Capstone Course
Learn more about our versatile online Master's in IT Management curriculum.
Careers in Information Technology Management
The Master's in IT Management online degree provides students with the tools, skills, and hands-on experience needed to think big, climb the IT career ladder, and lead technological innovation at distinguished firms and corporations worldwide.
Georgetown University has a long history of educating industry leaders. IT Management program alumni qualify for various in-demand roles, including:
IT project manager
Cybersecurity expert
IT program manager
Strategic director
IT executive
Chief information officer
Entrepreneur
Learn more about career opportunities after the online Master's in IT Management.
*Tuition rates for each term are published annually, typically in February. Total tuition listed here reflects Fall semester of entry.
---