Graduate Certificate in Competitive Business Intelligence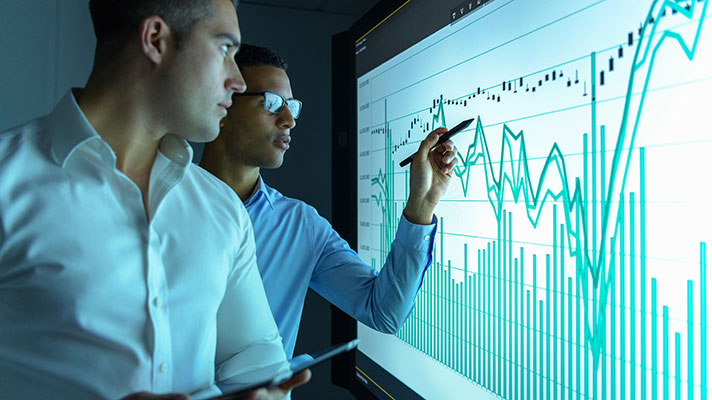 Graduate Certificate
On-Campus & Online Formats
Harness and integrate data analytics to support decision-making and competitive intelligence.
Apply Now
Request Information
In today's information-driven world, data is everywhere. But now more than ever, how that data is used can mean the difference between failure and success.
In Georgetown's Competitive Business Intelligence Graduate Certificate, you'll learn how to transform data into actionable insights. You'll master techniques for effectively gathering, analyzing, and applying information in order to support decision-making and increase competitiveness.
Grounded in a global perspective, our four-course certificate offers a specialized approach to competitive business intelligence. You'll study market trends around the world, examining not only how they impact organizations, but also how they can be used to achieve competitive advantages on a global scale. Each course integrates case studies and real-world client work, providing valuable opportunities to gain hands-on experience as you progress through the program.
Number of Credits: 12

Enrollment: Full-time or part-time

Enrollment
Full-time or part-time

Duration: 6–12 months

Tuition: $18,876*

Format: On-campus & online

Format
On-campus & online

Semester of Entry: Fall, spring, summer

Semester of Entry
Fall, spring, summer
In the classroom, you'll engage with a faculty of leading experts and practitioners, who will expose you to the latest technologies and best practices within the competitive intelligence space. You'll leave the program with not only a specialized set of skills, but also a deeper understanding of key concepts such as benchmarking strategies, communication tactics, business intelligence, and big data analytics.
Ideal for working professionals, our program is designed to fit your schedule. We offer flexible options to take classes online, on campus, or through a combination of both—so you don't have to interrupt your career to earn your certificate. Once you complete the 12 credits required to earn this certificate, you'll have the opportunity to apply these credits toward the 33-credit Master's in Applied Intelligence or the 36-credit Master's in Information Technology Management.
Upon successful completion of the certificate, you'll be able to:
Analyze competitive market strategies through analysis of related product, market, or share trends.
Synthesize current business intelligence or trend data to support recommendations for action.
Communicate with customers, competitors, suppliers, professional organizations, or others to stay abreast of industry or business trends.
Manage the timely flow of business intelligence information to users.
Collect business intelligence data from available industry reports, public information, field reports, or purchased sources.
*Tuition rates for each term are published annually, typically in February. Total tuition listed here reflects Fall semester of entry.
---