Graduate Certificate in Lean & Agile Practices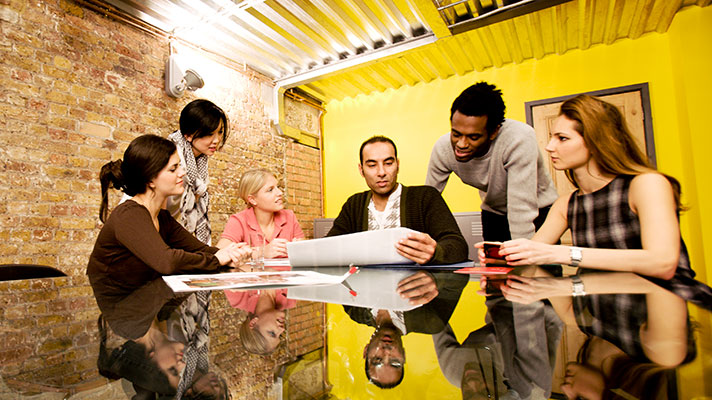 Graduate Certificate
On-Campus & Online Formats
Develop the strategies you need to effectively iterate towards better end products and services.
Apply Now
Request Information
As organizations big and small look to operate more efficiently and sustainably, demand has skyrocketed for collaborative, adaptable problem-solvers who can lead projects with agility and transparency.
Georgetown's Graduate Certificate in Lean & Agile Practices prepares you to meet this demand. Whether you're looking to transition into an agile role, sharpen your skills, or develop new ones altogether, this program will provide you with the expertise you need to achieve project goals and drive organizational success.
Through a blend of focused study and hands-on practice, our four-course certificate immerses you in the complex, dynamic landscape of project agility. You'll study essential lean principles while examining key agile frameworks such as Scrum, Kanban, and the Scaled Agile Framework (SAFe). You'll also venture into DevOps, where you'll explore the complete service lifecycle, from design and development all the way through to production support.
Eliminating waste, minimizing risk, and delivering meaningful results: these are the cornerstones of any successful project. However, it's the process leading up to those results that matters. Rather than focusing on traditional project management, which takes a predictive, linear approach, our program emphasizes an adaptive approach, grounded in agility, efficiency, and effectiveness. Building off of foundational project management concepts, you'll develop a holistic understanding across traditional, adaptive, and hybrid methodologies—and how to strike a balance between them—to foster continuous improvement and bring projects to completion.
Number of Credits: 12

Format: On-campus & online

Format
On-campus & online

Tuition: $18,876*

Enrollment: Full-time or part-time

Enrollment
Full-time or part-time

Duration: 6–12 months

Semester of Entry: Fall, spring, summer

Semester of Entry
Fall, spring, summer
You'll engage with a faculty of leading experts and practitioners, who will expose you to the latest tools and best practices in Lean and Agile. Each course integrates case studies and real-world client work, creating valuable opportunities for you to apply what you learn as you progress through the program. By the time you finish your studies, you'll be positioned to lead by influence rather than authority, cultivate a culture of collaboration, and effectively iterate toward better end products and services.
Ideal for working professionals, our program is designed to fit your schedule. We offer flexible options to take classes online, on campus, or through a combination of both—so you don't have to interrupt your career to earn your certificate. Once you complete the 12 credits required to earn this certificate, you'll have the opportunity to apply these credits toward the 30-credit Master's in Project Management or the 36-credit Master's in Information Technology Management.
Upon successful completion of the certificate, you'll be able to:
Describe the essential concepts of Agile and examine Lean and Agile practices, tools, and techniques.
Apply Scrum and Kanban to design and facilitate projects and products.
Explain how to blend Agile with plan-driven approaches and decide when an adaptive approach is appropriate for a project.
Categorize the challenges for adopting a Lean and Agile approach and the challenges for scaling.
Apply the Scaled Agile Framework (SAFe) to elevate agile teams to deliver quality outcomes and align at the enterprise level.
Explain the basic concept, principles, and scope of DevOps and summarize the key cultural values that enable DevOps.
Describe the ways in which DevOps transforms and organizes culture, processes, people, and technology to solve structural, process design, and technological problems facing IT.
Importantly, our program has been reviewed and approved as a provider of project management training by the Project Management Institute (PMI).
*Tuition rates for each term are published annually, typically in February. Total tuition listed here reflects Fall semester of entry.
---