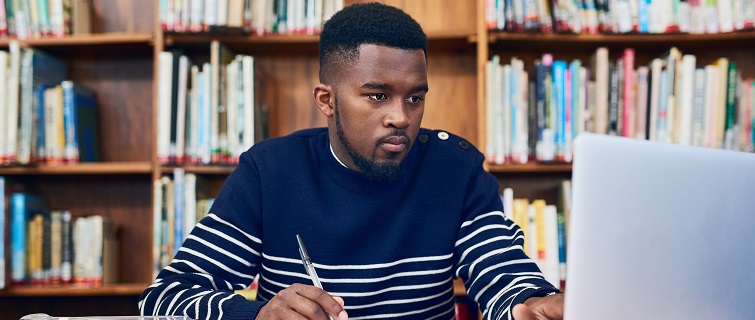 Online degrees have come a long way since the early days of virtual education. Today, students can choose from a wide range of higher education programs and enjoy much-needed flexibility, without sacrificing quality.
As online offerings have matured and the underlying technology has advanced, courses have become more engaging and interactive. While virtual courses are just as rigorous as their traditional counterparts, they deliver some benefits typical classes can't, making a premium education accessible to more students.
How Do Online Degrees Compare to Traditional Programs?
Numerous studies have found that even though online degrees vs traditional degrees are different, they are comparable in terms of quality. Yin Wah Kreher, an Instructional Designer and Project Lead at Georgetown's School of Continuing Studies (SCS), cites a meta-analysis of thousands of research papers published between 1996 and 2008—the study concluded that students in an online learning environment actually perform slightly better than those in traditional classes.
What Are the Main Benefits of Online Programs?
For many students, online courses have become a better way to learn. Flexibility is one of the most significant advantages. Often designed for working professionals, online degrees allow students to fit career advancement into their busy schedules, balancing career and family obligations. This flexibility also allows students to proceed at their own pace, and review lectures and course materials anytime.
Virtual formats allow for more engaging multimedia content, leading to more varied, dynamic classes. Since online programs remove geographic barriers, they allow students to earn a degree from a university that might otherwise not be accessible. They also open up a world of opportunity for guest lecturers: industry leaders from across the globe can join classes virtually to lend their insight and expertise.
With assessments performed more frequently on average, instructors are better able to track students' progress and provide help when needed.
How Do Students Feel About Online Degrees?
Students are reporting a positive return on their investment. A 2018 survey by Learning House found that 86% of online students feel the value of their degree equals or exceeds the amount they paid for it. For students who have experienced both in-person and virtual classrooms, 85% say learning online is as good or better than attending courses on campus.
Scott Galloway, a professor at NYU's Stern School of Business, recently told New York Magazine that, for better or worse, one of the main reasons students seek out a degree is essentially to get the university's name on their resume, saying, "fifty percent of this investment is in one thing: certification." The good news for virtual learners is whether you earn your degree online or on-campus, your diploma looks the same.
What Do Employers Think of Online Degrees?
Once met with skepticism by employers, online degrees are now seen as demonstrating a job candidate's professional drive and time management skills. Online students often balance their education with a full-time job, and many employers would view that as a positive, according to Chris Vennitti, president of HireStrategy, a D.C.-based staffing firm. In today's job market, the chance to signal to a potential employer that you have experience successfully juggling multiple priorities could give you an edge over the competition.
How Are Colleges Addressing Any Drawbacks?
Of course, there are benefits to learning in close physical proximity to others, especially the personal connection and community that can develop in a traditional learning environment. With this in mind, educators have gotten very good at intentionally fostering a sense of camaraderie among their online students. SCS instructional designer Yin Wah Kreher explains, "When I design my courses I always say, in the orientation module, 'You are a community. You are forming a community of inquiry. You're learning together.'"
Despite the lack of in-person interaction, online classes often afford students greater access to their instructors and fellow classmates through virtual avenues. Georgetown SCS master's candidate Kristen Sanchez described her relationship with university faculty and staff during her online program this way: "They always were an open book. They always encouraged us and said, 'Call me anytime. You guys can text me, you know.' . . . They were all very inviting and very proactive." Many online programs also host some in-person networking events, giving students an opportunity to meet classmates and mentors face to face if they choose.
Since most students have their eye on a particular career path after graduation, career services are key. Many online programs have dedicated coaches and advisors to help students break into competitive industries and land the job they want.
So, Which Format Should You Choose?
Deciding between a traditional or online program is ultimately a personal decision that depends on many factors, but one thing is clear: online education has never been more attractive or more respected. If you decide an online degree is right for you, you may be surprised by just how compelling your courses are and how much interaction you have with your instructors and fellow classmates.