Executive Certificate in Strategic Diversity & Inclusion Management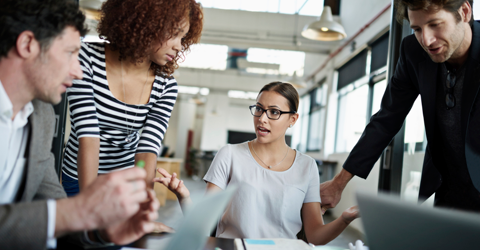 ---
Ideal for
Executives, managers, and consultants with diversity or talent management responsibilities in the government, non-profit, or private sector.
Program Format
This cohort program meets for three consecutive days—typically Thursday through Saturday—once per month at our downtown Washington, D.C. campus.
Program Length
Six courses over six months.
Program Cost
Total program tuition including all six courses is $5,970.00. Most course materials are included.

Learn more about funding or financing your certificate >>
Start Date

Now accepting applications for Fall 2017. Application deadline is August 1. Classes begin in September.
Program Overview
Taught by academics and experienced practitioners, the Executive Certificate in Strategic Diversity and Inclusion Management is designed for executives, managers, and consultants responsible for human resources, talent management, and organizational effectiveness. The program is grounded in the belief that diversity contributes to richness in organizations by having a variety of views, approaches, and actions to use in strategic and tactical planning, problem solving, and decision-making.
Students will gain the necessary insight, skills, and tools to lead or support a strategic, long-term, sustainable approach to diversity and inclusion management in their organization. Courses will provide functional and relevant templates and tools, and students will acquire skills in analyzing and diagnosing diversity and inclusion issues by working with real clients in the completion of a practicum project over the course of the program.
Program Objectives
Upon successful completion of the program, participants will:
Understand the latest academic research and best practices in the fields of cultural competency and diversity and inclusion
Apply this knowledge to their work using a systems-thinking approach
Develop critical competencies, metrics, values and ethics
Develop technical skills, effective communication, and strategic thinking relevant to a wide variety of industries, sectors and disciplines
Certificate Requirements
To earn the Executive Certificate in Strategic Diversity and Inclusion Management from Georgetown University, participants must complete six (6) required courses for a total of 14.40 Continuing Education Units (CEUs), which is equivalent to 144.0 contact hours. The program must be completed in sequence as a cohort over the six-month duration.
| | Course Name | Course Type | CEUs |
| --- | --- | --- | --- |
| 1 | Theoretical Foundations of Diversity & Inclusion | Required | 2.40 |
| 2 | A Systems Approach to D&I Measurement | Required | 2.40 |
| 3 | Cultural & Social Group Identities | Required | 2.40 |
| 4 | Resistance & Renewal: D&I Change Initiatives | Required | 2.40 |
| 5 | Workplace Application (A) - Leading & Influencing | Required | 2.40 |
| 6 | Workplace Application (B) - Leading & Influencing | Required | 2.40 |
| Total | 6 Required Courses | | 14.40 |
See below for course schedules and application information.
Program Prerequisites
A bachelor's degree or the equivalent.
At least five years of experience in a government, private sector, or non-profit organization.
Openness to feedback; capacity for self-examination; willingness to challenge one's own beliefs and biases.
International Students
Georgetown University cannot sponsor student visas for non-credit professional certificate programs, however, international students who enter the U.S. on a valid visa are eligible to enroll in courses. For more information, please see our Frequently Asked Questions. A TOEFL examination for non-native speakers of English is not required but students are expected to read, write and comprehend English at the graduate level to fully participate in and gain from the program.
Application Process
The Strategic Diversity and Inclusion Management certificate program has a competitive admission process. For each cohort, an admissions selection committee chooses a group of students who represent a variety of backgrounds, occupations, and goals for the program to enrich the classroom experience. Students must be open to feedback and personal growth, have a capacity for self-examination, and have a willingness to challenges one's own beliefs.
Applications and supporting materials must be submitted online through the MySCS Portal. Applicants are responsible for uploading all required application materials by the posted deadline for their desired semester of entry. Students will be notified of their admission decision via e-mail within 2-4 weeks after the application deadline.
Required:
A Systems Approach to D & I Measurement and Accountability
Cultural and Social Group Identities: Expanding Self-Awareness
Resistance and Renewal: Managing the D & I Change Initiative
Theoretical Foundations of Diversity and Inclusion
Workplace Application (A) - Leading and Influencing Across Differences
Workplace Application (B) - Leading and Influencing Across Differences
---
Course Schedule
Course Name
Semester and Section
Required
Fall 2017
Theoretical Foundations of Diversity and Inclusion

Not currently scheduled

Section 01

Thu/Fri/Sat, 9:00 AM - 5:00 PM
Sep 14, 2017 to Sep 16, 2017
640 Mass Ave.

Status:

Open

Required
Fall 2017
Cultural and Social Group Identities: Expanding Self-Awareness

Not currently scheduled

Section 01

Thu/Fri/Sat, 9:00 AM - 5:00 PM
Oct 19, 2017 to Oct 21, 2017
640 Mass Ave.

Status:

Open

Required
Fall 2017
Resistance and Renewal: Managing the D & I Change Initiative

Not currently scheduled

Section 01

Thu/Fri/Sat, 9:00 AM - 5:00 PM
Nov 09, 2017 to Nov 11, 2017
640 Mass Ave.

Status:

Open

Required
Fall 2017
A Systems Approach to D & I Measurement and Accountability

Not currently scheduled

Section 01

Thu/Fri/Sat, 9:00 AM - 5:00 PM
Dec 07, 2017 to Dec 09, 2017
640 Mass Ave.

Status:

Open

Required
Fall 2017
Workplace Application (A) - Leading and Influencing Across Differences

Not currently scheduled

Section 01

Thu/Fri/Sat, 9:00 AM - 5:00 PM
Jan 11, 2018 to Jan 13, 2018
640 Mass Ave.

Status:

Open

Required
Fall 2017
Workplace Application (B) - Leading and Influencing Across Differences

Not currently scheduled

Section 01

Thu/Fri/Sat, 9:00 AM - 5:00 PM
Feb 08, 2018 to Feb 10, 2018
640 Mass Ave.

Status:

Open