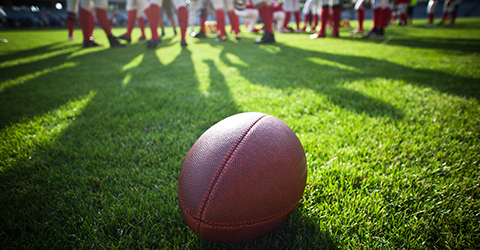 By Benjamin Karr, Class of 2016, Master's in Sports Industry Management
Walking into MetLife Stadium where both the New York Giants and New York Jets play their home games, not many fans would know roughly 90,000 tons of recycled steel and concrete were used to construct the venue through a unique partnership with the Environmental Protection Agency.
The lights that turn night into day for Washington Redskins games at FedEx Field in Landover, Maryland are powered by 8,000 solar panel-shaded parking installations.
When the Philadelphia Eagles constructed their new stadium in 2003, so many environmental bells and whistles were built into the design that the team uses no electricity from the power grid. Since 2012, recycling and composting programs have topped a 99 percent diversion rate, which equates to more than 850 tons of materials annually.
People don't talk about it much, but the National Football League (NFL) has quietly gone green and every team is seeing positive environmental, communal, and financial benefits as a result.
Sustainability in Sports
The fact of the matter is that sustainable stadium systems help the bottom lines of NFL teams. Based on the cost-savings estimates of premier greening programs, altogether, current NFL sustainability efforts are estimated at $100 million annually league-wide.
And the environmental impact is just as big.
All told, these initiatives have large scale impacts. MetLife Stadium reduced its carbon footprint by over 247,379.4 metric tons of Carbon Dioxide equivalent. Levi's Stadium in Santa Clara, California has back-reduced water consumption by over 50% by changing their turfgrass choice. Lincoln Financial Field produces up to six-times the energy needed for all home games and sells excess energy back into the city's power grid.
"This is a great example of the fresh focus and integrative solutions that Georgetown's Sports Industry Management program graduates bring to the sports industry," said Daniel G. Kelly II, Ph.D., Faculty Director for the Georgetown University master's Sports Industry Management program. "As sports mirrors society, the NFL has become the perfect role model for conscientious sustainability programs. More corporations need to follow the NFL's path to protecting the future of the planet."
A Team Effort
The green dividend is not limited to environmental or financial savings for NFL teams. Their hometowns are appreciative of NFL's sustainability efforts, too.
The Philadelphia Eagles "Go Green" marketing platform works to reduce the stadium's carbon footprint with the help of fans. Recycling, conserving and buying green all urge the community to do their part both inside and outside the venue—from recycling old tires to using shorter run cycles on their dishwashers and clothes washers.
Changes are underway, and there is no denying it. Both of the NFL's newest venues—U.S. Bank Stadium and Mercedes-Benz Stadium—were designed by leading architects with an environmental focus, each costing roughly $1 billion to construct.
Through a trend analysis of current sustainability programs in place, we can see where both the NFL embraces these measures and where there are gaps.
In order to encourage global change, the NFL needs to better publicize its environmentally-conscious practices to demonstrate that there are many benefits of sustainablity—including big savings.
---
Benjamin Karr conducted research into the sustainability programs of stadiums across the NFL as part of his graduate studies in Georgetown University's Sports Industry Management master's program (Class of 2016). Benjamin now works with the Washington Redskins as a Premium Seating Account Executive.