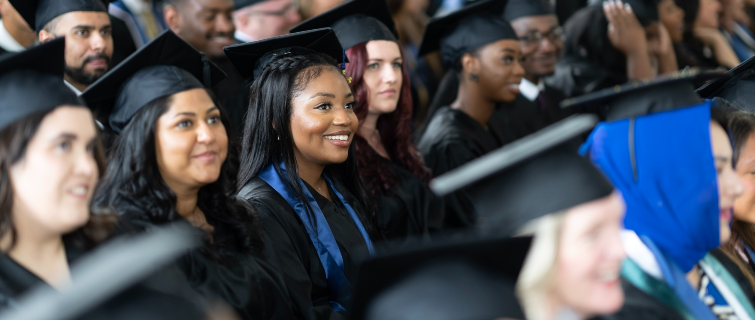 On Friday, May 19, Georgetown University School of Continuing Studies celebrated the achievements of over 1,300 graduates at the School's 2023 Commencement ceremony. Brimming with inspiring speeches and proud loved-ones, the elements of this year's ceremony encouraged graduates to utilize self-care as a tool to ignite positive change.
Over Commencement weekend, Georgetown conferred degrees to more than 6,000 students at the Class of 2023 Commencement from May 18–21. Out of Georgetown's 10 schools, SCS had the largest graduating class of 1,319 grads.
This grand total included 1,253 master of professional studies degrees; 27 executive master of professional studies degrees; six master of arts in liberal studies degrees; nine doctor of liberal studies degrees; and 24 bachelor of arts in liberal studies degrees.
Among this large graduating class, each student had their share of challenges throughout their academic journey and ultimately overcame all that tried to stand in their way. Although it's impossible to capture each individual experience, three inspiring SCS grads recently shared how they navigated obstacles they faced while earning their degrees. Along with school, many students have to balance other personal responsibilities which can become a heavy weight on anyone's mental health.
With spring comes the hustle and bustle of finals week, Commencement, and reuniting with family—making it easy to forget about tending to mental healthcare. Jason Kander (L'05), who received an honorary doctorate in humane letters during the ceremony, centered his Commencement speech on the importance of actively pursuing self-care, especially when self-care means relying on the support of mental health professionals.
"I am not here today to inspire you to think of others, I'm actually here today to inspire you to think of yourself," said Kander.
A military veteran and accomplished politician, Kander surprised constituents when he paused his political career in order to receive mental health treatment for his post-traumatic stress disorder. He emphasized that taking care of oneself is not selfish, but rather essential to making a difference in the world. Kander encouraged graduates to pursue their passions, take care of themselves, and work toward creating positive change in their communities.
"My message to you today is one that I learned the hard way: that there is nothing selfish about self-care, because if you don't take care of yourself, you won't change the world—but if you do, you just might."
The ceremony also featured closing reflections from Georgetown University President John J. DeGioia, who praised graduates for their hard work and dedication to their studies. He emphasized the importance of lifelong learning and encouraged the graduates to continue to pursue their education and personal growth.
"You have forged community during the most difficult of circumstances, you faced challenges none of us could have imagined years ago, you've gained knowledge and experience, a deeper understanding of yourself and our world," said DeGioia.
As the graduates walked across the stage to receive their diplomas, elated cheers and applause echoed from the audience. Throughout the ceremony, the sense of community and camaraderie continued to grow and radiate from the graduates.
Once the ceremony came to a close, the graduates trailed Healy Lawn with hope and excitement for the future. Pride beamed from the graduates, as well as their loved-ones, and the Georgetown Community.