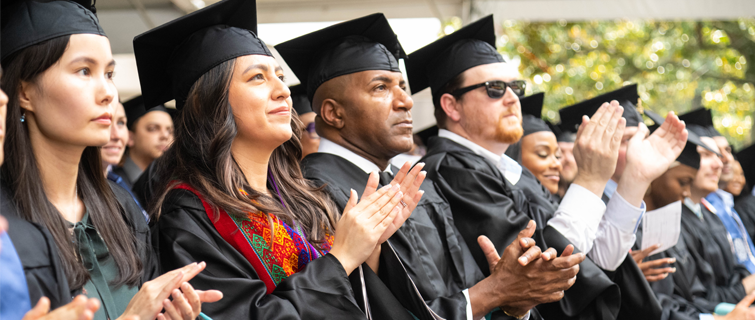 Earning a college degree is a significant accomplishment that requires hard work, dedication, and perseverance. From moving across the country, or around the globe, to balancing a demanding work-life balance, each student has a story about their experience while earning their degree and what kept them motivated throughout their academic journey.
This year, there will be 1,319 students graduating from SCS. For three students in the Class of 2023, this milestone is even more impressive given the obstacles they overcame during their studies. Meet Kristina Kukarkina, Gabriel Antuna-Rivera, and Carla Owens-Filice: three inspiring individuals who will be graduating this May.
Kristina Kukarkina: A Mission To Ignite Justice for Ukraine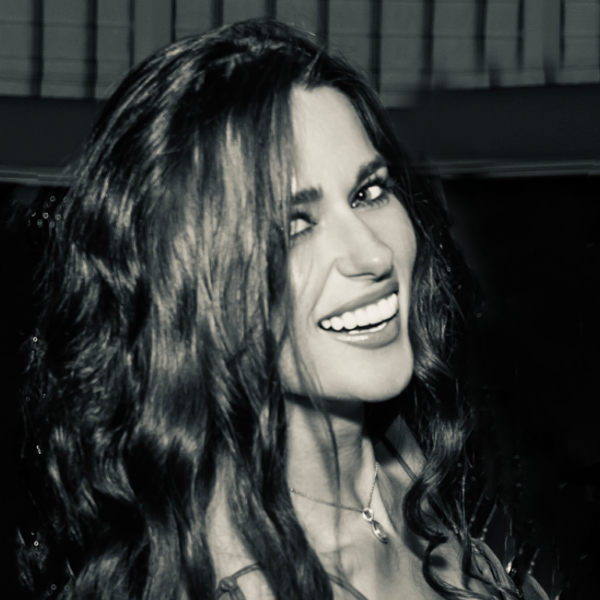 Before moving to the United States, Kristina Kukarkina lived in Ukraine and has been long-distance from her family for the past decade. In February 2022, halfway through the master's program in Cybersecurity Risk Management, Kukarkina received a late-night phone call with news that Russia was invading her home country.
Kukarkina immediately phoned her 14-year-old sister who would normally be heading to school at that time. Instead, she was running for shelter.
"At that point, I realized that children have been deprived of education on a random Wednesday morning, and everyone's life changed in Ukraine," said Kukarkina.
Now that the country is being impacted by the ongoing conflict with Russia, Kukarkina often has no way of knowing if her family is safe. Although she is about to walk across Healy Lawn to accept her diploma, she said her everyday thoughts are consumed by fear for her family in Ukraine, who live on the front lines of the conflict.
"I couldn't help but feel anxious and overwhelmed; nevertheless, I refused to let the ongoing conflict derail my academic pursuits," she said.
Despite these challenges far beyond her control, Kukarkina remained committed to her degree and achieved great success. She channeled her energy into her studies and found solace in the support of her friends and professors at Georgetown.
"You feel a part of the community, you feel that you're not a stranger to this world," said Kukarkina. "They became family to me."
She said the University's values of Commitment to the Common Good and Interreligious Understanding also served as an inspiration to use her Georgetown education to make a difference in the world.
Kukarkina has always been interested in computer systems and technology. However, the main reason she decided to pursue a career in cybersecurity are the lasting impacts that can be accomplished. Although cybersecurity is often thought of as simply existing in the virtual realm, it can bring about great change to the "real" world.
"I wanted to actively contribute to protecting organizations and individuals, safeguarding sensitive information, and preventing cyberattacks," she said.
The events unfolding in Ukraine profoundly impacted Kukarkina's career motivations, leading her to shift her focus toward certain areas of cybersecurity. The war in Ukraine heightened Kukarkina's awareness of the significance of international security, critical infrastructure protection, and policy development within the cybersecurity landscape. As a result, her career motivations evolved to encompass these specific aspects.
Kukarkina sees education as an inspirational tool that can become a vehicle for justice and change. Her hunger for knowledge continues to grow, helping her discover more about herself and the world around her. She said she believes that the more you learn, the more equipped you are to navigate the world and contribute to making it a better place.
"With my degree in hand, I am ready to join the fight for peace and justice in Ukraine and to use my knowledge and skills to help build a better future for my homeland," said Kukarkina.
A lifelong learner, Kukarina believes that education is the best gift one can bestow on themselves. After graduating, Kukarkina envisions herself assisting organizations to develop robust security policies and ensure strict adherence to industry standards. She is also considering pursuing a law degree, hopefully from Georgetown Law.
Kukarina said that with the power of education, she feels a sense of hope for the future and is prepared to take on whatever may come next.
"I know the road ahead will be long and complex, but I am ready to face whatever challenges lay ahead, secure in the knowledge that I have the support of my Georgetown community behind me," said Kukarina.
Gabriel Antuna-Rivera: Sharing His Passion for Education To Teach Students Abroad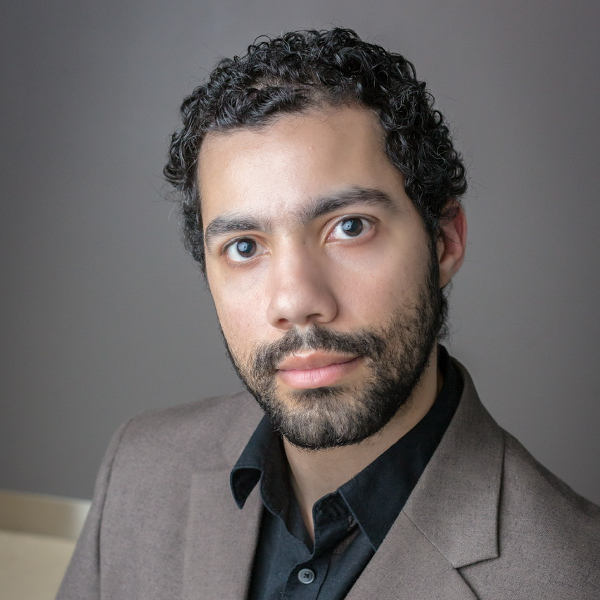 Gabriel Antuna-Rivera spent his childhood moving around the country more often than most. With his father serving in the Army, traveling became a significant part of growing up which encouraged him to seek adventure throughout his life.
Prior to Georgetown, Antuna-Rivera lived in Alaska for 10 years, working as a masseur to help support his family full-time. Before relocating to "The Last Frontier," Antuna-Rivera attended Montgomery College in Maryland, which has an articulation agreement with Georgetown that enabled him to achieve his Bachelor of Arts in Liberal Studies degree at SCS.
During his time working at the massage clinic, Antuna-Rivera supervised students in massage therapy school and realized he had developed a passion for teaching. He said thanks to his brother, an aspiring attorney, he was motivated to continue his education to pursue a new path as an English teacher. Eager to embark on a new challenge, Antuna-Rivera flew across the country to pursue his bachelor's degree, a new career, and encountered a once-in-a-lifetime opportunity along the way.
"My brother convinced me to apply for Georgetown SCS in the first place," said Antuna-Rivera. "He has never faltered in his belief that I could turn a challenge into a chance for real growth and in turn, a chance to do good for others–even when circumstances had me so beat down that I couldn't see past the most immediate objective."
Antuna-Rivera described the transition back to school as daunting and often questioned if he was ready for this next chapter. When in doubt, he knew he could always lean on his brother for support. During his Spring 2023 semester, he took on six classes–a total of 18 credits.
"Quite literally every single Georgetown student I've spoken to told me was a terrible idea," he laughed.
Yet, he achieved great success. In the same jam-packed semester, Antuna-Rivera was committed to going above and beyond for his studies, and he even won a Fulbright scholarship to Mongolia, a country he did not know much about.
"That's part of the appeal," said Antuna-Rivera. "That's what makes it an adventure."
Antuna-Rivera is not only excited to travel but is ready to share his passion for education with his vocational and university-level students in Mongolia. Antuna-Rivera aims to embody the value of Educating the Whole Person and said he believes there is more to a valuable education besides good grades alone.
He advised fellow SCS students: "Embrace your time here as a time to learn and grow as opposed to proving some arbitrary idea to yourself or others."
Antuna-Rivera was able to dive deeper into his passions and career goals during his time at SCS in addition to working with student organizations. Going forward, he said he is excited to explore teaching opportunities near and abroad with hopes of not only gaining more knowledge, but also expanding accessibility to education.
Carla Owens-Filice: Giving Back to Underserved Communities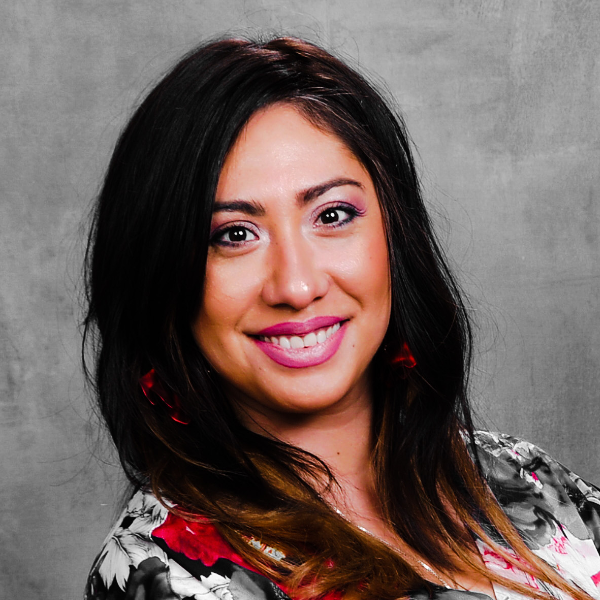 The first person to attend college in her family, Carla Owens-Filice is earning a master's in Design Management & Communications. With the intention to work with nonprofit organizations in underserved communities, Owens-Filice pursued her degree while also working two jobs to support her family. Although her non-academic duties were laborious, they are also part of the reason she was able to reach her goals.
Owens-Filice often juggles school, family, and work–a balancing act that is far from easy. Most recently, her grandmother fell critically ill. Owens-Filice quickly bought a plane ticket to Texas to help her grandparents all while completing her capstone project. She said thanks to the support of the SCS community, she was able to successfully maintain the duties to her family while earning her master's.
"I'm grateful for Georgetown and the faculty, because they were very understanding of my situation, and were very helpful through their process," Owens-Filice said. "Having that support system here within Georgetown really encouraged me to move forward."
While she often is the primary caretaker for her family, they also played a significant role in helping her get to where she is today. Coming from a first-generation Mexican immigrant family, she said her non-traditional experience has been a challenge, but also a source of motivation to work fiercely towards her goals.
As a first-generation college student, Owens-Filice did not have many resources to navigate the realm of higher education. Together with her mother, she helped manage the household, pay bills, and took night classes while working two jobs to provide for her siblings.
"As a result of these valuable lessons, I've been taught to persevere and to keep on fighting for what I believe in," Owens-Filice said.
Throughout her academic career, she has fostered new relationships with mentors that have helped her discover what she wants to accomplish with her degree. As she prepares to walk across the Commencement stage, she hopes to launch her own marketing consulting firm for non-profit organizations in the next few years. After previously working with small businesses, she was inspired to help communities that don't have large funds to develop brand strategies or to receive support with their business.
"That really motivated me because I come from that upbringing and I want to be able to help those communities," she said.
Owens-Filice said the entire SCS experience significantly elevated her career opportunities. In the future, she hopes to be a leader within her industry. Throughout the ups and downs, Owens-Filice said that it was all worth it. Thanks to the program, she was able to find her passion and acquire the skills necessary to make it happen.
"This is something that is yours, nobody is going to be able to take it away from you," she said. "Be encouraged to do what you love."