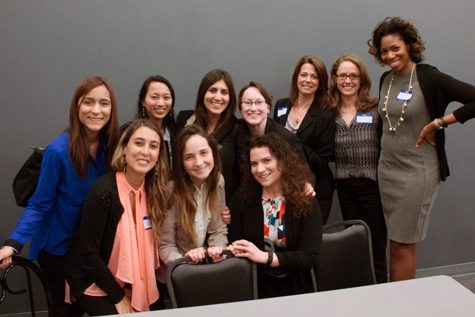 Back row (l to r): PR/CC Students Andrea Alfaro, Joie Tolosa, Andrea Beron, Rachel Ghadiali; Professor Sondra Levitt; PR/CC Aluma Zane Bundy, PR/CC Alumna Brittany Henry. Front row (l to r): PR/CC Students Maria Payan Jiminez, Laura Barbier Viera, Madeline Harrington
On April 15, 14 students and alumni from Georgetown University's Public Relations & Corporate Communications (PRCC) program were guests at Jubilee Jobs, a Washington, D.C., nonprofit that has been providing job training and employment counseling for more than 30 years. Now there are plans for more collaboration between PR/CC and the jobs program.
The visitors from Georgetown's School of Continuing Studies (SCS) had all attended Sondra "Sunny" Levitt's (right) class in Strategic Career Planning and Management, so it was fitting for them to see how the well-respected nonprofit approaches this topic. They helped serve dinner to more than 50 Jubilee Jobs clients, offered their job-searching tips, and heard success stories from several of the participants, including a man who was recently hired at Safeway after several years of unemployment.
Just the Beginning
The evening was a big success, but it's not the end of the relationship: PR/CC plans to continue the connection, starting this summer, by providing Jubilee Jobs with more student-led job-training and support.
"Our whole idea was, if they learn it, then they can teach it," Levitt said.
The get-together was suggested by Zane Bundy, a 2014 PR/CC graduate who had taken the career-planning course and was using her Capstone project to help Jubilee Jobs create a new communications plan.
"At the end of that course, Sunny asked us for ideas about how to continue to engage alumni after the course and also to give the students in future classes more opportunities to network and share ideas," said Bundy, who joined FairWinds Partners in 2012 as a Marketing and Communications Manager and became its Senior Director of Marketing in January. "Given that Jubilee Jobs is a job counseling organization, the fit seemed ideal."
Founded in 1981, Jubilee Jobs has an impressive track record of helping people overcome a host of barriers—including homelessness, and histories of substance abuse and incarceration—to find work. Last year, it secured jobs for a record-breaking 1,000 people, 288 of whom were homeless. This year it has equally ambitious goals: 1,000 more job placements, with at least 60 of those "at move-up level positions."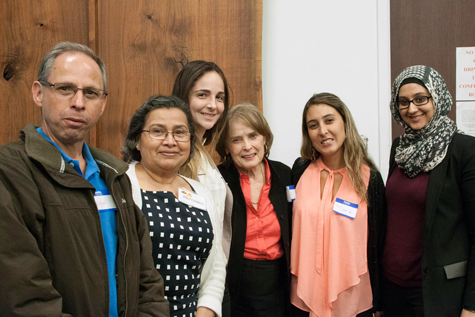 Miguel Marcia; Mercedes Henriquez, Director of Job Placement; Terry Flood, Executive Director; PR/CC Student Laura Barbier Viera, PR/CC Student Maria Payan Jiminez; Journalism Student, Amel Guetattfi
A Need for Young Volunteers
But one thing it needs is more young people to volunteer, Bundy said. And that's where Georgetown's School of Continuing Studies, which has a lot of young people as well as a Jesuit-inspired commitment to give back to the community, can help.
"Not only does the [strategic career planning] class help you get a job, but you can also help others," said PR/CC Student Andrea Alfaro, a native of Colombia.
Of the PR/CC program itself, she added: "I love it. It's hands-on experience. Everything we learn we can relate to the real world."
At the Jubilee Jobs dinner, one current PR/CC student spoke of growing up poor in Lawrence, Mass., and how she was determined to get an education and leave the mill town where her father labored in a textile factory. Susan Lahout went on to earn a degree in organizational psychology, work as a school counselor and local television producer, and raise a family before resuming her education at Georgetown. Now she's looking to change careers.
"The only way you can be equal is through education," said Lahout, who wants do public relations work for a university or medical center in Boston. "It gives you power. It gives you perspective. It changed my life."