What does a scientist look like?
Thirty-nine years ago, a young black American researcher named Shirley Malcom asked that question and got a disturbing, if not unexpected, reply: except in rare cases, a scientist doesn't look like her. The results of her study were published in 1976 in an influential paper called The Double-Bind: The Price of Being a Minority Woman in Science.
According to Malcom's research, women of color—as members of two minority groups—experience more prejudice on average than either white women or minority men.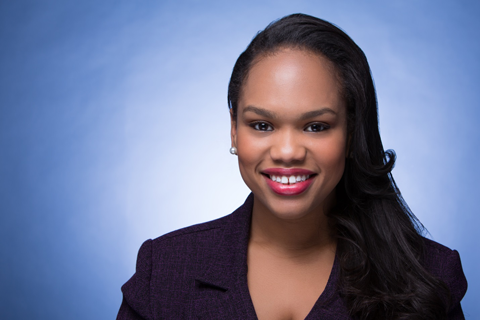 Fast-forward to 2014, and another young black scholar named Brittany Harris (above) is finalizing her capstone project for the Georgetown University Master of Professional Studies in Master's in Human Resources Management (HRM) program. Drawing from all that she learned in the program, Harris writes a paper entitled Revisiting the Double Bind: Ensuring the Development and Advancement of Women of Color in Science, Technology, Engineering, and Mathematics (STEM). She submitted the piece to Sources of Urban Educational Excellence, a major education conference at Georgia State University, where it was selected from among more than 80 submissions, earning Harris an invitation to present her work during a conference segment called "Black Girls, Black Women, Equity and Innovation."
Harris, now an alumna of the HRM program, is fascinated by Malcom's work and has used it to create a blueprint that colleges and universities can use to advance the careers of minority women in science. "Few researchers have been able to capture that experience, which lies at the intersection of race and gender," Harris said.
Addressing the Equity Issue
Harris' paper highlights the negative experiences of minority women who pursue science careers and draws attention to factors that influence them, such as "stereotype threat," whereby women and minorities have the added burden of defying stereotypes about their abilities in math or other academia.
In her conclusion, Harris offers recommendations to colleges and universities on ways to increase their recruitment and support of minority women. She said that while there is much discussion about improving the academic "pipeline" for science-related jobs, most of that talk centers around four-year institutions. However, many minority women start their postsecondary education at community colleges: shouldn't they be in the "pipeline" too?
"Her insights into this topic are informed by her own critical thinking as it relates to the issues of race, gender, and structural inequity in general, and specifically the reasons for the severe underrepresentation of women of color in the STEM professions," said Sukari Pinnock, who taught Harris in the HRM class Theories of Diversity and Inclusion. "With this research, Brittany has done what we hope each of our graduates will do with her or his degree—use themselves and what that they have learned to impact the world around them in a positive and meaningful way."
A Reason for Optimism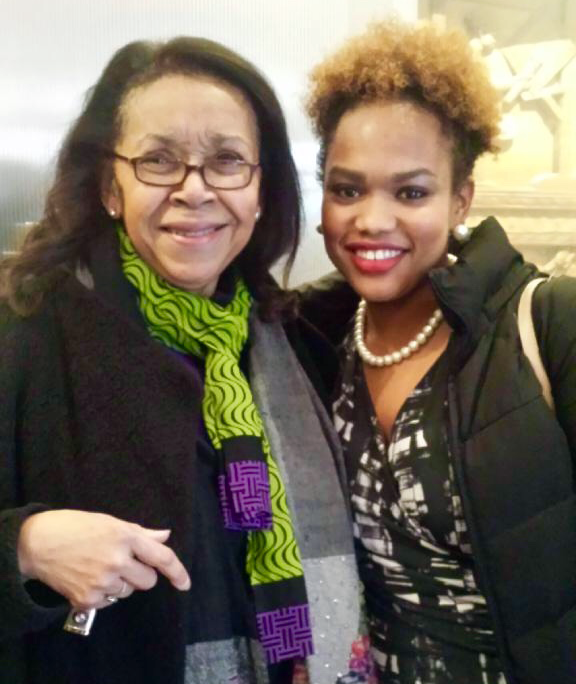 Brittany Harris (right) meets Shirley Malcom at Morgan State University, where Malcom is on the Board of Regents.
Can prejudices be overcome? Yes, Harris said, as long as people are willing to acknowledge them.
"People can change," she said. "And that's why I think it's so beautiful. It's all about awareness."
On the very day she turned in her capstone project, Harris went to her brother's graduation ceremony at Morgan State University in Baltimore and heard the name "Shirley Malcom" announced from the stage. It turned out Malcom, whom Harris had never met, was on the Board of Regents at the University.
After the ceremony, Harris' father urged her to introduce herself to the woman whose work had played such an important role in her academic life at Georgetown. So she did.
"When I met Dr. Malcom," Harris recalled, "I thought, 'Maybe this was meant to be.'"
Learn more about Georgetown's Mater's in Human Resources Management >>>