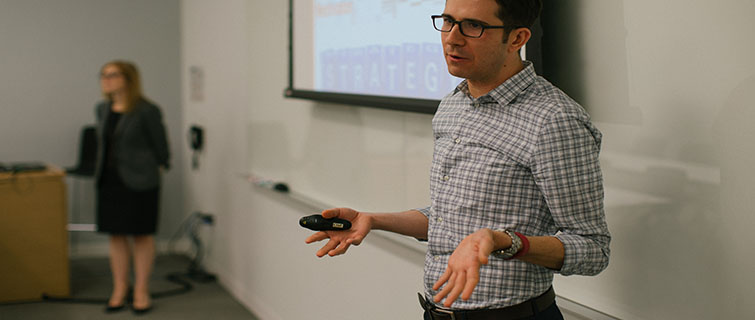 It's an exciting time for communicators and marketers working within the social impact sector.
Yes, the world faces complicated and big social issues—hunger, homelessness, environmental degradation, and income inequality to name a few. The list goes on and on. It can seem overwhelming to think about the many issues society faces and if they will be solved.
But there's good news.
The social impact sector—nonprofits, socially responsible businesses, social enterprises, and the practitioners who work within them—has arguably never been a more effective and innovative one. Not only are smart communicators and marketers helping to raise awareness about these important issues, but also many are capably persuading target audiences to take tangible actions that support proven social change.
Georgetown University's Center for Social Impact Communication (CSIC), a research and action center within the School of Continuing Studies (SCS), works with both students and practitioners to help increase social impact through the power of communicators at the University and beyond.
Through our applied research studies, workshops, and classes, we keep our eyes on the exciting trends within the sector. Here are five that the CSIC team is currently following:
Trend One: The need for more strategic storytelling. Numbers numb, but stories get stored. Stories create emotional connections with target audiences and smart social impact organizations are firmly on the storytelling bandwagon. With this rise in the amount of storytelling for social impact comes the double-edged sword that traditional techniques are now falling flat. The bar is higher than ever before to create strategic stories that have purpose, interesting characters, and a hook that drives people to not just watch but also take an action. Read more about the five essential (and strategic!) elements of an effective story in CSIC's Stories Worth Telling report.
Trend Two: The power of smart imagery. Images can play a vital role in helping messages reach an audience. Smart imagery drives an emotional connection that words alone cannot achieve. Many social impact organizations are investing in professional, journalistic-style photography as a way to show an authentic side of the change the organization is working to drive. Our Communicating Via Imagery study shares lessons learned from how nonprofit organizations are using photography as part of their communication strategies.
Trend Three: The currency of influence. Nonprofits are understandably in a perpetual fundraising mode. But to view current or prospective supports only for their possible monetary donations is a mistake. The social impact sector must remember that social media's empowerment of the individual means anyone can—and is—an influencer among his or her circle of friends and family. That type of influence is a new, powerful "currency" that shouldn't be underestimated. CSIC explored this topic in our Digital Persuasion study.
Trend Four: The synergy of purpose and profit. Doing well by doing good is not only possible, but it's also happening at breakneck speed. Through corporate social responsibility and cause marketing programs, corporations are proving that they can create profit while also being a good corporate citizen. There are still many examples of inauthentic green and pink washing out there, but as consumers continue to expect more social impact from the companies they buy from, most companies are responding in innovative, results-oriented ways. Through our research, CSIC actively looks at how corporations large and small are bringing together purpose and profit.
Trend Five: The rise of the social strategist. The above trends are not driven by amorphous organizations, but rather by the individuals behind them: the smart communicators and marketers who combine both head and heart to create social impact. Through nearly 60 interviews with expert practitioners representing organizations and companies like Doctors Without Borders, Chipotle, and many in between, The Social Strategist Project uncovers insights about the skills and traits necessary to be an impact-driven communicator.
---
John D. Trybus, APR, is the deputy director of Georgetown University's Center for Social Impact Communication. He also teaches CSIC's signature Cause Consulting course within the Public Relations & Corporate Communications master's program.