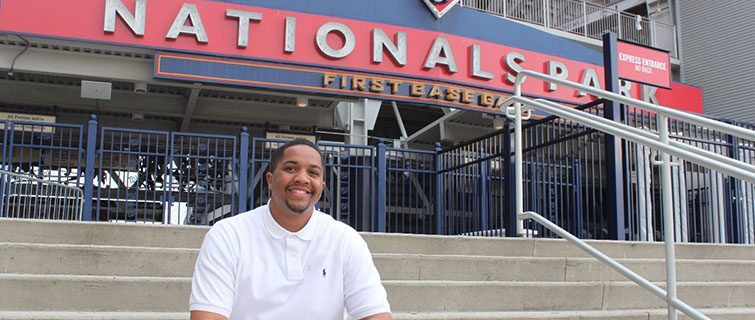 Aaron Jones, a student in the Georgetown University Master's in Sports Industry Management master's degree program, has big dreams: he hopes to one day become a college athletic director or lead the operations for a major sports venue.
"Those are the ultimate goals," he said, "but I know there are steps to take to get there."
Jones recently took a significant step toward those dreams when he received a scholarship on behalf of the Washington Nationals and Major League Baseball (MLB) to attend the MLB Diversity Business Summit on March 8 and 9 in Phoenix, Arizona. The conference topic—increasing the diversity of MLB's fan base and front office—just so happened to be the very issue Jones was examining for his SIM capstone project.
Jones said that baseball, a sport making a comeback after experiencing several years of loss in its overall fan base, is "making diversity and inclusion a focal point."
"The highlight of the conference was getting to meet many diverse groups of people from around the world," Jones said. "The networking aspect was also great. I was able to meet executives from multiple clubs and create relationships."
A Fitting Degree
Like the MLB conference, the SIM program has been a perfect fit for Jones. All of the instructors in the SIM program are "in the industry or, if they're not, they were in the industry for a long time and are now retired," said Jones, who will graduate from the program in the spring.
"He was always adding something to the conversation, and was very engaged and involved," said David Tyahla, Senior Government Affairs Manager at the National Recreation and Park Association and a SIM instructor. "He was a student you enjoy having in your class."
Learn more