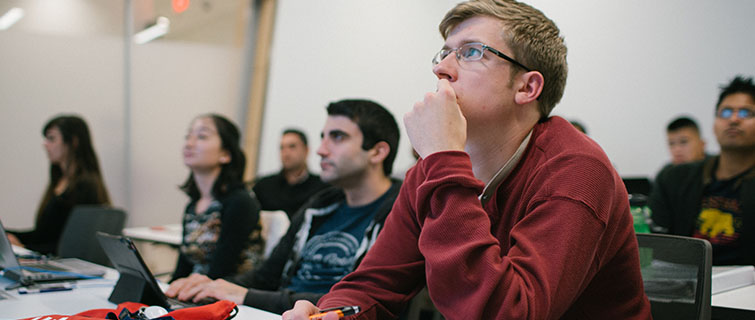 As Director of Georgetown University's Academic Resource Center (ARC), Jane Holahan knows a lot about the concerns of returning students. Some are similar to the challenges facing traditional undergraduates, and others are more specific to older students, who must often balance schoolwork with family duties, a full-time job, and other responsibilities.
Here, she offers five tips for making the most of your return to school:
Tip One: Connect with Peers
Feeling connected to your university is important for students of all ages, but it can be more challenging when you've been away for a while. If you were an undergraduate living on campus your freshman year, you pretty much had to get to know your roommate, and probably your suitemates as well. In addition, the school was probably doing all it could to help you find connections—whether through student organizations, athletics, or other extracurricular activities—and make you feel at home.
When you're returning to school, that connection may not come as naturally—and that means you'll need to make it happen yourself. It may take some initiative if you're not an extrovert, but try to get to know your classmates, and make one or two new friends. You might also get together with your peers for an informal study or support group. Returning to college will be lot more enriching (and fun) if you can share the experience with others.
Get to know your professors, too. This may actually be easier for older students because they're closer in age to their instructors. And if you're in a professional studies program, like those offered at Georgetown's School of Continuing Studies, you will also likely share a common career interest.
Tip Two: Ask for Help
Don't just get to know your professors. Ask for their help, if you need it. And get to know your academic advisor and program manager as well. These individuals can help you set goals and will be invaluable if something unexpected happens—if you get sick and need to drop a class, for example.
Lastly, get some advice from the school's librarians—even if you think you don't need it. You might be surprised to learn that Google isn't the end-all to research, and that there's a whole "deep web" of academic journals and other password-protected data that you can access for your papers.
Holahan said many older students mistakenly believe they're supposed to have "figured it out" by now and shouldn't need help. If you find yourself thinking this way, just remember that there are dozens of other students like you who have the same misconception. Talk to a few of them, and you'll realize that nobody has all the answers.
Tip Three: Practice Time Management
Holahan knows what it's like work and go to graduate school full-time: she did it herself. To handle this type of schedule, you'll need to carefully plan your time. She suggests taking some time each Sunday night to look at the week ahead and doing the same each weekday evening to consider the next day's schedule.
Most classes will have a syllabus that lists all of the semester's assignments and due dates up front. Get to know it, because it will become your guide to success.
If you find that you need additional help with time management—or any other academic issues—most schools have academic support services that can provide assistance.
Tip Four: Be Prepared to Make Some Sacrifices
Life is busy even if you're not adding school to the mix. If you have a demanding job, you may feel like you've earned your weekends off, and that's understandable. But sometimes, Holahan said, returning students make the mistake of sticking to that five-days-on, two-days-off schedule when they really need to spend more weekend time studying. Her solution: designate one weekend day a "study day" and the other a "personal day." Yes, it's a sacrifice, but it will help you keep on track.
Tip Five: Take Care of Yourself
Time for yourself and your friends and family is important, too—just as important as the time you spend at work and school. Holahan recalls a doctoral student who sacrificed everything, including her health, in a single-minded pursuit of her degree. She may have achieved her goal, but getting there was anything but enlightening.
Instead, try to seek balance in your life, and take care of yourself physically, mentally, and emotionally. Ask yourself, "What can I do to be healthy and happy?" Holahan said. "Because, if you're not really happy, you're not going to enjoy the learning process. And you want to enjoy what you're doing."