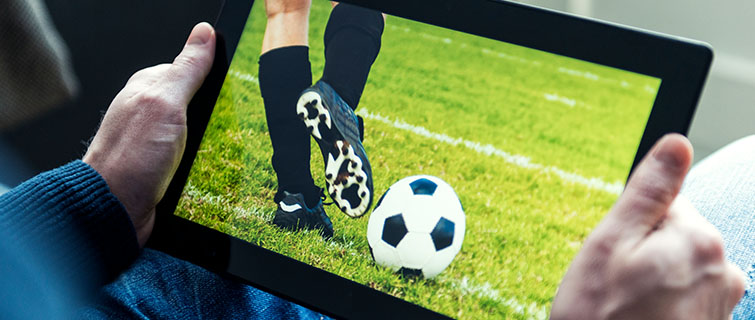 How are true sports fans following their favorite teams in the sports-saturated Washington, D.C., market? Are they using more mobile devices? Watching less TV? Maybe even cutting their cable cords and abandoning television entirely?
Fortunately, Georgetown University's Master's in Sports Industry Management (SIM) program has access to an ideal group of knowledgeable and committed sports fans to help answer these questions: Its students—as well as their many equally engaged contacts in Maryland, Virginia, and the District.
"We knew we were dealing with sports fans because I don't know anyone in the program who's not a sports fan," said SIM student Casey Fratkin, a soccer player and coach.
Media: The Driver of Change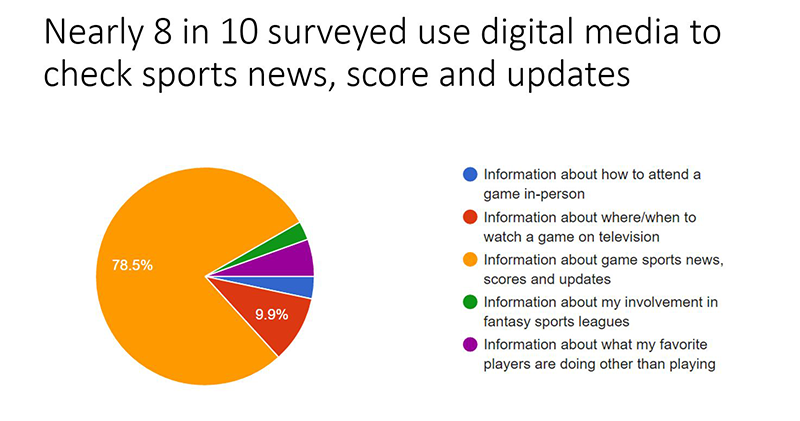 Students in a class called The Business of Sports Media conducted two surveys last fall on how the digital revolution is affecting the viewing habits of local fans. The first survey focused on SIM students themselves; the second, larger survey looked at their many email contacts in the area as well as about 100 fans at a sports bar.
The class is the brainchild of sports marketer and SIM instructor Marty Conway, who introduced it three years ago because, as he put it, "the media is an important part of the sports ecosystem and one of the biggest drivers of change." It was co-taught last fall by Thom Loverro, sports columnist for the Washington Times. Conway and Loverro plan to do the surveys every year to get the pulse of a region that is as passionate about its sports as its politics.
That region and the larger sports ecosystem that Conway describes is, indeed, in flux, but just where it's headed isn't exactly clear. Even some sports and media executives aren't sure, and much of the data is contradictory. More and more young people are getting their sports news on social media and streaming games through their computers. And while television still dominates, just 52 percent of SIM students use TV as their primary sports-watching device, compared with 71 percent of millennials as a whole.
TV Still Dominant
So is TV headed for "endangered" status as the sports ecosystem evolves? Hardly. There was a lot of talk last fall about the NFL losing viewers, and before the election the numbers were down 14 percent; but after that huge distraction was over, they recovered somewhat so that viewership for all of 2016 was only off 8 percent.
"I don't think that TV is going away anytime soon," said SIM student and former college soccer player Samantha Wittie. "I think as more of the younger generation gets on social media, it's going to increase even as the television audience doesn't decrease."
The broader survey of the students' contacts supports that view: 84 percent choose television as their primary source for viewing sports. At the same time, 48 percent of the respondents from that survey, and 87 percent of SIM students, use their phones as a secondary device while watching games.
Competition Increasing
Fratkin, who grew up watching sports on TV said he couldn't imagine following an entire three-hour NFL game on a phone or laptop. "If you weren't at a game live, TV was synonymous with watching sports," he said.
But the 27-year-old acknowledged that times are changing. "Even though I'm young," he said, "I still consider myself kind of a throwback." Might the next generation find TV too cumbersome for its digitally driven lifestyle?
And who has time to sit for an entire football or baseball game these days?
"As a millennial, I just think we're all really busy with work, school, and extracurriculars," Wittie noted. "It's not always easy to find a full three-hour chunk of time to watch the games."
One thing she does predict is even more competition among networks—for the best on-air personalities, interviews, and highlights.
"They're never going to be stagnant," Wittie said. "They're always going to try to be better because there's so much going on."
Learn more