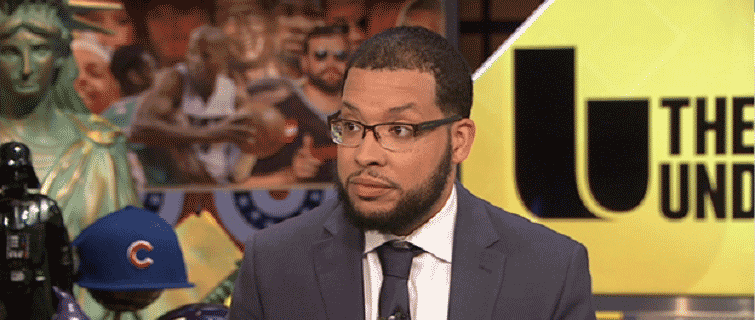 Justin Tinsley was off the clock—or so he thought. But when his editor at ESPN's online magazine, The Undefeated, learned his sports and culture writer had secured a ticket to one of comedian Dave Chappelle's coveted "Juke Joint" parties—this one in New Orleans on NBA All-Star weekend—he wanted a story.
It was 2:30 a.m.
Tinsley immediately started taking notes on whatever was available—napkins, slips of paper—recording the famous and near-famous being, well, themselves.
The party ended a few hours later. Tinsley got back to his hotel at 5:30 a.m., allowed himself a one-hour nap, then wrote the story quickly to meet a 9:30 a.m. deadline.
From Music Blogger to Cultural Critic
Under the circumstances, he could have easily gotten by with a gushy, celebrity-filled gossip column. But Tinsley, a graduate of the Georgetown University Master's in Sports Industry Management program, is not interested in reporting the self-evident. He wants to explore what a story might mean on a deeper level, and that takes uncommon curiosity, oftentimes historical research, and a lot of hard work.
Tinsley's love of history extends to more serious topics, as well. He was intrigued by learning about the long-running feud between civil rights icons Jackie Robinson and Malcolm X. The resulting story traced the complicated relationship between "two freedom fighters" who wanted many of the same things for black people but differed bitterly on how to achieve them.
Tinsley's path to becoming an ESPN critic began with a class on online media and blogging that he took as a senior at Hampton University. He was always up on the latest music, and would make customized playlists for his college friends. When they graduated and went their separate ways, he continued the lists for a while but eventually decided it was more efficient to put his choices in a blog.
One friend, in particular, was impressed.
"Maybe you should post less music but write more about what you pick," he said. "I like your voice."
Tinsley enrolled in Georgetown's Sports Industry Management program in 2009, attending full time. He said the program gave him a deeper understanding of the sports industry and the confidence to test his skills on a bigger stage. Not long after graduating the next year, he was blogging for sites like karencivil.com, the Smoking Section, and Sports Blog Nation, where he spent a five-month internship through the master's program. Then his career took off: He began freelancing for Rolling Stone and was hired by ESPN as a cultural critic, where he landed a cover story on ESPN The Magazine about the friendship between Grammy winner Chance the Rapper and NBA All-Star Jimmy Butler.
A Magical Night
Which brings us back to that night with Dave Chappelle and the party that became a writing assignment. There was something extraordinary about it, Tinsley said, and not simply because of the presence of Chappelle—"the reincarnation of Richard Pryor for a generation who missed Pryor's prime"—and luminaries like Chance the Rapper and Jarobi White of A Tribe Called Quest.
It was a little secretive: Attendees took a bus to an undisclosed location and had to relinquish their phones for the evening:
The principle being: Every moment isn't meant for Instagram or Snapchat. Some are meant to be lived in real time, appreciated via the images the mind creates and re-creates—not through filters and geotags. In a world where depressing and emotionally crippling news is the new norm, the responsibility for temporarily reversing that narrative sat on the legendary comedian's broad shoulders.
For once, there was no gulf between the stars and those who follow them. "Celebrities danced and laughed with people without blue checkmarks on their Twitter profiles." People wanted to be with the elusive, often-misunderstood comedian; they wanted to see him smile, and when he did, Tinsley noted, "It was an innocent smile."
Keen observations like these, plus abundant curiosity, a love of history and research, and a dedication to the craft—these are the traits have helped Tinsley thus far, and he's not about to change them now.
"I just want to work hard every day," he said. "As long as I can succeed in being truthful and transparent in my writing, I can have a successful career."
Learn more