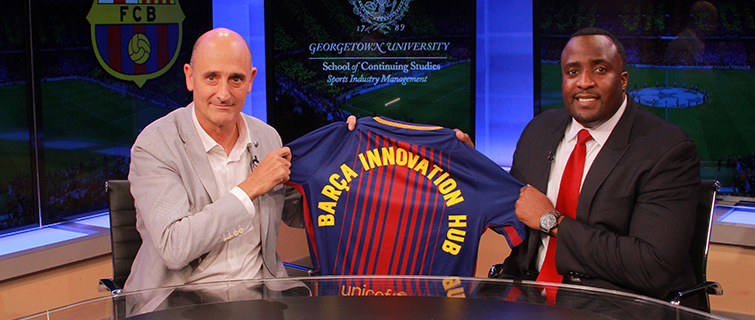 FC Barcelona wants to change the world, and it's remarkably well-positioned to do so.
For those whose only knowledge of "football" involves an oval-shaped ball that is carried or tossed across a goal line, this is something different. And, on a worldwide basis, much more popular.
FC Barcelona is one of the most famous soccer clubs on the planet. So, as far as global reach is concerned, the team's got that covered.
But how can a soccer club change the world? And why would it want to? Barcelona's Javier Sobrino explained:
"We are not just a sports club. We are a key innovator in the sports arena," said Sobrino, strategic planning and innovation director for the Barca Innovation Hub, which the club describes as a worldwide center for sports knowledge and innovation. "We can transform the world through sport. We can make an impact."
A Budding Partnership
The Barca Innovation Hub is sponsoring research projects and planning conferences on advances in sports medicine, with particular emphasis on muscle and tendon injuries—a big risk factor for soccer players. With its new partnership with Georgetown University, whose Master's in Sports Industry Management graduate program hosted a Soccer Leadership Summit in July at the School of Continuing Studies, there is an opportunity to expand the breadth of knowledge into the social sciences. That night, FC Barcelona played a "friendly" game with Manchester United at FexEd Field, thus uniting, for one evening, two of the most valuable sports franchises in the world.
"Sports has to do with every single sector in the economy," Sobrino said. "It's almost easier to list the economic sectors that are not related to sports than those that are."
This gives clubs like FC Barcelona a lot of leverage in the marketplace and on the world stage, and it has not been shy about using it. The club already has an office in Hong Kong and recently opened a U.S. headquarters in New York—the better to serve its 300,000 Facebook fans in the area.
"It's very innovative, very proactive," said Daniel Kelly, Ph.D., faculty director of Georgetown's Sports Industry Management program. "It's an investment, with positive implications for both sides."
A Major Investment
For its latest U.S. trip, FC Barcelona took about 150 staff members to Boston; Washington, D.C.; and Miami. Any business opportunities this trip and others create will be overseen by its owners—some 150,000 of them. It is an unusual fan-owned enterprise similar to that of America's Green Bay Packers.
FC Barcelona is partnering with Georgetown's Sports Industry Management program because of its expertise in the social science of sports business. The organization plans to sponsor a women's team in the National Women's Soccer League (NWSL), and it is also looking to Georgetown for its knowledge of sports management here in the United States.
A Chance to Make an Impact
And what about changing the world? Sobrino said that idea became more than a pipedream when he and others at the club realized they had some 40 employees who were working on their doctoral degrees. Certainly, these staff members were helping the soccer club in its primary pursuit (winning games and making money), but what else could they and a host of other talented employees contribute?
One goal is for FC Barcelona to share its cutting-edge work on sports injuries with other sports franchises, and it's hosting a multinational conference in Spain next year to do just that. In another initiative, it's working with the United Nations on a pilot program that would introduce youth soccer programs to children in refugee camps.
For Georgetown's Sports Industry Management program, there is the possibility of executive education residencies in Washington and Barcelona, internships for Georgetown students in Spain, and surely more ideas to come.
Kelly has met many times with team officials at FC Barcelona's New York office to work on the partnership, but it is still early and there is much to be decided.
"I'm excited about the future of the partnership," he said, "because we're still figuring out new projects on which to collaborate."
Learn more