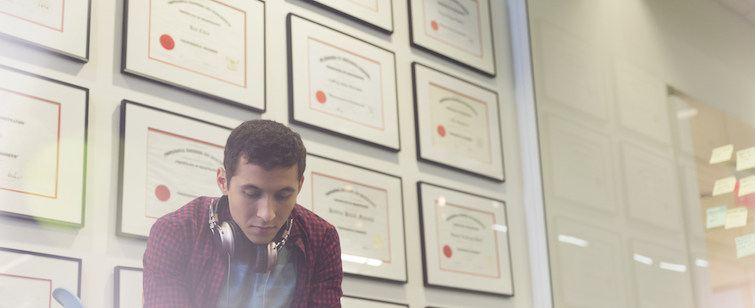 Are you looking to improve your professional skills but don't have the time or resources to pursue a graduate degree? Maybe you should consider taking a certificate course. Or study to sit for the certification exam in your chosen field.
Or maybe, you should do both.
If these terms and the distinction between them sound confusing to you, you're not alone. The words certificate and certification may sound similar, but they do indeed mean different things, which we'll explain. The larger point is that both certificate programs and certification are playing a bigger role in an economy that values workers' education, training, and ability to adapt to change.
The Age of Knowledge
"We live in the age of knowledge—knowledge is more important now than anything," said Jeffrey Warner, Director of Professional Certification Programs at Georgetown University's School of Continuing Studies. "Everything is changing so quickly that in order to remain relevant in your career you have to demonstrate that you are current in your knowledge, competencies, and skills."
According to a recent Pew Research Center report based on statistics from the U.S. Department of Labor, "the number of workers in occupations requiring average to above-average education, training, and experience increased from 49 million in 1980 to 83 million in 2015, or by 68 percent." Moreover, the biggest increases (80 percent) came in jobs "that typically require at least a four-year college degree and considerable to extensive training and experience."
Workers are getting the message, with more than half (54 percent) in the Pew report saying "that it will be essential for them to get training and develop new skills throughout their work life in order to keep up with changes in the workplace."
Two Complementary Paths
Both certificate programs and certification respond to this demand. The distinction is this: certificate courses are noncredit programs, sponsored by educational institutions, that have designated learning objectives, follow a particular curriculum, and lead to an educational credential upon successful completion of the coursework. Held in regular classrooms or taken online, they are typically shorter than other graduate programs.
At Georgetown, there are 26 of these programs, offered in flexible formats ranging from intensive two-day courses designed for specific competencies, to industry-specific certificate programs that may include as many as seven course and may be completed in two years or less.
By contrast, certification typically involves taking an exam from a third-party professional group. For example, the Project Management Professional (PMP) certification is offered by the Project Management Institute. Certification in financial planning is granted by the Certified Financial Planner Board of Standards, Inc. For most professions, certifications must be renewed at regular intervals.
How To Choose
So which is best for you: enrolling in a certificate program or studying to pass a certification exam? The answer depends on where you are in your career and your professional goals, Warner said. "And when you tell me your professional goals, that will be a clear indication of whether you need a certificate, or certification, or both."
To explain, Warner offered three hypotheticals:
An experienced registered nurse has been promoted to a management position that requires planning, budgeting, and personnel management. This employee would benefit from a certificate in project management, which prepares someone to plan and execute complex initiatives. But since he is not going to be working as a project manager per se, there is there is no need to prepare for the PMP examination. The knowledge is what's important in this case, not the certification.
A Project Manager has considerable experience but needs the requisite title showing that she possesses the knowledge and skills necessary to do the job. This person would want to get a professional certification but probably wouldn't need to take a certificate class.
An employee in a large company is moving into a new position that involves new skills, such as planning projects, managing resources, and leading others. This person would probably want to get an academic certificate and a certification from a professional group.
No 'Right' Answer
As these examples show, neither path is intrinsically "better;" it depends on your goals and circumstances. But the increased interest in both certificate programs and certification shows the rising demand for advanced skills and training.
Learn more about Georgetown's Professional Certificate Programs.
Learn more