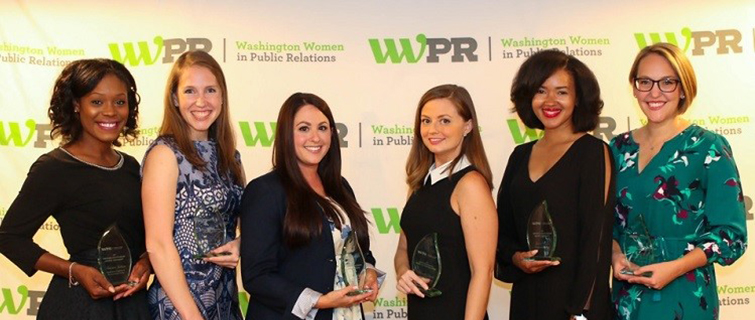 Antonice Jackson and Alex Thompson are both passionate about communications, and they feel it has the power to help build stronger communities and organizations.
They've both worked in businesses and in the nonprofit sector. They've both mentored youth and young professionals like themselves. And they've both been named 2017 Emerging Leaders by Washington Women in Public Relations (WWPR), the professional society for female communicators in the greater capital area.
They're also both graduates of the Master's in Public Relations & Corporate Communications program at Georgetown University's School of Continuing Studies.
The program "has been absolutely instrumental in my career from the moment I started taking classes," said Thompson, who was recently named Senior Manager of Corporate Communications for PenFed Credit Union. "It gave me the network. It gave me the knowledge and skills, and it gave me the confidence to walk into those interviews and know I was a competitive candidate."
Before assuming the job at PenFed, Thompson was Director of Communications and Marketing for the Northern Virginia Chamber of Commerce. A graduate of the University of Maryland, she also worked for more than a year at Habitat for Humanity of Montgomery County and, while at Georgetown, volunteered with Washington Youth Garden, a nonprofit that introduces city children to gardening and the natural world.
A native of Michigan, Jackson came to Washington for an internship at Becky's Fund, a nonprofit that helps victims of domestic violence and works to reduce the problem through public awareness, education, and advocacy. She was encouraged to apply to Georgetown by two colleagues from Alpha Kappa Sorority, who, like her, had attended Michigan State.
Like Thompson, Jackson said Georgetown's program gave her excellent networking opportunities and the confidence to pursue her goals in the communications field. For nearly two years she worked in music and events promotion through her own company, Audacious Publicity and Management Group, and in November, she was named Communications Manager for Black Women's Health Imperative in Washington, which is dedicated to improving the health and wellness of the nation's 21 million black women and girls.
While Jackson said she enjoyed working in musical promotion and events, she found her true calling at the national nonprofit.
"It's a big nonprofit, but it's not a big in-house staff," Jackson said. "I've always had a passion for being an advocate. I believe I can have a deeper level of purpose."
Learn more