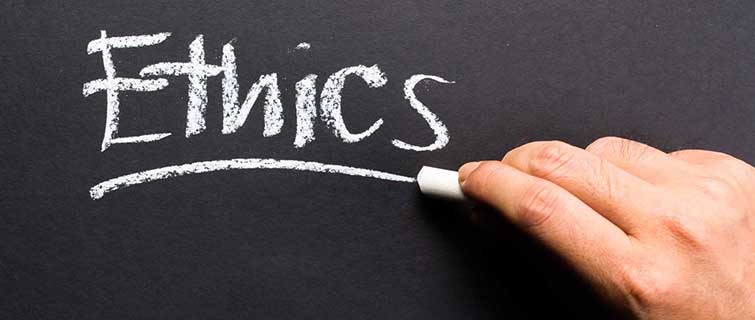 By Barbara White-Sax, PRWeek. This story was originally published on PRWeek.
Today's consumers not only care about what a brand stands for, but increasingly make purchasing decisions based on it. Leaders from Georgetown University offer counsel on the steps your organization must take to ensure its ethics are not only broadly recognized, but actually increase its value in all stakeholders' eyes.
In today's digital age, a company's values, ethics, and commitment to doing good have reached the forefront of consumer consciousness.
A 2017 Cone Communications CSR study found that 87% of consumers will purchase a product because a company advocated for an issue they cared about. Conversely, 76% will refuse to purchase if they feel that organization supported an issue contrary to their beliefs. In other words, an organization's ethics matter tremendously to a crucial constituency – consumers.
"Consumers care about what brands stand for," explains Mary Stewart, VP of external affairs for WETA and ethics faculty for the Public Relations & Corporate Communications (PRCC) master's program at Georgetown University's School of Continuing Studies. "That informs whether or not they want to be affiliated with that company."
Chase Spears, Army public affairs fellow and graduate student at Georgetown, verifies the stock his generation places on how companies position themselves. "We have a relationship with a company because it aligns with our values," he says. "So you see more companies being transparent about what they believe in."
In response to increased consumer engagement, more companies are putting their values on public display. That can take the form of a statement on their website supporting women who stand up to sexual harassment in the workplace or defining their position on child labor.
Cone's study shows 63% of Americans expect businesses to take the lead in driving social and environmental change, while 78% want companies to address important social issues.
Defining your "north star"
"We're seeing trust plummet across the board and that's creating opportunity for entities to step forward and take a stand," notes Dan Webber, GM of Edelman's digital team in Washington, D.C., and digital crisis management faculty at Georgetown University's PRCC master's program. "We spend a lot of time in agency war rooms, as well as in classroom drills, talking about what a company's mission statement or its principles and values should say."
Webber says that statement should serve as a "north star" on all company decisions. "If you're a technology firm, for example," he adds, "what do your values as an organization compel you to do, right now, in regard to sexual harassment? Will you step forward and lead or will you wait and see what others will do?"
Stewart believes that examination of ethics is the foundation of any good PR practice – and PR professional. In her "Conversations in Personal and Professional Ethics" class, each student develops a 15-page personal code of ethics that serves as his or her own "north star."
"My students, who are mostly mid-career, are expected to have a tremendous amount of loyalty 24/7," she suggests. "What you drive, consume, and put on your personal website are all reflections of you at work. That line between personal and professional identity is blurred for most people and may be entirely lost for those of us who are spokespeople for our organizations."
Danielle Tyler, communications specialist at PowerSchool Group and a graduate student at Georgetown, says developing a personal code of ethics was a defining moment. "It helped me identify my core values and how I apply those to my profession," she says. "It shaped me into a better PR professional."
Valuable crisis tool
Knowing who you are and what you stand for as a company also proves helpful in managing crises. Situations invariably arise that require vital decisions to be made from among numerous options that are all justifiable and legal. A firm set of ethics greatly increases the chances you make the best and most timely decision.
"Just like good crisis communications planning happens long before the crisis hits," advises Stewart, "companies need to clarify their ethical codes long before they are in a jam and faced with defending their decisions."
Having a crisis roadmap is particularly important in a digital era, adds Spears, who underscores his point with a cautionary tale.
"Before social media, if you had a beef with a flight attendant, you were just going to have an awkward flight," he shares. "Now you can post on social media and it can be trending immediately. Ten years ago, the Dr. David Dao situation would not have put United Airlines in the situation in which it recently found itself."
Active transparency
"News and information spread faster than you can respond and the Internet never forgets," Webber emphasizes. "Facts are often trumped by sensationalism and you can only combat that with transparency. That doesn't mean organizations have to stand by and let things happen to them. Rather, they need to have an active role in how their company is perceived."
He cites as a good example of active transparency BP's decision to bring reporters to the site in helicopters after the Deepwater Horizon oil spill in 2010.
"Focus on actions that can stand up to scrutiny," he counsels. "Companies must be very mindful that even if something won't get you into legal trouble, impact your share price, or immediately affect your business, it could negatively impact your reputation. [In the court of public opinion,] you can be tried and convicted – sometimes in minutes – based on what starts to surge online. That must be part of the consideration set."
Spears believes companies must have an advance inventory of all the possible risks they could face and then create a roadmap of set metrics.
"Then, when you are in that moment of crisis, you can objectively pull out that plan and act with a calm head," he notes.
"Crisis isn't when you learn what your ethics are," concludes Spears. "It's a time when the world sees what your ethics are. Any company can have a mission statement, but if it isn't functioning ethically as a matter of practice, these aren't things that can be learned overnight. Ethical companies put themselves at significantly less risk. It's not just the right thing for them to do. For the sake of their business, it's the smart thing to do."
Learn more