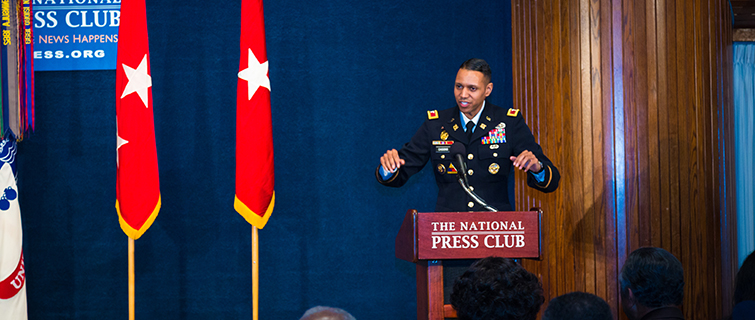 More than a decade ago, when Myles B. Caggins III applied to Georgetown's Master's in Public Relations & Corporate Communications (PRCC) program at its original location on M Street in Georgetown, he became the program's unofficial "first" student.
To call that an auspicious day, both for Caggins, a U.S. Army officer, and the PRCC program, is a considerable understatement. Since that time, PRCC has grown tremendously. And Caggins' career has flourished as well.
"Georgetown changed the professional trajectory of my life," he said.
Recently, Caggins, who served as Assistant Press Secretary and Director for Strategic Communication for the White House National Security Council, was promoted to Colonel in a ceremony at the National Press Club. For the current academic year, he is a National Security Fellow at Harvard University's Kennedy School of Government; and he anticipates his next assignment will be as a director of communication for the U.S. Army's III Corps at Fort Hood, which is among the largest U.S. military bases in the world.
Among the awards Caggins has received is the Defense Meritorious Service Medal from the U.S. Department of Defense. The citation notes that Caggins was "hand-selected" for the security council position, for which he served in 2015 and 2016.
"In this role, he directed communications for the Administration's rebalance to Asia, efforts to close Guantanamo, human rights, and nuclear security," the citation said. "Notably, he led the Administration's messaging for multilateral summits, including the United Nations General Assembly, Association of Southeast Asian Nations, and Nuclear Security Summit."
In a 2014 interview with the PRCC blog, Caggins was asked what career accomplishment made him the most proud, and he talked about his two tours of Iraq: the first, when he commanded 165 U.S soldiers in combat during the first year of the war; the second, when he returned five years later as a spokesman and military advisor.
He is equally proud of his service to others. Upon his graduation from the PRCC program in 2008, he was given the Spirit of Georgetown Award, which honors a graduating student or alumnus or alumna who exemplifies Georgetown University's values of men and women in service to others, commitment to justice and the common good, intellectual openness, and leadership.
When asked during the 2014 interview what he would recommend to people interested in working in his field, the answer from this career soldier with a string of accomplishments to his name might sound unusual:
"Success and legacy are defined by how many people you help achieve their goals, not just the goals you achieve for yourself," Caggins said.
Historically, military communications has generally been "top down" and used mainly in crisis and emergency situations, Caggins said. That's something that he's worked hard to change. In the PRCC program, he was surrounded by people from the corporate and nonprofit sectors, who looked for opportunities to tell their organizations' stories, not simply react to events. That mindset has stuck with him ever since.
"The story of America's military is a great story," Caggins said. "It's a good story, a powerful story that should be told as often as widely as possible."
Learn more