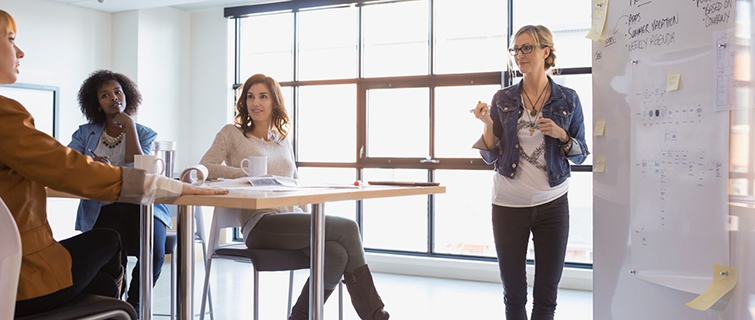 Communicators talk a lot about engagement these days—and with good reason.
Search "engagement" on the Institute for Public Relations (IPR) website, and 23 links pop up, including articles on social media engagement, stakeholder engagement, public engagement, and many references to employee engagement.
But just what does "engagement" mean? What, exactly, does it look like? These are some of the questions Stephanie Mahin, Ph.D., an assistant professor of communication at the University of Indianapolis, has been asking as part of her research. Not surprisingly for such a broad term, different people have different ideas. And that can be problematic when, for example, an organization's senior management has a different definition than technicians in the field.
"You run into danger when the definitions are so different, particularly within an organization," said Mahin, who spoke at The Bridge, an IPR-sponsored conference at Georgetown University's School of Continuing Studies.
Bridging the Gap
The first two-day conference in what is expected to become an annual event (next year's event will also be held at Georgetown), the forum's goal is to "bridge" the gap between research and practice in communications and public relations. Like the misunderstandings that can exist within organizations, there can also be miscommunications between academics and practitioners.
Mahin's conference presentation was titled "What Practitioners Really Think: A (Dis)Connection Between Practice and Scholarship."
"This conference encourages networking and dialogue between the academy and the communications profession," said Cylor Spaulding, Ph.D., Faculty Director for Georgetown's Master's in Public Relations & Corporate Communications program. "It's very easy for practitioners and academics to create their own silos that exclude the other, but this serves neither well."
Mahin cited three reasons public relations practitioners give for this disconnect: awareness, access, and timing. First, communications professionals are busy and may be unaware that various types of research exist. And even if they are aware, the studies may be hard to find. Second, given the difference in language and style between academics and practitioners, the studies may be hard for practitioners to understand and apply to their work. Finally, Mahin said, practitioners seem frustrated that the research publishing cycle is not more in sync with day-to-day practice.
Restoring a Reputation
The conference also covered topics such as storytelling, fake news, crisis communications, and the need for more diversity in the profession. Several speakers, such as Sara Goldvine, director of external relations and corporate communications for TVO, Ontario's English-language public television station, drew from experiences as both researchers and practitioners.
For her master's thesis, Goldvine looked at communication styles in different levels of management for the Toronto Transit Commission (TTC), the third-largest public transportation agency in North America. She found that the nature of the interaction differed depending on the "proximity" of the communicator to her or her audience. When talking with riders or the general public, TTC officials would use more statistics and formal language, whereas with frontline employees they would employ more anecdotes—for example, telling a subway conductor what it was like when they had that job.
While problems still exist, the transit system has made progress and its reputation has improved, Goldvine said. Last November, its former chief executive, Andrew Byford, was named president of New York City Transit, which has had its own challenges in recent years.
In her study of TTC, Goldvine was able to draw on both theoretical and applied research.
"Being able to consider the technical and the more 'wonky' in combination—that's what I really enjoyed," she said.
Learn more