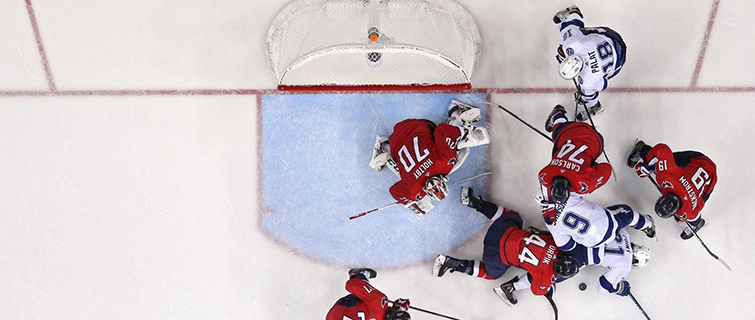 "Who won? Who won?"
When you're 4 years old and trying to follow the frenetic madness of an NHL hockey game, where the puck jets so fast you may not even see half the goals—well, that's an understandable question.
But Dave Tyahla, a lifelong Washington Capitals fan who's devoted his career to sports and public recreation, wanted his son to know after that 2012 playoff game that there's more to sports than just winning, even when it comes to the Stanley Cup. Now, six years later, Tyahla is an adjunct professor in Georgetown University's Master's in Sports Industry Management graduate program, and he still urges his 10-year-old to see the big picture of sport, to applaud excellence wherever he finds it, and to root for any team he chooses.
Except one.
"Whatever you say, you better not say you like the Pittsburgh Penguins."
No Party City
Pittsburgh. Horrible place, if you're a Caps fan. But the city on the Monongahela became a little less unbearable, if that were possible, when the Capitals finally beat the Penguins 2–1 in overtime May 7 to advance to the NHL's Eastern Conference Finals. This came after losing to them in eight straight playoff matchups since 1994, including the conference finals in 2016 and 2017 (and watching them go on to win the Stanley Cup both times).
So it's a big deal. But that's not all, as any D.C. sports fan knows. The win also broke The Streak (or, for those inclined to believe portents—i.e., the majority of Caps fans—The Curse), the 19-year period in which none of the city's four major franchises could reach a conference final, despite having some otherwise stellar teams during many of those years. People whose job it is to keep track of these things (sportswriters, mainly) tell us that works out to 71 combined seasons of the Capitals, Nationals, Wizards, and Redskins since the Capitals won their conference in 1998 but were swept in the Stanley Cup Finals by the Detroit Red Wings.
Of course, where the Capitals are concerned, no streak doesn't necessarily mean no drama. After taking a 2–0 lead over the Tampa Bay Lightning in the Eastern Conference Finals, the Caps lost three straight before bouncing back to win Games 6 and 7 and earn a spot in the Stanley Cup Finals against the Las Vegas Golden Knights.
Off the Ice
So, what does it all mean? In monetary terms, the lifting of The Curse is a good thing for the Caps, of course, and should lead to more season ticket sales and general enthusiasm for the club, Tyahla said. But enthusiasm was already high for a team that, regardless of its post-season woes, has enjoyed considerable success in recent years.
The key when franchises aren't winning—or, in D.C.'s case, not winning the big ones—is having a team that fans can relate to, and this is something Washington's clubs have excelled at over the years.
"It's what's you do off the field, off the ice, off the court," Tyahla said. "It can be as simple as player appearances. You have to prove that you are part of the community."
For example, Nationals first baseman Ryan Zimmerman for several years has sponsored the "A Night at the Park" fundraiser for his ziMs Foundation, which supports Multiple Sclerosis research and treatment. It's even in his contract that he gets to have Nationals Park one night a year for the event, Tyahla said.
Hockey players also have a well-deserved reputation for being "regular" guys. For years, Alexander Ovechkin, an international star if there ever was one, lived in a nondescript townhouse down the street from Virginia Hospital Center in Arlington. And some days, while you might spy a Lamborghini on Wilson Boulevard (yes, that's Wilson, not Wiltshire) near the Capitals practice facility, you're just as likely to see a "dinged up, 25-year-old F-150 with Saskatchewan plates," Tyahla said.
To carry the car/truck metaphor just a bit further, former Capital Brooks Laich once stopped late at night to change a tire for a woman and her daughter, who were stranded on the Roosevelt Bridge. The timing of this deed is significant: It was on the night of April 28, 2010, right after the Caps had been eliminated by the Montreal Canadians in Game 7 of Eastern Conference Quarterfinals.
Think he didn't have other things on his mind?
That's a nice story, and being the first of the four major Washington franchises to break The Streak is, indeed, an accomplishment—and now part of D.C. sports history. But for the Caps and their fans, that legacy won't be complete until they win it all.
"Every roster of every team that wins is etched on it," Tyahla said. "So you do achieve immortality when you win the cup."
Learn more