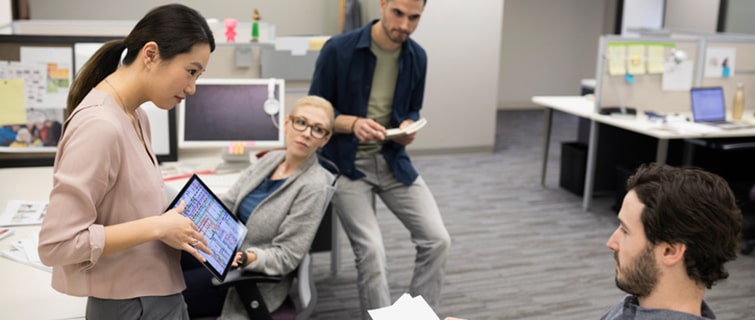 This original, unedited version of this article originally appeared on Medium. You can view it here.
In providing services to its taxpayers, the U.S. Government builds and maintains thousands of digital products: prospective students apply for loans, Veterans refill prescriptions, travelers get passports, and citizens file taxes. The list goes on.
The U.S. Government has delivered much of the ubiquitous technology we use today. The Internet, microchip, and GPS were developed by the U.S. Department of Defense; the electronic health record, pacemaker, and nicotine patch were products of the U.S. Department of Veterans Affairs; and fire resistant clothing and infant formula were invented at NASA. These are just a few examples of government innovation.
But the approach taken to build and deliver digital products needs to evolve to take advantage of modern software development methods including agile iterative development, human centered design, and continuous delivery. Despite fancy design labs and alleged "digital transformation" capabilities, most vendors and government agencies continue to deliver digital products using traditional project management and waterfall development methods.
We can improve both user experience and cost efficiencies of digital product development in government by doing two things:
Designate experienced government product managers to lead digital product development; and
Evolve our national model of service to make it easier and more attractive for talented private sector product managers, engineers, and designers to serve in government for "tours of duty."
Why does government need 'product managers'?
If you search for "product manager" on USAJobs (the government's hiring website), you won't find many postings. But you will find hundreds, even thousands, of project and program manager openings.
That's because it's common across government agencies and vendors in the federal space to use the terms "project" and "product" synonymously. While both are important, they require different tools, methods, and skillsets:
Project management is focused on managing to a plan. Focus areas include managing schedule, budget, risk, policy compliance and reporting status to stakeholders. Success for a project manager is delivering a defined scope of work on-time and on-budget.
Product management is focused on delivering a product a user wants or needs. Focus areas include user research, design thinking, iterative development, and delivering minimum viable products quickly. Success for a product manager is delivering a product that users love — and use to complete tasks (or in the private sector — a product customers will pay for)!
Most government managers (and government vendors) have extensive project management training and a Project Management Professional (PMP) certification but little or no training in things like design thinking, iterative releases, product funnels and analytics, and user research.
Because government outsources most of its information technology development, partnering with vendors who understand the difference between project and product management is critical. In order for this outsourced model to work, government must have a lean team of in-house digital experts and product managers to help procure, oversee, and deliver modern, user-friendly products to users.
Evolving our National Model of Service
In the legal industry, lawyers fiercely compete to clerk for a U.S. Supreme Court Justice. What if we could replicate this model for technology?
Many people in today's technology workforce aren't drawn to a long-term career service role in government, but they do want to have an impact and work on something they care about. And what better place to do that than in government?
The U.S. Digital Service enables product managers, engineers, and designers from the private sector to serve two years or more on a "tour of duty" in government working on problems like immigration, education, Veteran services, health care, and data security and privacy.
This model enables a powerful combination of private sector innovation, government career service leadership and subject matter expertise, and vendor outsourcing capabilities to scale and support innovative products. Moreover, if this model were bi-directional, government career service employees would be empowered to work for a year or two at top performing companies in the private sector and bring all that learning back to government.
The U.S. needs to enhance its model of service to enable talented and driven product managers, engineers, and designers to go back and forth between the public and private sectors more easily. Imagine if our colleagues at the U.S. Department of Veterans Affairs could work for a year or two with top tech companies. There would be a tremendous amount of shared learning and innovation in both the public and private sector.
Learn more