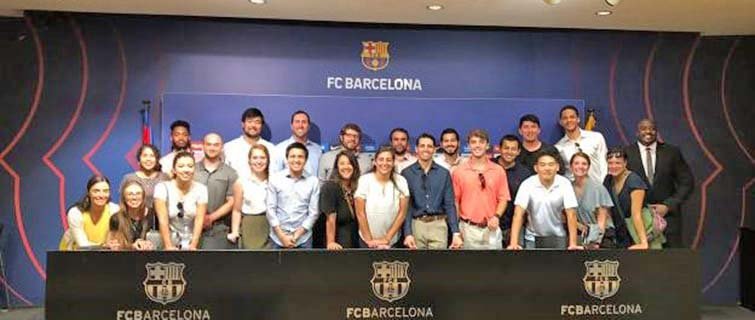 The best pro sports teams don't just win games: They harness the spirit of a city, state, or region. Think Green Bay Packers, New York Yankees, Boston Celtics, and—if you must-the Dallas Cowboys.
But when it comes to fan loyalty—worldwide fan loyalty—none of these clubs can top FC Barcelona, the storied soccer team from Spain's second largest city, whose 50-year-old motto, "More than a club," pretty much says it all.
Last year, Georgetown University's Sports Industry Management program formed a partnership with FC Barcelona, kicking off the relationship with the Soccer Leadership Conference in July at the School of Continuing Studies. This year, it was the FC Barcelona's turn, and it reciprocated in a big way, hosting 22 students for seven days in July and showing them just what it is that makes the team's brand iconic.
"It's a different culture," said Daniel Kelly, Faculty Director of the Sports Industry Management program. "It's a community. You feel like you're a part of something and you're valued."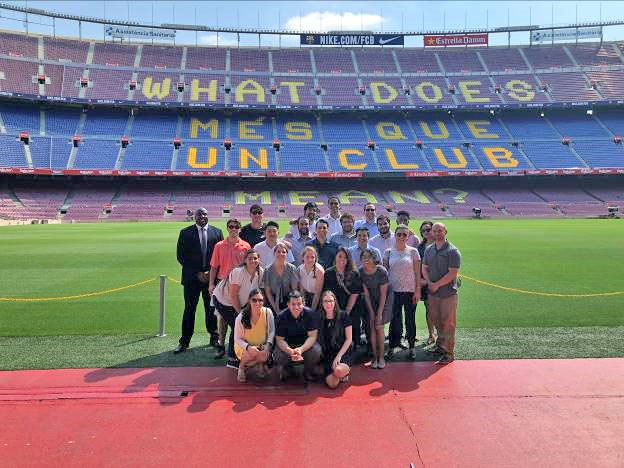 Georgetown's Sports Industry Management students visit Camp Nou, home stadium for FC Barcelona.
140,000 Owners
So how is FC Barcelona's culture different? To begin with, there is no billionaire owner; instead, the team is owned by 140,000 of its fans. In this regard, it resembles America's Green Bay Packers, which is also fan-owned and enjoys phenomenal popular support.
The club's culture is also intertwined with that of the Catalan region of Spain. The motto was adapted from words first uttered by the club's president in 1968.
"In those times of suppressed democratic rights under the Franco dictatorship, it was a way of depicting how Barça is not just about sport," the club's website says. "It has always been a symbol of the Catalan identity as well.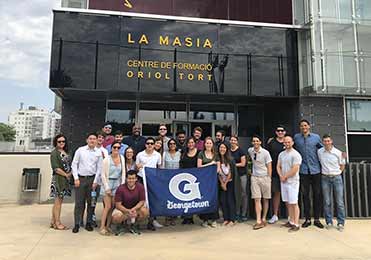 Students waving the Georgetown flag in front of La Masia,
FC Barcelona's Youth Development Academy.
Understated Excellence
Today, "more than a club" is also reflected in the team's off-field pursuits. At Georgetown last summer, FC Barcelona Board member Jordi Moix talked about the club's Barça Innovation Hub, which sponsors research projects and conferences on advances in sport science. The team has also opened branch offices in Hong Kong and New York to serve its global fan base.
During their visit, the Georgetown students heard from several FC Barcelona executives such as Javier Sobrino, Albert Mundet, Enric Llopart, and Marti Padrisa on topics ranging from knowledge acquisition to business development and digital strategy. They also visited the U.S. Consulate General (to talk about sports diplomacy) and met with the Head of Business & Development Innovation for RAKUTEN, the largest e-commerce site in Japan and FC Barcelona's main global sponsor.
It's fitting that one of the most innovative clubs off the field would also claim one of the game's most creative performers. Lionel Messi, who has spent his entire professional career with Barcelona, is one of the world's top scorers and believed by many to be one of the greatest players of all time. But in a recent interview the veteran said he gets the most joy these days from making assists—that is, setting up teammates to score.
That mixture of understated pride and humility was evident wherever the visitors from Georgetown went, from the team's world-famous stadium to La Masia, home to Barcelona's youth squad.
"You never got a sense of arrogance for being one of the best teams in the world," said student Kristen Washburn, who played soccer for the U.S. Naval Academy and now coaches at the college level.
"For them, it's all about staying true to their culture's beliefs and core values," added Adam Perez, another student. "I think you could take that to any organization."
Learn more