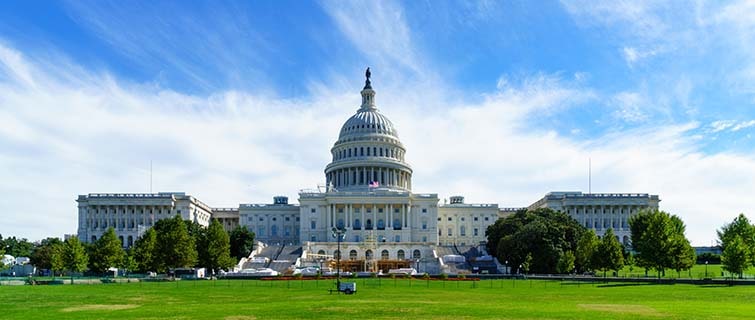 Georgetown University, in collaboration with edX.org, the leading online learning destination, has launched a free online course, How the Government Works & How to Get Involved. Led by expert Georgetown faculty, the MOOC draws upon the University's strengths in government and public policy while leveraging the edX platform to extend opportunity to learners across the country and the world.
From the Epicenter of Politics to Main Street
How the Government Works & How to Get Involved educates learners in the fundamentals of American government while preparing them to become engaged and active citizens. Featuring modules including The Executive Branch, The Legislative Branch, The Judicial Branch, Influencing Politics, The Media, and American Foreign Policy, the course provides a primer on the core tenets of the U.S. democratic system, as well as how these elements interact and provide checks and balances to each other.
Georgetown School of Continuing Studies Dean Kelly Otter views the free course as an opportunity for citizens across the country to refresh their understanding of U.S. governing bodies and the political process, while providing specific recommendations on how they can be more active participants.
"The reality for many of us is that we haven't revisited these fundamental themes since a college course, or even a high school civics class," she says. "This is an exceptional opportunity to learn from leading Georgetown faculty in a stress-free environment. Throughout the course, you'll also learn how to become an advocate for issues that you care about."
Learn at Your Pace, on Your Schedule
Learners will progress through the six modules of the course at their own pace. On average, each module will require about five hours to complete and contains video lectures, essential learning resources, quizzes, and an active learning task. Upon completion of the course, learners will be able to identify the constitutional foundation for the three branches of the U.S. government and how they work together, explain how an interest group can influence the government, and identify the relationship between the news media and government, among other takeaways.
"The course is also designed with Georgetown's Jesuit values in mind, which incorporate reflection and contemplation into the virtual classroom," explains Otter. "Learners are encouraged to consider their role in making their communities—and indeed the world—a better place."
Learners can enroll starting on October 5, with options to take the course for free or receive a certificate of completion for $49.