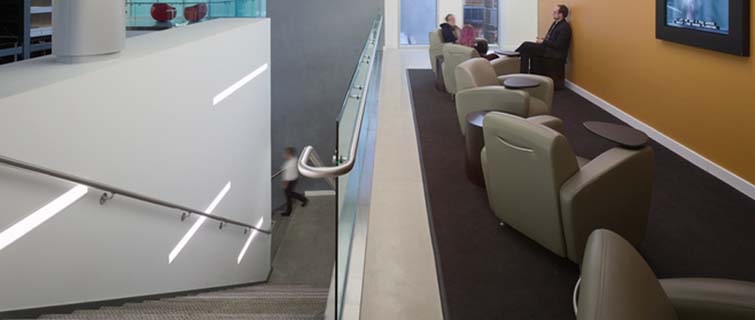 It might seem counterintuitive, but DeafSpace—a concept developed at Gallaudet University, the internationally known school for the Deaf—is not about modifying buildings and public spaces to accommodate people who are deaf and hard of hearing. Rather, it's about approaching design in a way that, from its very inception, embraces and builds on the Deaf community's unique culture.
The distinction is subtle, but it's an important one for Derrick Behm, who is Deaf, a student in Georgetown University's master's program in Urban & Regional Planning and a college graduate of Gallaudet. Behm envisions a planning process that considers the experiences of every member of a diverse community, not just a hypothetical "average" citizen.
Empowering a Community
For an independent study project this summer, Behm wrote a "DeafSpace Audit Handbook" that examines how commercial real estate developer JBG Smith can optimize their use of DeafSpace principles in their projects, including in their innovative 6th Street Project, a mixed-use development which connects the Gallaudet campus with the thriving Union Market area to its west.
DeafSpace, according to Behm, "is more than a set of design principles to be checked off. DeafSpace is a planning and design process, which is equally as important as the completed project." This process "does not only yield more functional and meaningful spaces, but it empowers stakeholders to take ownership of their own space."
The 6th Street Project is an example of the growing interest in the process of stakeholder engagement in the planning and design, which, simply put, means creating spaces to serve people—all people—who will live and work in them. "The era of urban planning and design in the service of a 'typical' stakeholder is over," said Uwe Brandes, Faculty Director of the Urban & Regional Planning program. "Today, planners must anticipate and imagine new user scenarios which welcome and support all members of our communities. Whether seniors, children, individuals with disabilities or the poor, the planners must weave these perspectives into the public and private investments which shape our built environment. In this case, the fact that Derrick was working with a sophisticated commercial real estate developer speaks for itself."
A 'Rich Sensory World'
DeafSpace includes five concepts, each of which recognizes that "Deaf people inhabit a rich sensory world where vision and touch are a primary means of special awareness and orientation," a Gallaudet document says. The school's state-of-the-art Sorenson Language and Communications Center features abundant natural light, unobstructed sight lines, wide walkways and stairwells, and other design features that facilitate communication in sign language. Attention is also paid to acoustics because Deaf people experience various hearing levels, and some use hearing aids or cochlear implants for assistance.
Like many other minorities, Deaf residents have a history of being marginalized, Behm wrote. But this is changing, with planners and developers paying more attention to the various "ecosystems" that exist in neighborhoods.
"Being authentic with community members also means getting less pushback and discovering more innovative ways in placemaking," Behm wrote. "Developers who are making the shift early will also be the first to see the value return."
Learn more