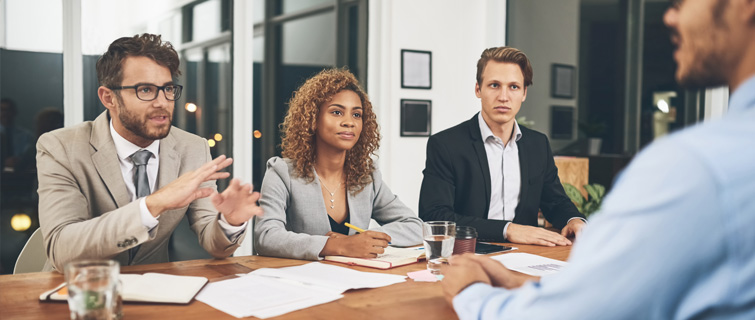 German Gomez is a lawyer, but for the last 15 years of his career he has spent much of his time advising his colleagues on human resources issues.
His students in Georgetown University's graduate program in Human Resources Management are in the reverse position: They're not expected to be lawyers, but Gomez wants them to start thinking like they are.
Gomez teaches Foundations of Employee Relations, a class that shows just how central risk management has become to the field.
"I treat it like an employment law class because of how important the law has become to employee relations," Gomez said.
Here are what Gomez sees as the top five issues in human resources for 2019 and beyond; and, not coincidentally, each has a strong legal component.
1. Pay Equity
In a recent study, researchers at Yale University sent 127 fictitious resumes to research scientists, inquiring about a lab manager position. The resumes were identical, except for the applicant's first name, which was given as either Jennifer or John. Despite being schooled in avoiding bias in their research, the scientists, both men and women, were willing to pay on average almost $4,000 more to job-seekers named John than to those named Jennifer.
If research scientists display this kind unconscious bias, chances are it's happening in other fields as well. Gomez said companies should consider doing audits to ensure their pay scales are fair. And they should stay abreast of local and state anti-bias laws like those passed in San Francisco and New York City, which prohibit employers from asking job applicants to disclose their salary history. Such disclosures disproportionately harm female employees, who often start at lower salaries than similarly qualified men and have trouble closing this pay gap as their careers progress.
2. The Impact of #MeToo
The #MeToo movement will only strengthen in the coming year, so expect work-related sexual misconduct to remain a big issue in 2019. Companies need to strengthen their policies on sexual harassment and get rid of any loopholes that may exist. Training needs to be more rigorous and should be extended to all employees, not simply managers.
3. The Gun Epidemic
Many states have passed open carry gun laws that allow certain people to carry firearms in public. Of course, employers have the right to ban guns in the workplace, but they also need to have comprehensive visitor policies and should consider holding active shooter drills. Gun awareness training could also be paired with instruction on recognizing and responding to domestic violence.
4. The Redefined Workplace
Advances in computing and artificial intelligence will make it possible for more people to work from home, coffee shops, and other places. When more people work remotely, businesses save money on office space. Employees—especially millennials accustomed to flex-time policies and more fluid work-life arrangements—also benefit.
But Gomez has a caveat: "It's efficient—and it's a risk because you're expanding the workplace." He said HR professionals will have to decide which workplace rules need to be extended to remote offices, and how they might be modified. In order to protect against cyberattacks or other breaches, some companies will insist that they be in charge of installing any computers or phone lines that will be used for work.
5. An Effective Drug Policy
It's always important for businesses to reexamine their drug policies as laws and circumstances change. With more jurisdictions legalizing marijuana for medical and, less widely, recreational use, companies need to ensure that their drug policies are still effective. In addition, the opioid epidemic will continue to impact workers—and, by extension, their workplaces—in the coming years.
Given the gravity of the issues that will demand attention in the coming years, will HR become a less enticing job? Gomez says just the opposite: For those who are up to the challenge, it makes the job even more dynamic.
"As an HR professional you are the frontlines," he said. "It comes to you first."
Learn more