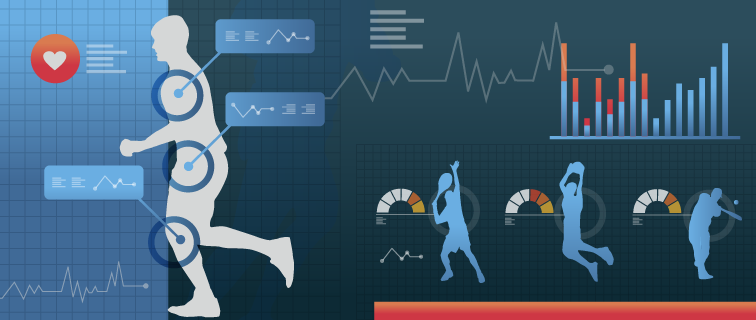 Why are there more home runs in Major League Baseball these days? Why do most NBA teams avoid the mid-range jumper? How can you tell if a given pro hockey player is a net plus or minus for his team?
All these questions can be answered, with varying degrees of reliability, through sports analytics, the statistical tools franchises use to stay competitive. (See the end of this article for the answers to these three.)
Sports analytics has been around since … well, since there were statistics to analyze. But the field has really taken off in the past 20 years with the explosion of digital information and advances in the power of computers—and people—to make sense of it.
But while many coaches and general managers have been employing data analysis for years, it has taken much longer for the business side of sports to embrace the concept, said Alex Kerr, who teaches Sports Business Analytics in Georgetown University's Master's in Sports Industry Management program.
"Historically, sports—especially the front office—has lagged behind other, more traditional industries in the use of data by about five or 10 years," Kerr said.
Front Offices Catching Up
Now that's all changing as sports franchises, like other business, are investing in data research to improve customer service, drive sales, and stay ahead of the competition. And one way they're doing that is by creating business intelligence teams that study business data with the same degree of scrutiny their coaches are using to prepare for games.
"It's a holistic view of data across a whole organization," Kerr said. In the past, "marketing teams were looking at the marketing data on their own. Sales teams were looking at sales. But there was no group that was responsible for pulling all the data together and providing a holistic view from everyone."
Take ticket sales. Some principles are evident even without analytics. An NBA franchise can sell more tickets—and charge more for them—when they're winning. But even a mediocre team can expect a bump in sales when a star like LeBron James comes to town. Of course, if James gets injured, that advantage goes away.
"Not many people want to go see the Lakers if LeBron James is hurt," Kerr said.
But how does the club price tickets if, three days before the game, James goes off the injured list? Before, "people were just sort of guessing," Kerr said. By using sophisticated analytics that take into account everything from historical sales data to recent sales performance to the current level of interest on social media, organizations can arrive at an optimal pricing strategy.
Forging Stronger Partnerships
A similar transformation has occurred in the area of sports sponsorships, now generally referred to as corporate partnerships because of the strategic relationships that exist today between teams and the brands that support them.
"In the past, sponsors were happy with some tickets and their logo placed on arena or stadium signage," said Kathy Devine, director of corporate partnerships for AC Entertainment.
"Those days are gone and brands are relying heavily on metrics to evaluate their sponsorship ROI [return on investment]," said Devine, who teaches an online sports sales and sponsorship class for Georgetown's graduate program.
With globalization, businesses are facing more competition than ever. They still find value in sport partnerships, but they're more careful, more strategic. If they enter into an agreement with a team or athlete, they want to know how that will translate into better brand awareness and increased sales. And all this requires more sophisticated metrics than in the past.
Often, Devine said, she'll take the initiative and pose the questions businesses should be asking themselves.
"One of the questions I always ask clients is, 'How are you going to measure success?'" Devine said. "'What does a successful partnership look like to you?'"
So, back to the games and the above questions: Why are there more home runs now? In grossly oversimplified terms, it has to do with players using more of an uppercut on their swings, which results in a higher "launch angle" off the bat and, therefore, more drives and fly balls. Why do NBA teams generally avoid the midrange jumper? Metrics shows they can score more efficiently with three-pointers and drives. Finally, how can you tell if a hockey player is a net plus or minus for his team? Simple. Just look at his Corsi rating. (That you'll have to research on your own.)
Learn more