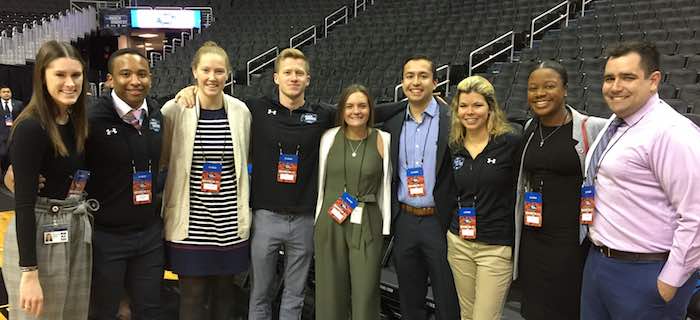 In the end, it was picture perfect. With 35 seconds left in the East Regional Final of the Men's NCAA Basketball Tournament, Michigan State senior Kenny Goins took a pass from Xavier Tillman and drained a three-pointer that put the Spartans ahead to stay. Second-seeded Michigan State had beaten the top-seeded Duke Blue Devils and its freshman phenom, Zion Williamson, perhaps the most celebrated college athlete on the planet.
That's what the fans saw. But did you ever consider the immense amount of effort, the attention to detail, the long hours, and dedication it took to get there?
We're not talking about the players and coaches. We mean the professionals who hosted the East Regional Finals (and, two days earlier, the Semifinals) at Capital One Arena in downtown Washington, D.C.—a March Madness classic that filled the 20,000-seat arena and attracted more than 16 million viewers, the most for a non-Final Four Game since 2005.
Fifteen students from Georgetown's graduate program in Sports Industry Management—located a few blocks from the arena at its School of Continuing Studies—got a firsthand taste of what it takes to put on this kind of world-class event. They were there, helping out on the court, in the locker rooms, with media relations, and with other operations.
Academics and Fieldwork Combined
They were participating for the centerpiece of a course, Business and Operations of the NCAA East Regional Basketball Tournament, taught by tournament co-manager Jason Poppe and Bobby Goldwater, former manager of New York's Madison Square Garden and STAPLES Center in Los Angeles. The class combines guest lectures, case studies, research and analysis projects, and presentations with fieldwork at the tournament itself.
"A hallmark of the Sports Industry Management program is the blending of academic rigor with 'applied vitality,' I would call it," Goldwater said. "It's an example of experiential learning at its best."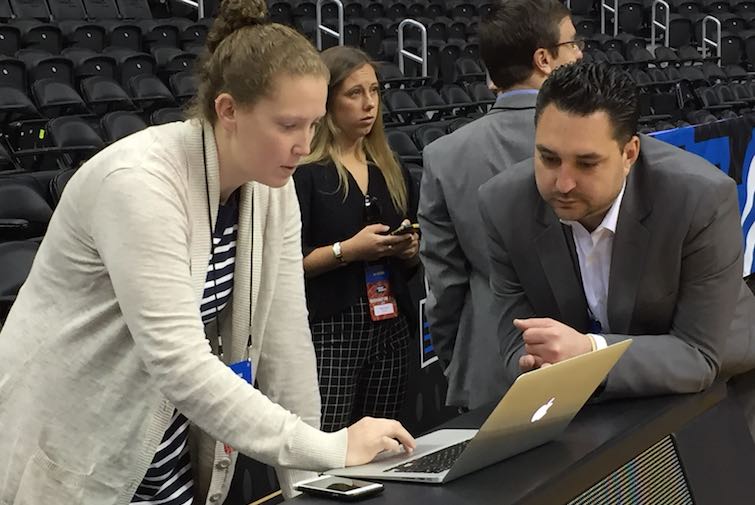 Erin Cummings (left) works courtside on preparations for the championship game.
And, indeed, vitality is pretty much a prerequisite in this business, where the hours are long and the demands many, but the payoffs are great. For starters, how many college basketball fans can say they were courtside when two Hall of Fame coaches—Michigan State's Tom Izzo and Duke's Mike Krzyzewksi—went head-to-head? Or when Williamson, the likely number one NBA draft pick, "left everything on the court" for his college team?
Sports management student Byron Jones is the graduate manager of Georgetown's men's basketball team, which is coached by former Georgetown star and basketball Hall of Famer Patrick Ewing, so he's relatively used to being around a legend. But even he was amazed at the immensity of what was happening at Capital One Arena.
"I'm aware of what goes into an event, but I've never been a part of an event of this magnitude," said Jones, who was stationed under one of the baskets during the games. "It's definitely exciting. It's almost surreal."
A Chance to Network
Jones' game-day jobs were absolutely critical: Among them, he directed the Capital One Arena employee whose job was to mop up the sweat on the floor—and manned a towel himself, sometimes—during brief breaks in the action. That's critical, Jones said, because basketball is a fast game and the players sweat a lot. One slip could result in a major injury.
Another student, Macy Wilson, was stationed not far from Jones, beside the Duke and Michigan State benches, making sure the players and coaches had everything they needed. A self-described "numbers person," Wilson plans to go into the financial side of sports, not event management. But she said that seeing how the whole tournament came together was an education in itself.
As part of their work for March Madness, the students met executives from the NCAA as well as sports staff from Georgetown and the four colleges playing that weekend: Michigan State University, Duke University, Louisiana State University, and Virginia Tech. Like many professions, sports management operates in its own universe, and making those kinds of contacts can be important to a career.
"It was exhilarating to get an inside look at the event planning and operations side of things, which are outside my comfort zone of accounting," Wilson said. "Being allowed to grow my network, as well as the ability to expand my options for a future career path, were probably the two most insightful things I gathered from the tournament."
Learn more