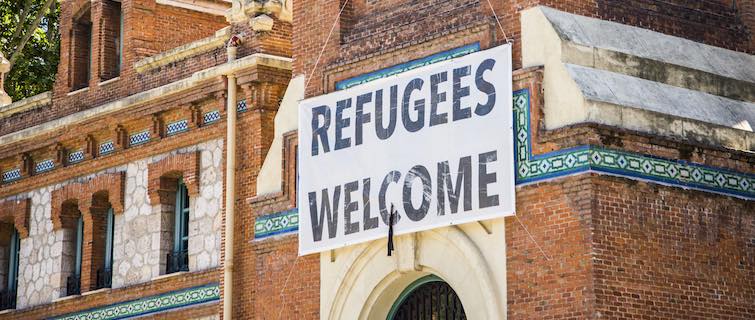 It was a difficult, complex topic, and some members of the audience were confused. Why was this flood of asylum seekers and refugees—it was often called a "flood" in the media—landing on the shores of Europe? Why were so many risking their lives? Why now? And why couldn't we have helped them in their own countries?
Cori Sieger, a board member for The Refugee Response, a Cleveland-based nonprofit, was doing her best to explain. She had come to the church to talk about the remarkable success that immigrants and refugees from places like Bhutan, Burma, and Iraq were having in the Cleveland area: How, in economic terms alone, the public investment in their lives was shown to benefit the local economy tenfold.
"I could talk about what it meant locally," Sieger said. "What it meant for Cleveland."
But explaining immigration and refugee issues to an audience that needed help understanding them—that would take a deeper level of knowledge. She is gaining that expertise through the Certificate in International Migration Studies, taught by professors from the University's Institute for the Study of International Migration (ISIM), housed in its School of Foreign Service in Washington, D.C.
"I found that this was the best way to become educated in migration in general," said Sieger, who worked for several years in security policy for Transportation Security Administration and is a visiting professor in government and politics at Notre Dame College in Northern Ohio. "It enabled me to study the theory behind it, the history behind it, what causes people to move, and what the costs and benefits are. And the fact that the school is situated where these policies are created really appealed to me."
Seeing the Big Picture
Given the complexity of the subject, the daily barrage of news from the border, and the heated rhetoric surrounding immigration—much of it coming from the President—it's understandable that the church members Sieger talked to a few years ago had many misunderstandings. But those gaps in knowledge can be true, albeit to a lesser extent, for others who work in the field.
Elizabeth Ferris, a research professor at ISIM, said students often have gaps in their knowledge when it comes to migration on a global scale. "They are very knowledgeable about the nuts and bolts of their jobs," she said, but can be less cognizant of the big picture.
In her class on refugees and displaced persons, Ferris concentrates on the underlying issues of internal displacement and how they influence global migration. In countries such as El Salvador, for example, families may move as many as 20 times within their own country before attempting the journey north, she said. And, in Central America as in Africa and the Middle East, being among these internally displaced persons (IDPs) is especially hard on families and children, whose education is often disrupted by the moves.
"There are almost twice as many IDPs in the world—40 million—as refugees, who number 25 million," Ferris wrote for ISIM. "But the public does not hear much about them because they are usually not considered an issue of international concern."
Another common myth is that there has been a huge surge in international migration in recent years, Ferris said. Yes, migration has increased from 93 million in 1960 to 244 million in 2015; but as a percentage of the world's population, it has grown slowly, from 2.8 to 3.4 percent between 2000 and 2017.
Facing a Changing Climate
Finally, there is the myth that people migrate by choice. In reality, they are usually forced to relocate by circumstances beyond their control.
"In fact, most people don't want to leave their homes," said Katharine Donato, who is Georgetown's Donald G. Herzberg Professor of International Migration. She leads both certificate programs and is the director of ISIM. "Even in regions of the world that we consider fragile communities, they don't want to migrate."
For years, people have migrated to escape poverty and conflict. In the future, an increasing number will leave because climate change will have made their homes uninhabitable. Droughts, floods, and rising sea levels are expected to lead to millions more people moving in the coming decades.
When Hurricane Katrina hit the Gulf Coast in 2005, this country got a glimpse of how climate change could impact a heavily populated region. As Donato noted: "There was apparently no plan for the many people who couldn't evacuate by themselves."
That sense of complacency will have to change, she said.
"We're not a nation that is used to looking at the consequences of environmental change within our own borders," Donato said. "We've seen it in the past. We see it today. We'll live it in the future."