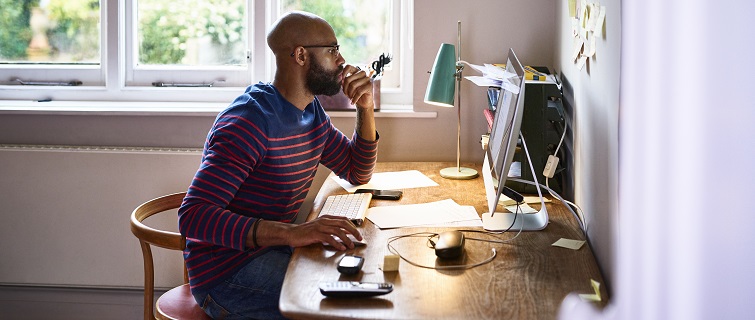 HR Experts See Upside for Post-Pandemic Workforce
How prepared were major corporations for the COVID-19 pandemic? Rajneesh Vijh, an expert in corporate finance, technology, and human capital, offered this analogy from his own experience:
"I am very structured, very detail oriented," said Vijh, Ph.D., who teaches in the Master's in Human Resources Management program at Georgetown University. "And I'm usually prepared—I mean, what I believe is prepared. And I still feel unprepared in this type of environment. Our definition of prepared has changed now, given this experience."
The crisis has impacted every facet of the economy and every business, from local retailers to large corporations. Those who can are working remotely. In a recent survey of workers by CNBC and Change Research, 42 percent of respondents nationwide say they are working from home.
New Challenges, New Opportunities
For HR managers, this massive change has caused a sudden shift in their responsibilities as they adapt to their employees' new modes of work. But there is also an upside to this development, Vijh said, as both employees and supervisors adjust to these challenges and start to realize the many advantages of working remotely.
With an unprecedented number of people working from home, there has been a vast increase in employees relying on company networks. This has led, somewhat paradoxically, to more interaction among employees; it's just that now that interaction is virtual, Vijh said. And it has contributed to a growing acceptance of artificial intelligence and automation among today's workers.
An Ongoing Trend
Clearly, this trend was happening before the pandemic. According to research by Accenture and the World Economic Forum, cited in Forbes, 87 percent of workers polled believed that artificial intelligence (AI) and other new technologies would improve their skills and said they were willing to put in the training, in their free time, to ensure that came about.
But now, this positive attitude toward new technologies is expected to grow even more.
"This will accelerate the next automation and rapid rollout of AI initiatives, and a good opportunity,' said Ifedapo Adeleye, Ph.D., Faculty Director of Georgetown's Human Resources Management program. "We've used it, and we've gotten a taste of it, so why can't we just do a rapid rollout and deployment of this technology?"
To be sure, many jobs cannot be done from home. In addition, working from home can have a downside. For example, 20 percent of the respondents to buffer.com's 2020 State of Remote Work report said working remotely negatively affected their ability to communicate and collaborate with co-workers. Still, according to the CNBC/Change Research report, 24 percent of workers surveyed said they would like to work either more or entirely from home once the economy opens up.
A Powerful Force
Nearly 250 years ago, British economist Adam Smith introduced the idea of the "invisible hand" of free markets, an unseen force that creates economic and social good through the myriad decisions of individual entrepreneurs. In the same way, Vijh and Adeleye said, the "invisible hand of HR" can help create higher performing, more efficient corporations by supporting the needs of remote workers and building a corporate culture that is attuned to their success and wellbeing.
"As people are becoming more aware of the technology, becoming more connective and increasing their interaction and knowledge transfer, HR can play an active role in terms of reskilling," Vijh said. "And we need to ensure that we are that bridge to help get them safely across."
Learn more