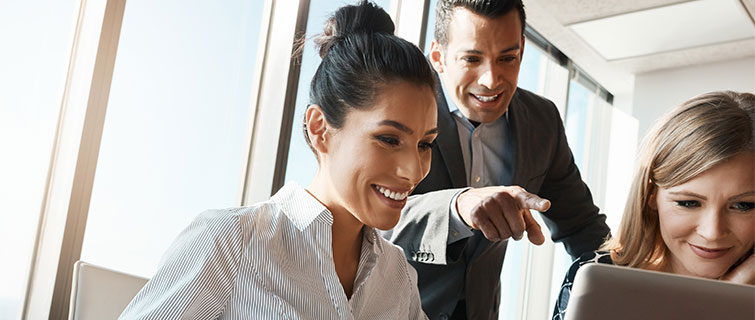 We at Georgetown University School of Continuing Studies listened to our students, watched the world around us, and realized that we ought to have a class in our course offering that helps our students make better decisions. That's how Thinking to Thrive was born.
Our objective is to help our students think about how they think, with the goal of making them better decision makers and to help them better understand why and how other people are making their decisions.
To accomplish our objective, we developed a 12-week course that looks at the biases and fallacies that cause errors of judgement and choice. Using an array of teaching methodologies, including seminar discussions, case studies, and computer simulations, this course prepares students to recognize multiple ways to solve problems and embrace divergent thinking.
We organized the course around different, but related decision processes and decision tools, such as:
Natural Decision Process
Humans are hardwired from birth to follow the Natural Decision Process, which can be good for some decisions and disastrous for others. The Natural Decision Process is based on our inherited thought processes and generations of human experiences, but this process often leads us astray in deciding more complex issues by allowing biases, emotions and the lack of structured thinking to interfere. Students will examine real-world situations and identify patterns that can help them quickly resolve problems with quality decisions.
The Decision Grid
The Decision Grid is an outgrowth of the Natural Decision Process, which attempts to objectify and numericize the basic process to bring more clarity, accuracy, candor, and transparency to the decision-making process. The Decision Grid is useful as a prioritization process and can be used in conjunction with many of the other decision processes and tools.
Scientific Method
The scientific method is man's earliest and most enduring rational thought process. This process is applicable to many types of issues, not just the scientific or technical. Through careful observation and the application of empirical and measurement-based testing, students will learn how to tackle difficult decisions.
Military Decision-Making Process (MDMP)
MDMP is the U.S. military's framework for decision-making which is a comprehensive process and easily translated to all types of problems. Students will learn to apply this analytical framework to break down complex problems into fundamental parts and to assemble a cogent course of action to solve the issues at hand. By utilizing this framework, students are better able to map out their strategy and develop a successful plan of action.
Legal Decision Process
Students will see how legal decisions are made from the point of view of the judge, jury, lawyer, and the client. By evaluating a problem from these various perspectives, students will learn how to see the bigger picture and make balanced, impartial decisions in the legal arena.
Ethics in Decision Making
How can you ensure that you have Ethics in its proper place in the decision process? Almost any problem you may face has an ethical dimension. The ultimate goal is to pursue a course of action that is 'ethical', but to do that one needs to determine what the definition of 'ethical' is in each situation. Students will learn how to evaluate and determine what is 'right' and how it relates to their decision-making processes.
War Gaming
It is important to be able to 'test' decisions before they are implemented. In Thinking to Thrive the students will learn the invaluable skills of War Gaming. The students will learn how to set up the 'virtual worlds' and 'run the game' using such tools as the Event Waterfall. War Gaming saves time, money, and sometimes lives if conducted properly.
This course is designed as a survey course that is included as part of our new Bootcamp programs. The Georgetown Bootcamps ensure you get exactly what you need to land the role you want. The Data Analytics Bootcamp and Digital Marketing Strategy Bootcamp combine technical coursework, with individualized career coaching and this 'Thinking to Thrive' course to help you advance your career and take the next step with confidence.
We cover a lot of ground in a short period of time. Our students will learn to use all of these decision processes and tools and how to combine them to help them make better decisions. These processes and tools will also help our students understand the thought processes of others, which will make them better negotiators, more valuable team members, help their organizations, and make them better leaders. Good decisions lead to good outcomes, which makes success more probable—and we could all do with more success.
Learn more