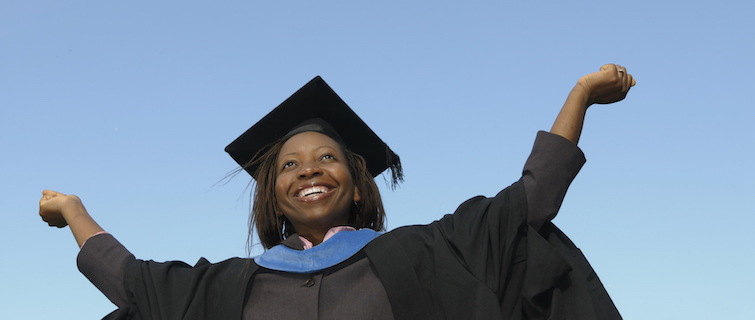 Thinking about pursuing a master's degree? In today's economy, that can be a wise choice.
Increasingly, employers are searching for workers with both advanced skills and the desire to continue their learning. In a competitive marketplace, this mix of work experience and relevant higher education can be a powerful selling point, whether you want to advance in your current job or move to a new one.
"That combination of having experience and a graduate-level degree makes you more marketable," says Erwin Hesse, Executive Director of Enrollment Management at Georgetown University's School of Continuing Studies in Washington, D.C. "So, if you're looking for a career change or looking to advance your career in the same company in a different area, that is just going to make you a more attractive candidate in the market."
A Wealth of Programs
So, how do you choose the right master's program for you? The good news is, you have more disciplines than ever to choose from. According to the Urban Institute, 514 distinct master's fields awarded more than 100 degrees nationally in 2017, compared to just 289 fields in 1995.
Of course, those numbers might also sound overwhelming when it comes to choosing the right master's program. But there are many questions you can ask (of yourself and others) that can help you narrow those options and choose a program that's right for you.
Choose an Accredited Program
First and foremost, you'll want to make sure that the program is accredited and that the school you're choosing has a good reputation. Beyond that (and on a more individual level) you'll want to identify what, exactly, you want a graduate program to help you accomplish: personally and professionally.
Full-Time or Part-Time Study
If you're interested in going into research or teaching and perhaps earning a Ph.D., consider a traditional Master of Arts or Science program, which generally takes two years of full-time study. Alternatively, if you're interested in business or becoming an entrepreneur, you might explore the M.B.A. (master's of business administration) which offers general business courses such as finance and accounting, and also typically requires two years of full-time study.
Though many programs have options for part-time study, some do not, so be sure you're choosing a master's program that fits your schedule.
Evaluate the Faculty
The quality of the education you receive is directly linked to the faculty, so this is an important consideration. If you are pursuing a research-based degree, you'll want to be sure that there are faculty at the institutions you're considering who are involved in similar work. If you're pursuing a degree in business or a profession, you'll want to make sure that the faculty are well qualified and that they have connections within the field or industry that you're interested in.
Consider the MPS Degree
While traditional master's programs are still popular, many people are choosing professional master's programs where students learn job skills tailored to a specific industry that can help them in their current positions or prepare them for new ones. This degree is called a Master's of Professional Studies (MPS), and it is the primary focus of institutions like Georgetown's School of Continuing Studies (SCS).
Demand for these degrees has been on the rise recently because MPS degree programs are expressly designed for working professionals. As such, flexibility is a key component so students can schedule their graduate work around family and job responsibilities. Typically, students can take classes in person, online, or through a mix of the two, with online students always welcome in on-campus classes.
Admission requirements are another consideration. Unlike traditional master's programs, MPS programs generally use a more holistic process than simply looking at a college transcript, and, increasingly, tests like the GRE and GMAT are not required. The school is more interested in your previous work experience and motivation for enrolling than in your scores on a standardized test.
The Question of Cost
Finally, one of the biggest questions concerns cost. Graduate education is not cheap, and, if your tuition is not covered by your employer or by the federal government, as is the case with active service members and military veterans, you will probably be taking out loans. And, if for some reason you haven't asked this question earlier in the process, you will no doubt be asking it now: "Is it worth it?"
Ultimately, only you can answer that, based on your own goals and financial circumstances. One advantage of an MPS degree is that, even at a top-tier school such as Georgetown, the price is usually half or a third the cost of a traditional master's or MBA. And the monetary benefits can begin accruing immediately. According to the Bureau of Labor Statistics, the average wage of a full-time worker, aged 25 or older in 2013 with a master's degree was $68,000, compared to $56,000 for those with only bachelor's degrees.
This is, to be sure, a rough comparison, and the difference varies considerably depending on the field and a host of other variables. More important for Hesse, though, is not the monetary advantage that a master's offers, but something more fundamental: what it says about your willingness to invest in yourself.
"I tell this to everyone," Hesse said: "If you don't invest in yourself, who will?"