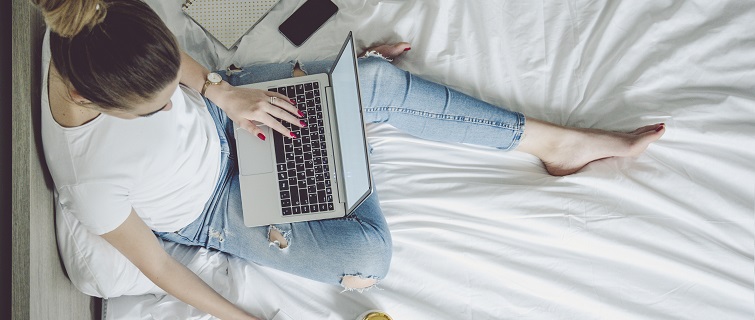 A master's degree is a significant commitment, whether it's earned online or in person. Naturally, as a prospective student, you want to be sure you'll get a good return on your investment before enrolling in any program. With more and more people choosing to earn a graduate degree online, you may be wondering if an online program is worth considering. There's good news—online master's programs have largely proven to be a worthwhile investment, giving students effective, flexible options for advancing their careers with limited disruption.
Are Online Degrees Respected by Employers?
When they first emerged, online degrees were often stigmatized by potential employers who associated them with online-only for-profit universities, but virtual education has come a long way since then. Today, not only are online programs seen as credible and respected, many of the thousands of available online degree and certificate programs are offered by the world's most prestigious universities.
Human resources managers are now more likely to view online degree holders as self-motivated and determined. In a survey of 750 HR leaders conducted by Northeastern University, 71% of respondents said they have personally hired someone with a degree or credential completed online. Now that work itself has largely moved online, with employees completing many tasks virtually, why should higher education be any different?
How Important Is the University's Reputation?
At the end of the day, the value of an online master's degree largely depends on the reputation of the institution where it was earned. Of those surveyed, 58% of HR leaders believe an institution's brand/reputation is the main driver of a degree's value, regardless of whether the degree was earned online. While virtual degrees are now widely accepted as legitimate, there is no replacement for the academic excellence and instructional expertise of a world-class university.
Graduates of online programs typically receive identical degrees to those learning in a traditional setting, so it is not readily apparent from a resume whether a master's degree was earned online or on campus. More importantly, it doesn't seem to matter, as long as the degree is from an accredited, reputable university.
What's the Future Of Online Degrees?
As the workforce evolves, so too does the higher education landscape in order to meet employers' shifting needs. Stanford University professor Sebastian Thrun, who co-founded the online education company Udacity, pointed out to the Financial Times that while universities award degrees for life, in an era of rapid technology change and potential job displacement, "one education will no longer last a lifetime." Thrun sees great potential for online learning to solve what he calls a "huge vacuum of people who could massively benefit from education but who are currently excluded" since they cannot quit their jobs or relocate to return to full time study.
As both students and employers increasingly recognize the benefits of virtual learning, experts expect the popularity of online master's degrees will continue to rise, with 52% of HR leaders surveyed saying they believe that in the future, most advanced degrees will be completed online. This trend indicates that students who choose online master's programs are simply ahead of the curve in embracing the future of education.
Should You Choose an Online Master's?
There are many considerations when choosing a master's program. In particular, how will this program impact your current job, salary, and future career prospects? For anyone wondering about the reality of juggling school and a full-time job, Airbus employee Silvia Mourante Arcones said this of her experience: "The challenge of balancing work and study is huge, but so are the benefits. You learn new skills and ways of working, and create new networks of people from other business areas." Like Silvia, many online students find the challenge to be worth it.
If you want to further your career without putting your life on pause, it's hard to beat the benefits of virtual learning. An online master's degree gives you all the advantages of a traditional credential with the added perk of a flexible schedule designed to fit the way we live and work today. For a growing number of professionals, opting for an online program that delivers that balance is proving to be the smartest move.