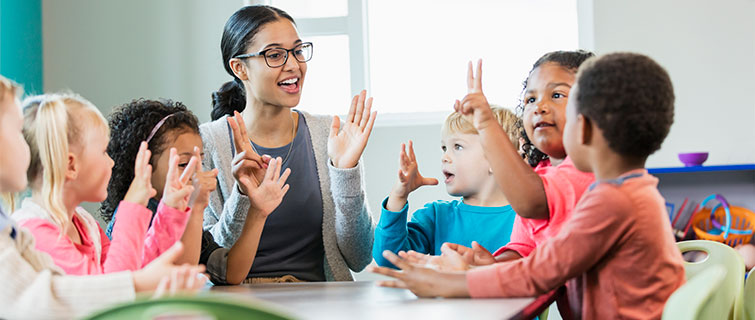 "Trust yourself," pediatrician Benjamin Spock famously counseled parents nearly 75 years ago in The Common Sense Book of Baby and Child Care. "You know more than you think you do."
In a postwar era that lauded scientific advancement and the dictums of "experts," such talk was nothing short of revolutionary. In just the first year of life, a child's brain doubles in size; she starts babbling and saying simple words, begins feeding herself, "cruises" around a room and, perhaps, takes her first steps. And here Dr. Spock was saying that the people best suited to help her achieve these critical developmental goals were...her parents?
A 'Critical Component'
Of course, Dr. Spock was proved right. And while caring for babies and young children can be daunting for many parents, and while they often do need the expertise of specialists—especially when their child appears to have developmental delays—Spock's belief that parents know more than they think they do has become established truth.
That truth also informs the growing field of early childhood intervention, wherein child development professionals from every state work with parents and other caregivers to ensure that children who exhibit possible developmental delays between birth and age three are given a better chance to thrive. And it is a cornerstone of Georgetown University's Certificate in Early Intervention program, a 10-month, eight-course cohort program for practitioners, policy makers, health care officials, and advocates for families and young children.
"We regard families as being a critical component in the promotion of their child's development," said Faculty Director Toby Long, Ph.D., who is also Director of Training at Georgetown's Center for Child and Human Development. "So we spend a great deal of time on helping our students develop a relationship with the parents and other caregivers to make sure they feel comfortable and competent in promoting their child's development."
A Dynamic Time of Life
According to Part C of the Individuals with Disabilities Education Act (IDEA), all states are required to identify, support, and enhance the development of infants and toddlers with disabilities. More than 350,000 children from birth to age three were served by the program in 2018, the last year for which statistics are available.
"It sets up a system in a state where a child with developmental delays or disabilities can get the services and support they need to hopefully reduce how much special education they will need in the future," said Rachel Brady, Ph.D., project coordinator for Georgetown's certificate program and Director of Information Dissemination at the Center.
Birth to age three is a dynamic time of life, when a child grows in multiple, interconnected ways that affect future development.
"It's muscle development. It's cognitive development. It's language development. It's social-emotional development," Long said. "A whole range of developmental areas."
A Unique Program
While other institutions may devote a course to early childhood intervention as part of a broader early childhood education degree, Georgetown's certificate program is one of the few that focuses exclusively on the critical period from birth to age three.
"I like that, as a cohort program, the students get to work with each other as a team and get to know each other's area of expertise," Brady said "And I think the best part of it is, it's interprofessional. We're not just teaching teachers; it's groups of professionals across disciplines, learning together."
Jill Chimka, regional director of Early Intervention at Easter Seals DC Maryland Virginia, completed Georgetown's program in 2014 and has had several of her staff members take it as well.
"Early intervention is just a unique framework in that it teaches you a lot about cultural competence and also provides services in a really family-centric way," Chimka said. "It's not just working with young children. It's also working within the context of their routines. Early intervention is actually a lot of adult training."
Learn more