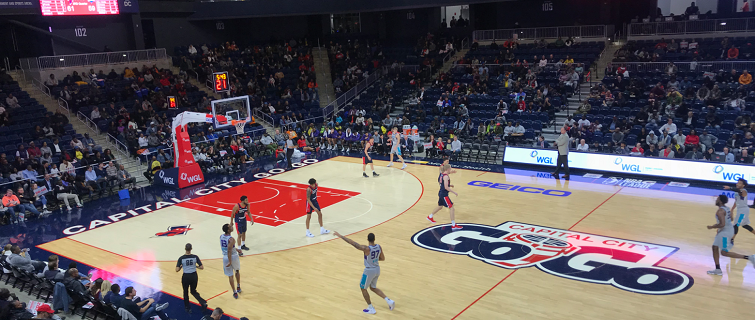 Amber Nichols was a point guard in college, and it shows. Point guards—the best ones, at least—are leaders. They run the offense, see the big picture, and are less concerned with individual statistics than with the success of the entire team.
So, when Nichols, a former point guard for the University of Richmond, describes what she likes best about her job as general manager of the Capital City Go-Go, Washington, D.C.'s NBA G League team, it's not surprising that she would put the emphasis on others.
"I would say building a team that's successful and cohesive," says Nichols, who, at age 29, is not only one of the youngest GM's around but also the second female to assume that pivotal role in the entire NBA.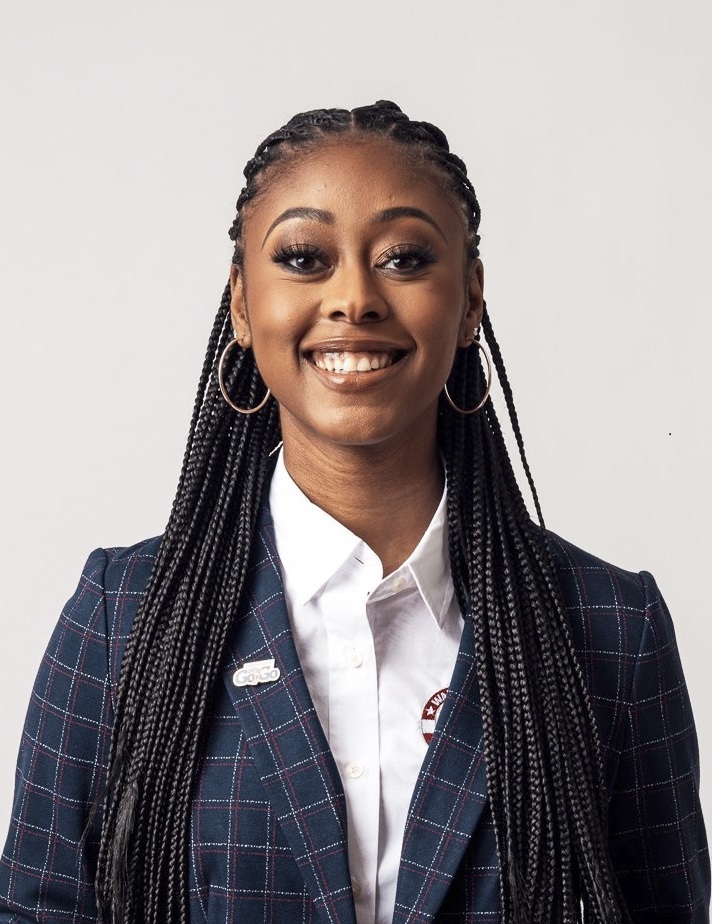 "And the second part, honestly, is seeing the players develop from the time that we get them to the time that they leave," adds Nichols, who is also a Capstone advisor for the Georgetown University Master's in Sports Industry Management program. "I love just seeing the trajectory of their careers pan out and just seeing guys develop and reach their full potential."
Hard Work—and a Big Break
The 29-team G League is the NBA's development league. It also hosts NBA players at different points in their careers, such as when they are returning from injuries or other absences. Its teams hail from large markets such as Cleveland and Oklahoma City, as well as smaller places like Grand Rapids, Mich., and Fort Wayne, Ind.
Nichols is the cousin of former Washington Wizards point guard John Wall, a five-time NBA All-Star now with the Houston Rockets, who practiced with the Go-Go a few years ago while coming back from an injury. But having basketball royalty in her family did not make Nichols' career path any easier: In fact, it all started with a setback—a torn labrum in her hip that curtailed her college career and made pursuing further opportunities as a player unrealistic.
From there, Nichols' own trajectory took a number of turns, from a earning a graduate degree in sports management from the University of Georgia; to selling tickets for the Sacramento Kings (even though she didn't really want to be in sales); to catching a big break when the Kings hired pro basketball legend Nancy Lieberman as an assistant coach, who mentored her on evaluating talent and writing scouting reports.
That eventually led to an internship with the Wizards, and, after a few more twists and turns, her appointment as the Go-Go's assistant GM, and to GM in January 2021. Along the way, she also met La Quita Frederick, Faculty Director for the Georgetown Master's in Sports Industry Management program and a fellow North Carolinian.
Nichols told Frederick that she would like to teach someday and share what she has learned with other women interested in sports management careers.
"Currently, she's a Capstone advisor, but we would love to have her teach in the program eventually," Frederick says. "Students love her—like, she's already on the team. I had to reach out to her—because I try not to overwhelm our Capstone advisors with multiple people—and I said, 'If you're comfortable, there are a lot of young ladies who would like to work with you.'"
Better Things To Come
With the Go-Go, the general manager wears many hats, and Nichols is involved in everything from scouting and assessing players' strengths and development needs, to marketing and scheduling road trips.
One friend who has been rooting for Nichols is Allison Feaster, who once worked in the G League office with Nichols and is now vice president for player development for the Boston Celtics. Feaster said she was "elated" when she heard that Nichols got the job—and confident that more women will follow her.
"I'm optimistic, because from what I know a lot of them are super qualified, definitely ready," says
Feaster, who played at Harvard and for 10 years in the WNBA. "It's just a matter of getting in front of the decision makers to get an opportunity."
Nichols is confident as well.
"I think it will be much more common," Nichols says. "I'm one of two [GMs] right now, and I'm sure the trend will continue, especially as we work to establish a pipeline of women who actually want to be in that role."
Learn more