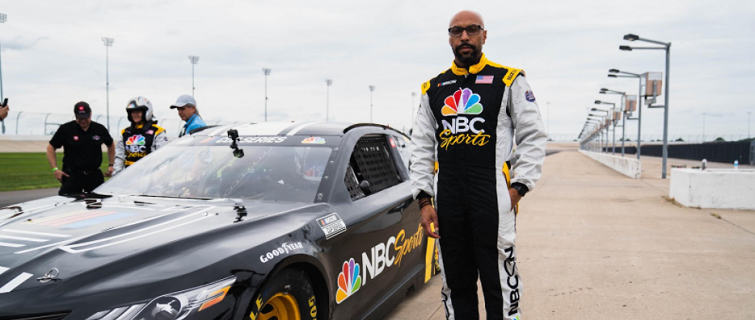 Erik Moses, the new president of Nashville Superspeedway, is making the rounds of Wilson County, Tenn., in a flashy NASCAR pace car—his wheels for the day—which he invites County Commissioner Sonja Robinson to drive.
On one condition.
"Don't scare me now," he quips.
Robinson grins: "I won't scare you, I promise."
This was PR-tour day at a dizzying moment when every day was PR day, and construction day, and deferred maintenance day, and ticket-hawking day all rolled into one. And Moses's lighthearted and positive demeanor belied the truly gargantuan task that he and his team were undertaking: resurrecting the massive racetrack—mothballed for nearly a decade—and preparing it for its first NASCAR cup race ever.
"You know, I like challenges, and I like building things, and this was the kind of challenge that made sense to me," Moses says a few months after that pivotal race weekend in June 2021. "And so, while I did not know what to expect in terms of the reception I might receive, I was game for it."
A graduate of Duke Law School, Moses formerly served as Chief Executive Officer of the DC Sports & Entertainment Commission and taught for more than 10 years in the Master's in Sports Industry Management program at Georgetown University. He is the first Black person to be named president of a NASCAR track.
A Show of Support
When he accepted the presidency of the Nashville Superspeedway in August 2020, Moses was well aware of the stereotypes surrounding NASCAR, typified by the Confederate flags often visible at races—a practice that NASCAR had recently banned after a years-long campaign by Black driver Bubba Wallace. And yet, when Moses attended his first race at Dover International Speedway in Delaware the previous year, he had been struck by the spirit of community, the joyful celebration of a Southern culture he knew quite well, and that fact the sport was attracting—and accepting—a more diverse group of employees and fans.
In June 2020, before a race at Talladega Superspeedway in Alabama, a noose was found attached to the door of a garage occupied by Wallace's crew. Drivers and pit crews subsequently marched behind Wallace's #43 race car in a stirring show of support—a gesture that brought Wallace to tears.
Later, an FBI investigation determined that the noose, which had been used to open and close the garage door (the other garages had more simple rope loops) had been present before Wallace's crew was assigned to it and that no hate crime had occurred. Still, the events were a watershed moment for NASCAR.
Moses was recruited for the Nashville position by Mike Tatoian, President and CEO of Dover International Speedway, which owns the Nashville track. The two had become friends when they served together on the board of directors for the Military Bowl, which Moses helped found when he led the DC Sports & Entertainment Commission.
While having a leader with NASCAR experience would have been nice, that wasn't the biggest consideration, Tatoian says. More important was finding someone who could attract other events to the track.
"All eyes are going to be on Nashville because of the value of the market and the excitement of bringing NASCAR back," Tatoian says. But it was also important for some of that excitement—and revenue—to carry over to "the other 51 weekends of the year."
Moses recalls a later phone conversation with NASCAR President Steve Phelps, who urged him to take the job. Both he and Tatoian knew from Moses's extensive work in sports and event planning—including a promising year as team president of the XFL's DC Defenders—that he had the skills to bring Nashville back.
"We spent 45 minutes on the phone talking about where he and the leadership at NASCAR were taking the sport, the Confederate flag ban, and the stuff that had happened with Bubba down at Talladega, and how they were supporting him," Moses says. "And so, I started feeling comfortable very early on that this is a sport that's headed in the right direction. Its leadership understands what's happening in the country, what's happening in society, and what it needs to do to take advantage of that—to not be on the wrong side of history—and also continue to build their fan base and build the sport out."
Big Plans for the Future
So how did that first NASCAR weekend go? The speedway sold out its existing 24,000 seats, built another 15,000 more, and sold all of those as well. Now one challenge is to keep publicizing the recently dormant venue and expanding the calendar to host other events beyond NASCAR, like concerts and interactive exhibitions like last November's wildly popular Jurassic Quest, a drive-thru, family-friendly event featuring more than 70 life-like dinosaurs.
The other challenge now—and it is an exciting one for Moses—is to continue supporting NASCAR's traditional fan base while reaching out to a new generation of enthusiasts who will lead the sport into the future.
"So that is the terrain we have to navigate as a sport and as a business," Moses says. "And it's not altogether different from what other businesses and sports have had to do as well."
Learn more