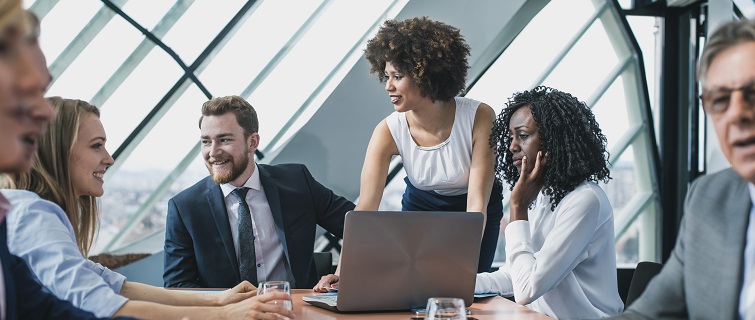 If you have any doubt that Centric Bank wants to be a great place to work, just go to the website of the small institution near Harrisburg, Pa., and read The Centric Bank Way. There, you will find 26 tenets the bank promotes, among them "Do the Right Thing Always," "Listen Generously," "Speak Straight," and "Invest in Relationships."
This is not just talk. The bank's employees are a tight-knit group, almost a family. No wonder, then, that it's on American Banker's list of "Best Banks To Work For."
Knowing this, you might think that Centric has it all figured out when it comes to human resources. But when CEO Patricia Husic approached Chief Human Resources Officer Christine Pavlakovich in 2020 and asked if she wanted to work with Georgetown University to rethink some of the bank's most basic HR practices, Pavlakovich's response was an emphatic "yes."
"Patti came to me and said, 'Hey do you think we could benefit from this?'" Pavlakovich recalls. "And I said, 'Absolutely, we could benefit from this.'"
Rethinking Diversity, Equity, and Inclusion
Under the proposal, students from the Georgetown Master's in Human Resources Management program would work with the bank to develop its policies and practices regarding diversity, equity, and inclusion (DEI). Two cohorts of students would partner with the bank over the course of an academic year, with each group working for a semester.
Georgetown's program had already worked on several DEI projects with the American Bankers Association's Naomi Mercer, Ph.D., senior vice president for diversity, equity, and inclusion; but this was the first time it would partner with an individual bank.
"When many people think of the American Bankers Association, they think of the big banks. But the big banks are fine—they can take care of themselves," says Faculty Director Ifedapo Adeleye, Ph.D. "But the bulk of its membership is actually small, community banks, [and] regional banks that have less time and resources to devote to DEI."
That is the case at Centric, whose 140 employees are very busy and "wear many hats," Pavlakovich says. The bank had complied with reporting requirements for the EEOC and other federal agencies, and it was aware of the benefits of having a diverse staff, but it had no comprehensive diversity plan.
Centric is located just outside Harrisburg in a largely white community. Recently, it has also moved into the Philadelphia Main Line suburbs, which are also predominantly white. But Harrisburg itself is more racially diverse, with a population that is 51 percent Black and 21 percent Hispanic. Pavlakovich knew that to truly serve the community, both as customers and potential employees, Centric would have to do more to reach out.
Becoming More Inclusive
The first group of students looked at the big picture. It did research on Centric and its clients—including a demographic analysis of its coverage area—and helped the bank write a comprehensive DEI plan. In 2020, a second group devised specific steps for addressing these goals.
"First, they worked with Christine [Pavlakovich] to analyze where they were right now and where they would like to go, identifying gaps specifically relating to diversity, equity and inclusion," says Bunmi Biu, Ph.D., an adjunct lecturer in Georgetown's Human Resources Management program and the project leader. "From there, the students made some broad-level recommendations to enhance its diversity."
The students, many of them working HR professionals, studied the fundamentals of The Centric Bank Way and decided that they could be repurposed to emphasize DEI. They helped write more inclusive language for all bank communications, offered ideas for attracting a more diverse staff, and helped the bank show stakeholders why diversity is important.
The project enabled students to use their classwork in a real-world setting, says Katherine Bigelow, a 2021 graduate of the program. "To ask a lot of questions, to not hesitate to ask follow-up questions for clarity, to be specific with your scope of work, but not so rigid that you don't leave room for flexibility and reiterations."
Pavlakovich is pleased with the progress that the bank and Georgetown have made so far, but she says there is still much work to do. To guide them, they might look to tenets No. 4 and No. 24 of The Centric Bank Way: "Do Whatever It Takes" and "Embrace Change."
"[Georgetown] gave us a jumpstart and said, 'It doesn't matter how big or small of an organization you are, you can put together a program that achieves the goals you're looking for, that moves the needle forward,'" Pavlakovich says. "They gave me that framework and really gave me perspective."
Learn more