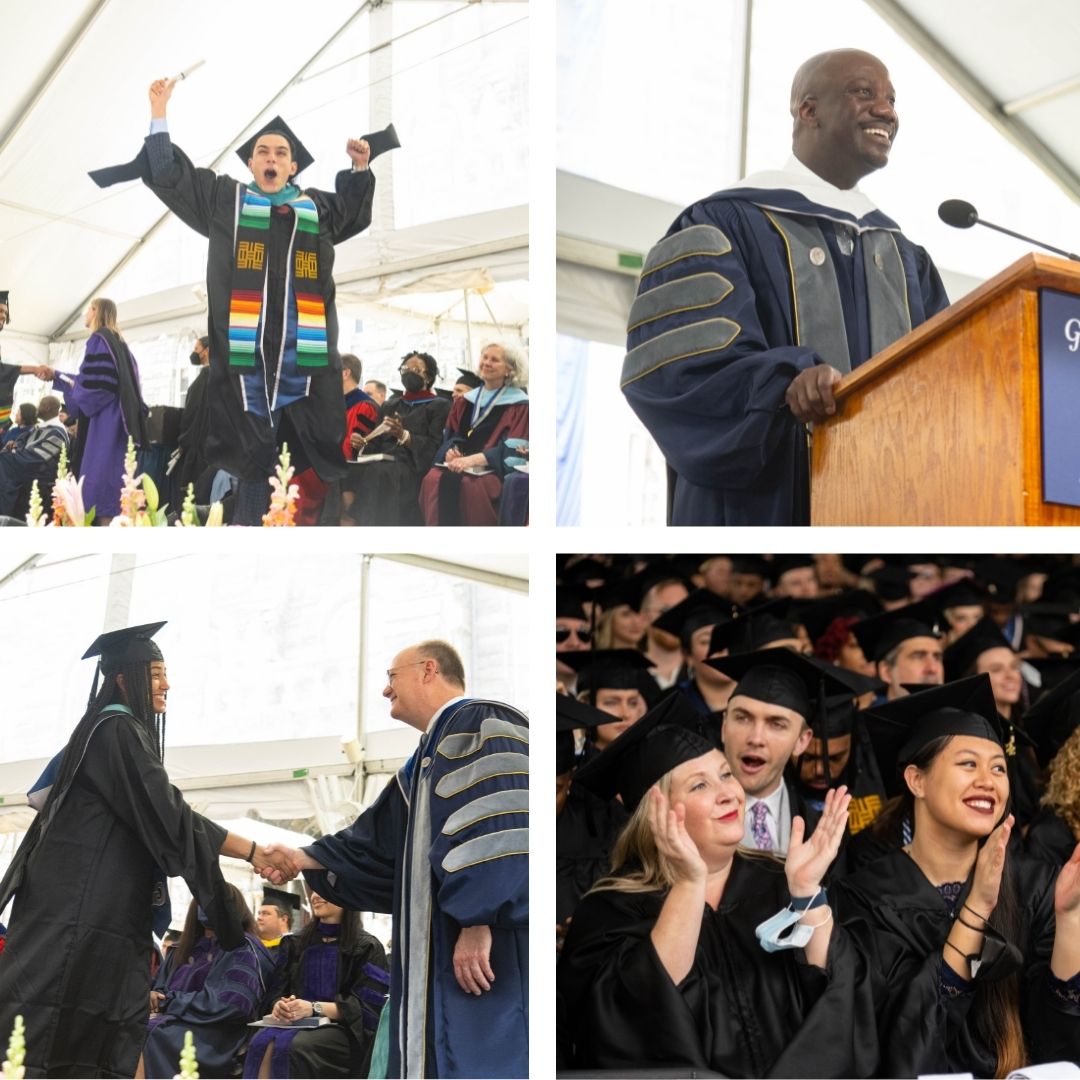 From enduring quarantine lockdowns and taking online classes to donning each other's hoods, the Class of 2022 celebrated their graduation at the first in-person Commencement ceremony since 2019.
History in the Making
On Friday, May 20, the School of Continuing Studies (SCS) graduated the largest number of students from Georgetown: a total of 1,622 graduates. This was also the largest graduating class in SCS history to date.
Out of that grand total, 1,562 graduated with Master of Professional Studies degrees, 27 Executive Master of Professional Studies degrees, 23 Master of Arts in Liberal Studies degrees, 10 Doctor of Liberal Studies degrees, and 22 Bachelor of Arts in Liberal Studies degrees.
This graduation was one for the books as it celebrated the resilience, grit, and commitment these students have demonstrated to realize their educational and professional success.
Close to 800 graduates joined the celebration in person on Healy Lawn while the ceremony was live streamed and recorded for those who could not attend. The hybrid celebration was a reflection of the "new normal" to which students have adapted.
Moving Forward: Graduation Is Not the End
Echoes of determination and grit were amplified by the Commencement speaker, Shaun Harper, Ph.D., the Provost Professor in the University of Southern California's Rosseier School of Education and the Marshall School of Business.
During his inspiring speech, the globally recognized diversity, equity, and Inclusion expert called on graduates to initiate acts of change and take on leadership roles as they enter the next chapter of their careers. "You are those leaders," he assured them.
According to Harper, having a Georgetown SCS education provides graduates with the necessary tools to ignite positive change. "We need leaders in every profession, in every industry, in every facet of our society, who will discontinue anything and everything that undermines social justice," he said.
Harper added that commencement is not the end, but a continuation of striving for more knowledge: "Continue, even when the challenge seems too insurmountable or daunting." In addition to taking advantage of every learning opportunity, he emphasized the importance of moving onward and upward no matter what obstacles arise.
As Georgetown University President John J. DeGioia conferred on the graduates their degrees, he continued Harper's message in his closing remarks. He congratulated graduates not only for their hard work and dedication, but for their care and compassion for one another during the pandemic.
"Your class will be remembered for the responsibility that you accepted for one another, and for all those around you," DeGioia said.
DeGioia noted that the culmination of this academic journey has led graduates to find the path to becoming their most authentic selves. He described the continuous pursuit of knowledge as a profound and transformative experience that has the power to create a brighter future. "When we seek the best in one another, we just might find the very best in ourselves," he said.
Overcoming Challenges in Pursuit of Success
While the Hilltop was a scene full of joy and celebration, not every SCS graduate could attend Commencement. Despite prior responsibilities, some were able to celebrate from a distance.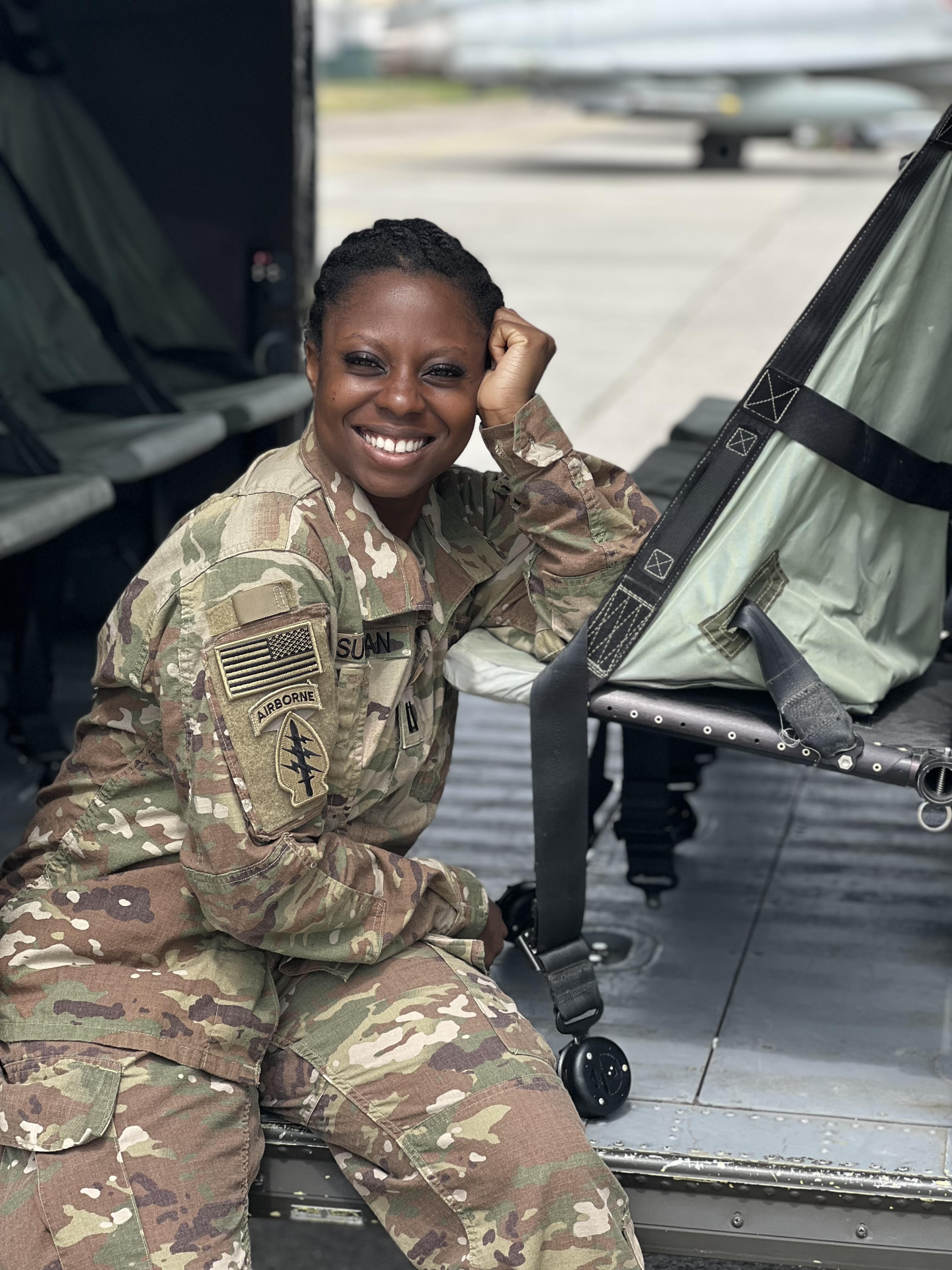 That was the case for Army Capt. Moriamo Sulaiman-Ifelodun, a graduate of the Master of Professional Studies in Public Relations & Corporate Communications program, who was deployed to Romania in February 2022.
Sulaiman-Ifelodun is a Public Affairs Officer assigned to the 5th Mobile Public Affairs Detachment in Romania. Prior to deploying, she ​​knew she would not be able to return to the Hilltop for Commencement.
She described the feeling of graduating from afar as bittersweet. With so many academic accomplishments and people rooting for her, walking across the stage was not only a personal feat. Sulaimani-Ifelodun said her academic journey amid a pandemic and a deployment proved her immense resourcefulness and grit.
"I'm an immigrant, and Georgetown has always been my dream school," Sulaiman-Ifelodun said.
"Walking across the stage wasn't just for me. It was for my family and everyone who supported me during my graduate school journey, my life, and those on the outside looking in who maybe think they can't accomplish something of this caliber while on active duty or in life in general," she said.
Sulaiman-Ifelodun is excited to continue working with her fellow soldiers by guiding them through the public affairs field.
As the world continues to find solutions to emerge from the pandemic, it has become clear that even with distancing and lockdowns, the urge to create a better future persisted within the Class of 2022. These graduates captured a historic moment of perseverance and proved that moving forward, even during unpredictable circumstances, can open doors to success and knowledge.