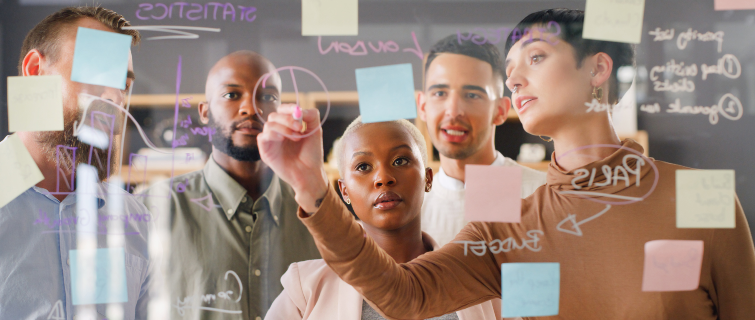 By 2027, the United States will need 8.8 million project managers, nearly a 30-percent increase over 2017, according to the Project Management Association. And worldwide by that year, there will be a need for an astonishing 87.7 million professionals to work in project management-oriented roles.
Why such a tremendous need? Just look at what project managers do: They initiate and plan projects, execute those projects, and monitor them from start to finish. And they do this in a business and government environment that is becoming more complex, more fast-paced, and more competitive, interconnected, and global than ever before.
Virtually anything that has to be designed—from manufactured goods to construction projects, from the latest in computer software to cutting-edge scientific equipment—requires highly skilled professionals who can guide projects to completion. The job requires a multitude of skills: leadership and effective communication, organization and time management, problem solving and the ability to manage multiple teams. Project managers also use a variety of methodologies and approaches—such as Agile, Lean, Waterfall, and Scrum—to assist them in their work. The reward is the development of new products, processes, and innovations that can make life better for us all.
Career Options for Project Management Graduates
Careers in project management are as varied as the projects we take on to build a better world. Here is a sampling of possible jobs in this exciting field.
Project Manager
Project managers are responsible for overseeing projects from start to finish. They must have excellent time-management skills, an eye for both detail and the big picture, and an ability to work with and lead multiple teams.
Program Manager
Program managers are in charge of coordinating a group of projects or activities. As such, they are concerned with both the smooth progression of various projects and an organization's overall goals.
IT Manager
IT managers ensure that the technology employees use is reliable and efficient. They work with on-site technology for in-house employees as well as VPN access for remote workers. In addition, they coordinate with other departments, such as HR and finance, to ensure that the organization's data is secure.
Scrum Master
Scrum masters lead teams that develop software and other products, ensuring that these teams are efficient and adhere to proper frameworks and practices, such as Lean and Agile.
Technical Program Manager
Technical program managers provide expertise to tech companies, working with IT engineers to improve processes and develop new products.
If you're looking to start or advance your career in project management, consider earning a Master's in Project Management from Georgetown University. You'll gain the technical knowledge and leadership skills you need to effectively plan, manage, and execute complex projects.
Learn more