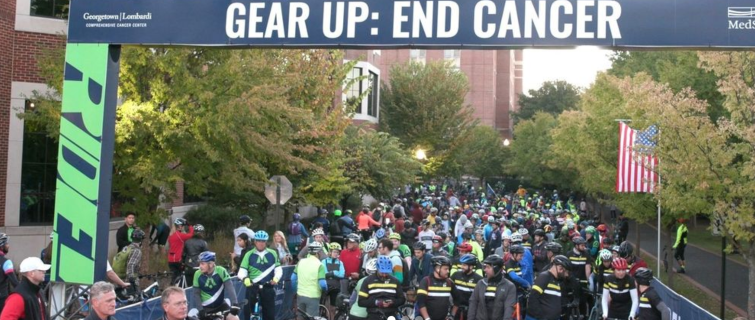 WASHINGTON D.C.–On Saturday, October 22, students, faculty, and staff from the School of Continuing Studies (SCS) raised thousands of dollars for cancer research by cycling across the D.C. area.
Teams across Georgetown University, including SCS, geared up to raise awareness and money for BellRinger, Georgetown Lombardi Comprehensive Cancer Center's inaugural fundraiser for cancer research.
Team SCS raised $16,965–contributing to Georgetown's grand total of more than $1 million raised for this worthy cause.
There were 851 registered cyclists; a total of 22 riders from Team SCS participated, who pedaled either 25-, 50-, or 100-mile routes for the first-ever BellRinger ride. Riders began at Higgins Plaza at Georgetown, cycling through Montgomery and Frederick counties in Maryland.
SCS Dean Kelly Otter biked a total of 54 miles, ending in Urbana, Md. A cyclist in her free time and an active contributor to cancer research, Otter rode in honor of her late friend and former boss who battled ovarian cancer. Otter's friend struggled through numerous brutal treatments while trying to work and raise her daughter.
"We need to do all we can as a community to help individuals and families overcome this terrible disease," Otter said. She added that people who are fortunate enough to have good health have this opportunity to support others in need. "We all need help at some time in our lives, and if I can inspire people to support cancer research and treatment, I am thrilled to be able to do it," Otter said.
The inaugural ride was a hybrid format, which allowed cyclists to pedal toward the future of cancer treatments from virtually anywhere in the world.
Katie Weicher, the Assistant Director of Events at SCS, pedaled a total of 30 miles on her Peloton bike–inspired by someone near and dear to her. "I decided to ride for the strongest person I know, who also happens to be a cancer survivor: my mom," said Weicher.
Weicher said she shares BellRinger's dream to one day live in a world that is completely cancer-free. She said she wants to be involved in this life-saving cause and is glad she was able to be part of a team while doing so.
"I felt incredible! There's naturally a lot of anticipation that builds up when you commit to a goal like this, and it felt amazing to finally conquer it."
Dean Otter said that this is an exhilarating, fun, and community-oriented way to work together toward a common goal that benefits everyone. Otter looks forward to expanding Team SCS and raising even more donations next year.
If you are interested in supporting the future of cancer treatments, visit the Georgetown Lombardi Comprehensive Cancer Center website.